Book Title:
The Girl I Was Before
Author:
Ginger Scott
Series:
Falling #3
Release Date:
June 23rd, 2015
Genres:
Contemporary Romance, New Adult,
I'm the selfish one. I suppose that's the nicest thing people say about me. I've heard the other things, too. "Paige Owens is a pretty girl with nothing else to offer. She's just a good time at a party. She's stupid, heartless, cold and useless. All she cares about is getting a guy to look at her. Why would anyone want to be her friend?"

Some of those things are true. Others were true. They're all hurtful.

None of it matters.

I'm ready to make the hard choices. I'm ready to face the consequences. I'm ready to be the girl I was before, and I'm done being the one who lost her way.

I'm ready to become the girl Houston Orr sees when he looks at me.

Houston isn't a star athlete. He doesn't play in a band. He's never going to be president, and his life is so far away from simple and easy it isn't even funny. He wasn't part of my plan. But I'm starting to think plans are overrated, and maybe our stories are what we make them. And mine depends entirely on me, and the choices I make…starting now.

Houston is my fairytale. He's perfectly imperfect. He's poetry and life. He's truth and heartbreak, all rolled up in a tall body with dark hair, broad shoulders and green eyes that lull me into submission. He's nothing I ever thought I wanted, but the very thing I need. He's the only guy I've ever really loved, and he thinks I'm a princess. I fell into him, and now I'm holding on.

But sometimes life takes away our ability to choose. Sometimes…things aren't in your control. Sometimes, it hurts to be selfless. My only hope is that when it comes time to choose, I get it right.

Welcome to my once upon a time and wish for happily ever after.
"Houston may be good with bad dreams, but I come bearing nightmares. I also come with regret."
Having love the first book This is Falling in this series and meeting its endearing characters, I was really excited to be back on this bandwagon. When the author said she was writing a book about Paige, I was a little apprehensive on how it'll be written because for those who've read the series, you'll remember that Paige is well...let's say she's not the poster girl for your typical sweet heroine.
Paige Owens is the twin sister of Cass (her story was the 2nd in the series) and is the total opposite of her carefree twin; she's the confident one, the girl that owns the playground and all in all, she's pretty much Queen B right down to the blonde hair and in heels to strut. The story starts off with her in the Delta House where she stays with her sorority sisters that is led by an even more almighty Queen B called Chandra. All hell breaks loose when Paige had photographic evidence of Chandra messing with drugs and did the unthinkable by anonymously sending them out to her college media press as a plot to avenge for Chandra's demeaning actions towards Cass in the past.
Houston Orrs is no star athlete or a smart geek, he's just a boy who works off a grocery store and makes pretty damn awesome sandwiches. But his life is far from simple when he shoulders a heavy responsibility, far from what a teenage boy should be bearing.
When both Houston and Paige first met, it was no hearts and butterflies as Paige lashed out with her icy exterior to Houston even after he defended her multiple times. Things starts to complicate even more when Houston offers his spare room to Paige when the whole Chandra situation was blowing up badly on her.
Honestly this read left me feeling very conflicted. It was like part of me enjoyed this read but another part had me wanting to tear my hair out at these characters.
I'm not gonna lie, it was really tough warming up to Paige. She was nothing short of an ice queen with her rather cold-hearted attitude especially towards such a sweet gentleman like Houston. On a personal level, I just wasn't appealed by her character and it frustrated me helluva a lot as she does this push and pull thing with Houston. It doesn't help that she just goes around most of the time with that abrasive behaviour but only allowing us to see some of her tender moments.
And here is where I feel torn with this book because I do get it. I get why the author portrayed Paige the way she is, that harsh exterior she puts up for everyone but beneath that is a girl who's just struggling as much to keep it altogether with expectations she's placed on herself since young. She believes she doesn't need anyone's saving, so she just builds up a fort so strong and refuses to let anyone in. I admired that the author made Paige stayed true to her character almost throughout the entire read despite the fact that it makes me want to badly knock some sense into her at times.
But Houston...GAH loved him! I swear Ginger Scott writes heroes that I'd like to kidnap and cuddle with them all night long. It was amusing to see how he relentlessly pursued Paige even after she shot him down multiple times. Honestly, I'm still a little baffled by what Houston saw in Paige that drawn his attention in the first place. Their relationship was quite a slow-build one and rather frustrating with Paige making it difficult with her indecisiveness. But I did love how we got to understand more of Paige's choices later on and having Houston be the one who breaks through her defenses.
Overall I still enjoyed this one but probably my least favorite in this series. Also, I really wished it was Paige that had to do much more grovelling albeit that really touching move she pulled off for Houston in the end. But I did love how they finally got their deservedly HEA and it was just one of those moments that were aww-worthy. Also the Preeter brothers still definitely have my heart since the beginning and I hope Ginger will write an extended epilogue or a novella for all these characters after they graduate (yes a girl can dream) ♥
The Girl I Was Before is the third book in the Falling series and can be read as a standalone although it is recommended to be read in order.
ARC kindly provided by the author in exchange for an honest review.
ABOUT THE AUTHOR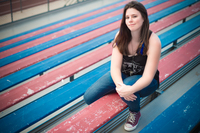 Ginger Scott is an Amazon-bestselling author of seven young and new adult romances, including Waiting on the Sidelines, Going Long, Blindness, How We Deal With Gravity, This Is Falling, You and Everything After and Wild Reckless.
A sucker for a good romance, Ginger's other passion is sports, and she often blends the two in her stories. (She's also a sucker for a hot quarterback, catcher, pitcher, point guard…the list goes on.) Ginger has been writing and editing for newspapers, magazines and blogs for more than 15 years. She has told the stories of Olympians, politicians, actors, scientists, cowboys, criminals and towns. For more on her and her work, visit her website at
http://www.littlemisswrite.com
.
When she's not writing, the odds are high that she's somewhere near a baseball diamond, either watching her son field pop flies like Bryce Harper or cheering on her favorite baseball team, the Arizona Diamondbacks. Ginger lives in Arizona and is married to her college sweetheart whom she met at ASU (fork 'em, Devils).
GIVEAWAY