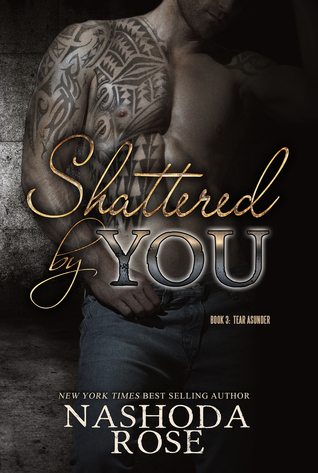 Book Title:
Shattered by You
Author:
Nashoda Rose
Series:
Tear Asunder #3
Release Date:
June 22nd, 2015
Genres:
Dark Romance, Rockstar
What started out as a deal quickly became a friendship that conquered monsters.

I killed, but I escaped hell. Emotionless. Disconnected. Cold. A mannequin. It's what I'd become in order to survive the years held in captivity. I was able to endure the abuse and devastating loss as long as I remained detached.

But he wouldn't let me. Crisis, the bass guitarist in my brother's rock band, Tear Asunder. He's cocky, rude, a total man-whore. But the rock star has far more beneath the surface of his inked skin, and he's determined to make me laugh again. He made me a "deal", but really, it was blackmail. His terms were simple. Until his playful honesty became the building blocks to something unexpected. Something strong enough to pull me from the eye of the storm.

Because even though I escaped years of abuse, it didn't mean I was free.

For mature audiences only.

Shattered by You is written as a standalone, however, it is recommended you read the Tear Asunder books in order. *Contains spoilers for "Overwhelmed by You"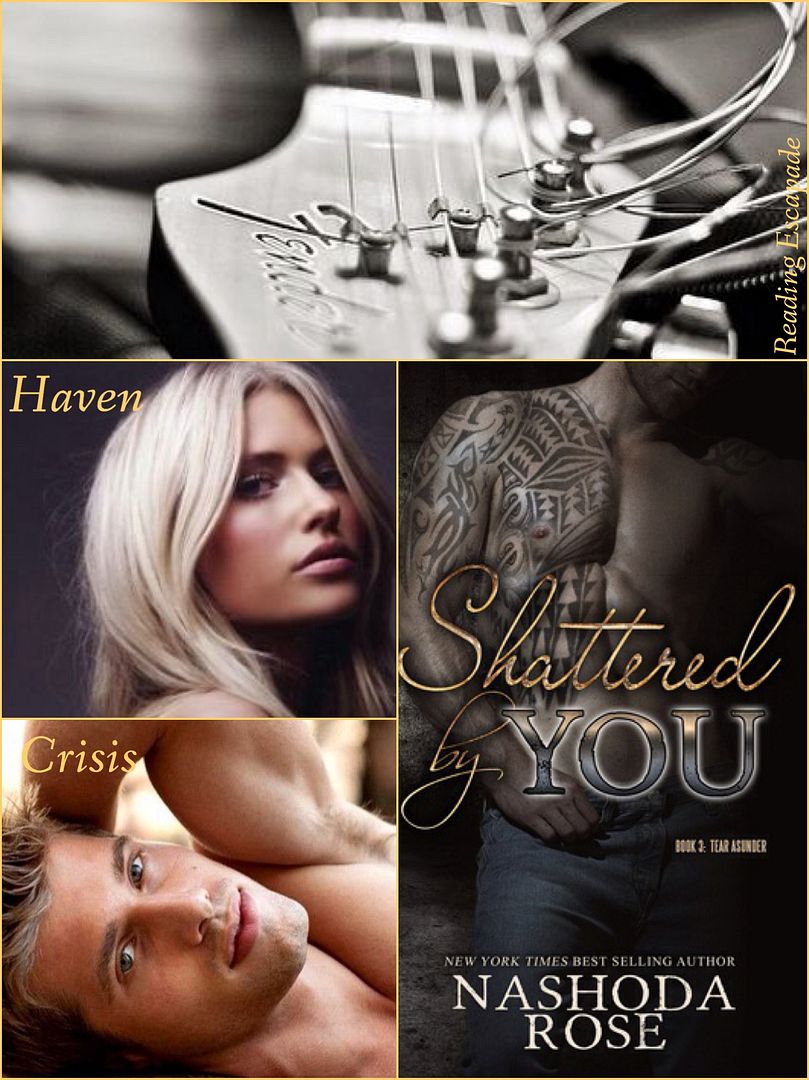 I never seem to tire of these Tear Asunder boys! With every installment in the
Tear Asunder Series,
Nashoda Rose manages to outdo herself just a little more. Each book focusing on a different band member yet giving us glances back to the characters we've met before.
I could not WAIT for this installment.
Crisis,
lead guitarist for Tear Asunder, has always been comic relief for the band. Certified man-whore, we've watched him stumble through life always attached to a groupie, footloose and carefree. When he meets his foster brother Ream's twin sister in the last book, we get a glimpse of a dark, scarred girl that just may need a person like Crisis to shine light into her life. And a shattered girl who may finally settle this jokester down...
"We all know the definition of shattered: to break into pieces; to weaken, destroy; to damage, as by breaking or crushing. But my story isn't about being shattered. It's about surviving the pieces. It's about the strength found within the damaged. It's about love. Love found despite the jagged, tainted edges of who I'd become."
Haven and Ream lived a tortuous childhood at the hands of her mother's drug dealers. They'd been abused for years in order to pay off her mother's drug debt. At age 16, Haven and Ream were living on the streets when he hears of his sister's death related to drug overdose. He's left with nothing until Crisis' family fosters him. This is where Ream and Crisis' family connection began...building with it a rock band full of members who consider each other family. He just didn't realize until 12 years later that his sister is, in fact, alive yet the sister he knew from childhood is very much gone...
Crisis was clearly attracted to Haven in the last book and I couldn't wait for the story that I hoped and prayed would bring happiness into Haven's life. She was such a hollow shell of a person after enduring years of forced drug addiction and sexual abuse. Never making eye contact, never smiling, fighting her demons and losing through horrible flashbacks from the past. She just wanted to be left alone yet that's the last thing the band members did...especially Ream and Crisis.
Crisis
was just what the doctor ordered for Haven. This book is very much a very slow thaw for Haven. Ream and Crisis were both very concerned with the band leaving her behind to go on tour, so Crisis made a deal- Haven was required to text him daily just to check in. Through these innocent texts between each other, Crisis begins to tear down her walls one text at a time. Simple and cute, often mindless, messages that Haven can't help but to warm to...
"Do cucumbers have any usefulness besides tasting like shit and looking like cock? Why the hell do they have to put them in every salad? Tomatoes, okay. Cucumbers are sliced up dicks, fuck no."
These were the texts from Crisis I was supposed to respond to.
Did I mention the perfection Crisis was for Haven? He saw her scars and emotional walls and had every ounce of patience she needed, the time she needed, to heal so maybe, MAYBE he could have a snowball's chance at more with her...groupies be damned.
Nashoda Rose
PERFECTLY built this heart-warming love story. The pace was uber slow but
needed
to be. Nothing bothers me more than insta-lust, insta-love, or a damaged heroine that suddenly becomes this sexual tiger in bed. Not believable! And SO not the case here. I do admit, this is probably her most sexually tame book but it needed to be for their love story to be believable. Brick by brick, Crisis tore down those walls and I too fell in love with that man!
"Crisis was like breathing in fresh air. The beauty of him was there were no lies. No mask. He said what everyone else was too polite or afraid to say."
Shattered by You has a nice balance of romance, some steam, a bit of suspense, and a bit of darkness. The darkness mostly lies within Haven's flashbacks to the past and not the current timeline. It was the perfect balance of everything for me. I'd highly recommend this series for fans of rock star books, masculine protective men, scarred heroes/heroines, and lovers of a bit of grit or darkness in their reads. She's constructed a series of characters I've grown to anxiously await the next person's story yet also look forward to catching up with the past stories... I LOVED catching up with Ream here! And I can't wait to hear what's in store for our kinky drummer, Kite. And in closing, a final word from Crisis...
"Shit, babe, you're really fuckin' adorable. I may need to make you mine."
Advanced copy received by author in exchange for my honest review.
ABOUT THE AUTHOR
Nashoda Rose is a New York Times and USA Today bestselling author who lives in Toronto with her assortment of pets. She writes contemporary romance with a splash of darkness, or maybe it's a tidal wave.
When she isn't writing, she can be found sitting in a field reading with her dogs at her side while her horses graze nearby. She loves interacting with her readers and chatting about her addiction—books.
a Rafflecopter giveaway