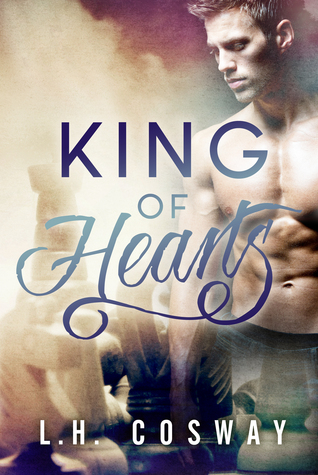 Book Title:
King of Hearts
Author:
L.H. Cosway
Series:
Hearts #3
Release Date: July 16th, 201
5
Genres:
Contemporary Romance
Welcome to the City, London's most prestigious square mile, where finance reigns and Oliver King is a rising prince.

I used to rule the world.

There might be wolves on Wall Street, but there were crocodiles in Canary Wharf. Some of us craved money. Some of us craved power.

I liked money, and power had its advantages, but what I really wanted was to excel, to surpass the men who came before me. I never cared much for love and romance until I met Alexis.

I could feel it the very moment she walked into the interview, with her outspoken charm and vivacious personality. She cast all the others in shadow, made me laugh when life held no humour. Our friendship should have remained professional, but it wasn't long before the lines started to blur.

You know what they say about the best laid plans of mice and men? Well, I never foresaw where my plans would lead, and only in my darkest hour did I finally see the light…

You can have all the money and prestige in the world and still be the poorest man alive. And love, well, I hate to use a tired old cliché, but love can be the thing that truly sets you free.
"I never stopped loving you, not even in my darkest hour."
Every time I pick up a LH Cosway book, I know I can expect wonderful things. They're magical in a way that I find myself easily whisked away in any world she creates. Her stories always have this touch of realism with beautifully flawed characters whom you could easily relate to. But above all, each story she puts out is refreshingly unique and she paints a tale so vividly with her words that you'll fall in love hard with.
When we were introduced with King in her previous book Hearts of Fire, I already knew this will be quite different from the rest in the series. For that reason alone, I've been DYING to read his story. Oliver King as we learnt previously, was a homeless alcoholic whose sister was the ringmaster of the Circus Spektakular. Rumor has it that he was once a king in the financial empire but after his downfall, he was so closed up that no one could get through to him. And now, we'll get his story.
King of Hearts is a story told in two parts; the before and the after. The 'before' part starts off with Alexis Clark who's about to attend a job interview at a prestigious bank in Canary Wharf for a position as an exec assistant to one of its head directors, Oliver King. Only with a diploma and years long experience as a barmaid, Alexis didn't think she'd stand a chance but she was not one to easily back down either. Charmed by her wit and brutal honesty, King knew that she was the right woman for the job.
The dynamic between these two was incredible right from the beginning. Both of them equally charming with their way of words and their banters skirting the line of that undeniable attraction they had for each other. And the sexual tension? It was painstaking to watch as they fought to stay within the boundaries of a strictly professional relationship. But it can only be so long till King claims his queen and set off the scorching moments in this read.
With all the good things that happened, I already knew the inevitable downfall was coming and I was biting my nails in anticipation to see the events unfold. And when it did, I didn't expect my heart to be painfully crushed knowing what drove King to be who he is in the present. You can hardly blame a man who almost had everything at his fingertips but still be plagued by a past that refused to let him go.
The 'after' part brings us back to the present time where King drowns in his pain with alcohol at the circus. Only this time we finally got to see from Alexis's end and thankfully with the help of the circus, a reunion was due. With 5 years that had gone by, these two will have a tough emotional time ahead of them as they come to terms with the aftermath of events that tore them apart. The journey to recovery wasn't an easy one but with enough patience and love, Alexis was determined to bring her king back to his rightful place.
King of Hearts is a read that stays true to LH Cosway's vividly beautiful writing style but yet stands apart from her other work as King's story proves to be the most emotional one yet in this series. With joy, there is pain and with highs, there are lows. I laughed, I swooned and I cried but by the end, I was grinning like a fool (yes considered yourself assured that there is a HEA!). LH Cosway brings you on a remarkable journey that is uplifting and emotional at the same time. I'm in awe with the level of work this author delivers every single time and this one is no different.
I find it impossible to not fall in love with her stories and her eccentric characters that are so endearing. Easily a winner read for me and a 2015 highlight read that everyone should lookout for. In fact, I would highly recommend all of LH Cosway's work if you have yet to read her books!
King of Hearts is the third in the Hearts series and can be read as a standalone. However, I will highly recommend to read Hearts of Fire first to get a better insight of King's character.
ARC kindly provided by the author in exchange for an honest review.
ABOUT THE AUTHOR
L.H. Cosway has a BA in English Literature and Greek and Roman Civilisation, and an MA in Postcolonial Literature. She lives in Dublin city. Her inspiration to write comes from music. Her favourite things in life include writing stories, vintage clothing, dark cabaret music, food, musical comedy, and of course, books.
She thinks that imperfect people are the most interesting kind. They tell the best stories.
Website:
www.lhcoswayauthor.com
GIVEAWAY