Title: If
Author: N.G. Jones
Genre: New Adult
Release Date: March 15, 2015
Someone hadn't scarred my face.
I hadn't followed my dreams to LA.
That tweaker hadn't attacked that homeless guy.
I hadn't invited a stranger over for Thanksgiving.
I hadn't fallen in love.
If I hadn't lost him.
I hadn't gone for that drive.
I saw the world like everyone else.
My "genius" wasn't slowly destroying me.
I had just walked away before I could ever know her.
She hadn't ignited the spark.
If the spark didn't ignite the madness.
4 "What If" Stars!
★★★★
Wow! What an unconventional NA love story! I really enjoyed
If
. I'll preface my review with a word of warning...go in blind. This is the type of book that trickle feeds the reader information so it's very easy to give away plot spoilers. Even more so, spoilers on the characters. Let Nina build their story one
sad
word at a time.
I can tell you that both characters are flawed. Physically, mentally and emotionally. They carry these flaws on their shoulders daily and both decided to withdraw from family influences for their own reasons. They're both living in LA when
Bird's
work commute causes her to pass by
Ash
on the street. He rarely makes eye contact- always looking to the ground- but something draws her attention to this lonesome-appearing young man. Until one day, she finds herself interrupting a mugging of this detached man. It's not smart but she can't stand by and watch him be attacked by two street thugs- the man not even trying to defend himself. Until the thugs turn on her and the lonely man saves
her
from the attackers. He won't save himself but he'll save her? Why? Does he hate himself so much?
Suddenly this man who chooses to hide in the shadows is brought into light. He's not happy about it.
Ash watches Bird walk by alone, sometimes with her clearly gay friend. She's like light in the darkness for him. She's clearly some sort of dancer. But there's also a sadness about her. Yet her aura is mesmerizing. He see's all sorts of colors in his otherwise gray world when she walks by...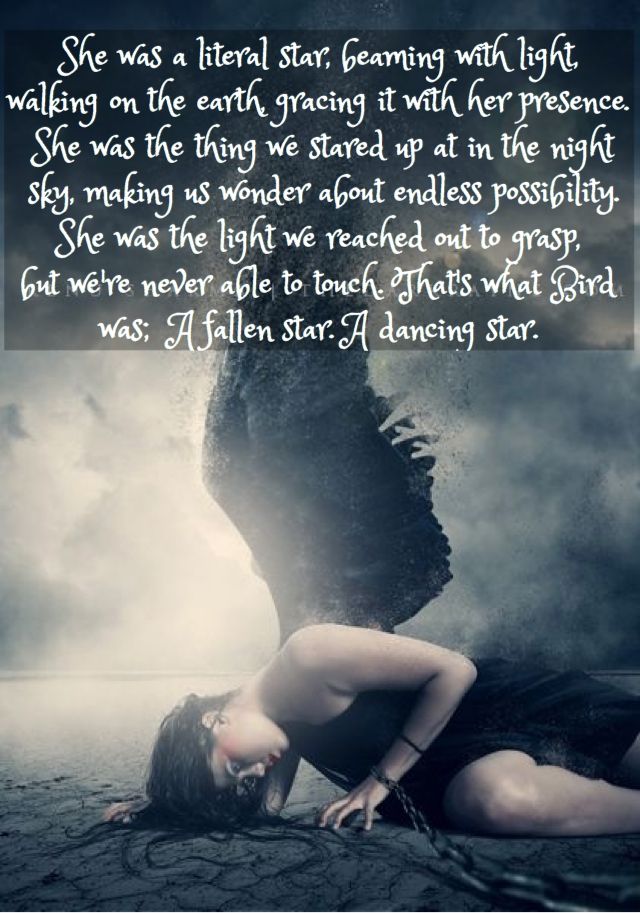 A muse didn't just inspire, I learned, she rips the art out of you like a predator rips out guts. It's messy, it's brutal, but the artist has no choice in the matter. The muse decides."
As a reader of very limited NA books (I can't deal with immature drama), If was pleasantly mature. Both H/h are in their early twenties but just trying to make it in this world on their own. The subject matter can be a bit heavy and I loved this book for that. It wasn't immature drama we see in some college type reads. It's about life, the what if's that rock our worlds daily. And how we deal with those events. Do we move on or do we shoulder them like a festering wound?
My only issue is I felt it was a bit anti-climatic for a good portion of the book- the day to day slow build of their interactions. But I found in the end, we as readers needed that to truly appreciate the future that be holds them in Part Three of the book- which I devoured, by the way. As a reader that takes NA genre in complete low doses, this is the kind I like to read. I was a auto-buy fan of Ms. Jones when I read Debt earlier this year- which is, in fact, still my favorite read of 2015. Keep in mind though, this is NOTHING like Debt. It's fairly chaste. The sex scenes are almost all fade to black. But the reader doesn't need it with the plot as heavy as it is. It was perfect in that respect and a good call on her part. I think if she would've made it steamier, it would've taken away the emotional side we get.
A solid, enjoyable read I'd highly recommend for readers looking for more than simple NA fluff. It's different, it's emotional. And you'll actually learn something, which is always a bonus. Bravo, Nina G Jones!
Advanced reader's copy received by author in exchange for an HONEST review. Quotes are taken from pre-published copy and may differ from finished product.

**********************

About The Author
Nina G. Jones is the author of the bestselling novel DEBT, the Strapped Series and the erotic romance, Gorgeous Rotten Scoundrel. She wants to say something clever here, but all her good material goes into her characters.
Nina currently resides in Milwaukee, WI with her husband and two crazy Boxers.
Her first new adult romance, If, releases on

March 16th, 2015

under the moniker N.G. Jones.
Nina LOVES connecting with readers. You can connect with her via Facebook, Twitter, or email her through her website, NinaGJones.com.

Giveaway