Book Title:
Dark Notes
Author:
Pam Godwin
Series:
Standalone
Release Date: April 5th, 2016
Genres:
Erotica Romance, Dark Romance
They call me a slut. Maybe I am.
Sometimes I do things I despise.
Sometimes men take without asking.


But I have a musical gift, only a year left of high school, and a plan. With one obstacle.


Emeric Marceaux doesn't just take.
He seizes my will power and bangs it like a dark note.
When he commands me to play, I want to give him everything.
I kneel for his punishments, tremble for his touch, and risk it all for our stolen moments.

He's my obsession, my master, my music.
And my teacher.
Wow! I LOVED this book hard! It had everything I love in erotic yet kind of angsty reads! Pam Godwin nailed it here.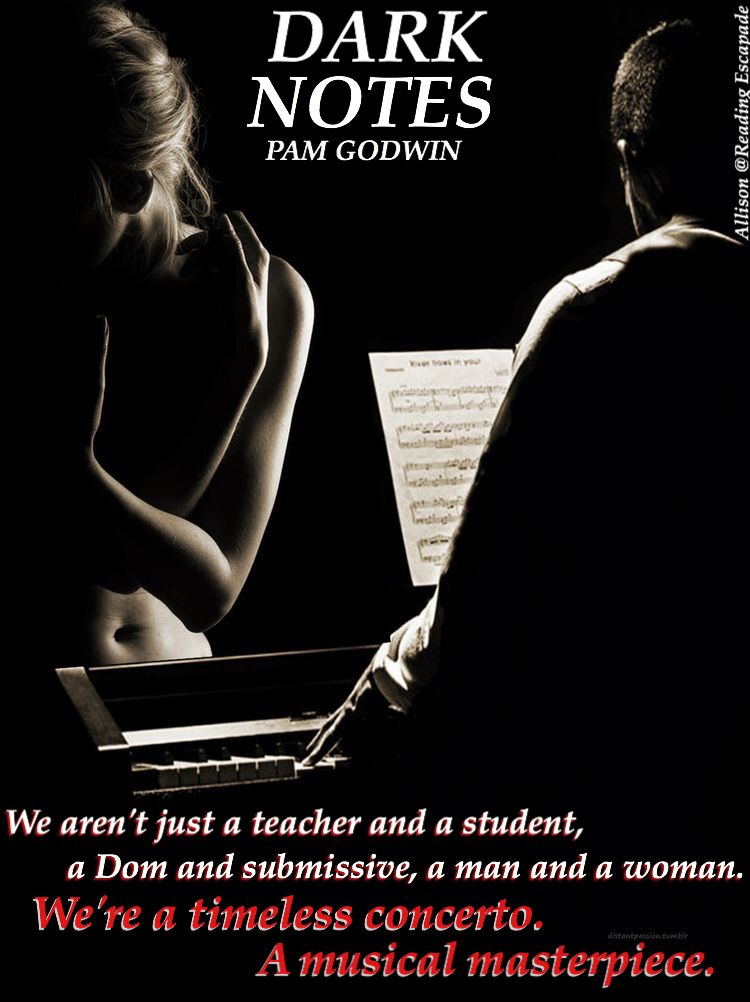 Ivory Westbrook is the poorest student at La Moyne Academy. A prestigious music school in New Orleans, she's a true stand-out in her tattered, worn out clothing. Rubbing elbows with elite student musicians, it's easy to feel a misfit. Her father gave up his beloved piano bar for her chance to attend La Moyne. He's gone now and she won't let a thing stop her from attending the renowned Leopold University. She's not proud of what she has to do to pay the bills for her deadbeat mother and brother. One more year, one music teacher's recommendation and she'll be off to New York- her past behind her. Can it be that easy?
Mister Marceaux, her new music instructor and key to getting into Leopold. Tall, dark, brooding, painfully handsome... and an asshole. He's going to be a tough nut to crack but she didn't come this far to let a beautiful male face with an arrogant temper stop her. And Emeric Marceaux- let's just say none of her other La Moyne teachers look or exude raw masculinity like him.
This isn't a job. It's a creditable use of my need to influence and dominate, a place where I can discipline weaknesses, mold trustful minds, and inspire students with my passion for music.
I forgot how simply beautiful Pam Godwin's writing style is. It's poetic and flows freely- taking darkish subject matter and making it beautiful. Sometimes poetic prose muddles the reading for me and I get lost in a sea of words. With Ms Godwin, it highlights and brings to light the words on the page. It's refreshing and poignant. Also, the subject matter was obviously thoroughly researched. We fell in love with this love story through their mutual love of all things music.... And holy mother of sexy piano scenes. Some were erotic, others so so romantic.
Emeric Marceaux was the perfect asshole hero! Gah! At first, I felt so sorry for Ivory with all the work she's done, her father's sacrifices for her to attend this school, and to then get a teacher like him in her final hours of high school- what a bad hand to be dealt. But Emeric will soon be Ivory's biggest safety in the storm. Living in the projects of New Orleans, everything is a threat and Emeric was quick to see she's got a tough exterior yet wounds appear below.
Emeric was such a true Alpha hero. In his Dominance, he provided Ivory everything she needed both physically and emotionally. His connection to her was his biggest risk to his career but laws be damned, he was addicted to this young talented musician.
Dark Notes is one sexy hot teacher/student romance. It has definitely some darker tones to it and a few graphic scenes. The angsty tug of war between Emeric and Ivory was palpable and when they finally came together, wow. Emeric was the perfect protective Dom for this broken girl. He's dominant and kinky but never pushes her beyond her comfort zones.
When I first read this book was about a 17-year old girl and a 27-year old teacher, I didn't know how well I'd deal with it. I mean, she's in HIGH SCHOOL. The darkish tones of the book and the strength within Ivory, her history makes her much more mature than my 17-year old at home. ***cringe*** So if you avoid tropes with young H/h's, no worries with this book.
Dark Notes was suspenseful, erotic, and utterly unputdownable. A book I'd highly recommend for fans of erotic taboo teacher/student tropes. Bravo!
ABOUT THE AUTHOR
New York Times and USA Today Bestselling author, Pam Godwin, lives in the Midwest with her husband, their two children, and a foulmouthed parrot. When she ran away, she traveled fourteen countries across five continents, attended three universities, and married the vocalist of her favorite rock band.
Java, tobacco, and dark romance novels are her favorite indulgences, and might be considered more unhealthy than her aversion to sleeping, eating meat, and dolls with blinking eyes.
EMAIL: pamgodwinauthor@gmail.com
FACEBOOK:
facebook.com/pamgodwinbooks
AMAZON AUTHOR:
amazon.com/author/pamgodwin