Book Title:
The Anatomy of Jane
Author:
Amelia LeFay
Series:
WJM #1
Release Date: May 31st, 2016
Genres:
Erotica Romance, Menage
Jane




I've always been on my own. My life used to consist of nothing but work, keeping Allen out of trouble, and if I had time, sleep. Then I became their maid.




Max




Every day more than half a million people tune in to watch my show. They trust me. I know it's because I'm the only son of the prominent Emerson family. However, I like to believe it because I'm honest no matter what story I report on. I'm honest about everything but the man I've been f**king for the last four years… and now her.




Wesley




First I want three things: First Maxwell Emerson and Jane Chapman both in my bed. Second, to be the best bloody chef in the country. Third, to figure out how to simultaneously get the first and second things I want without any of us getting hurt.




THREE PEOPLE.




ONE LOVE STORY….
The Anatomy of Jane is book one in a 2 part series. We meet Jane Chapman, a young woman who's had nothing but complications in life. In an effort to get away from a shady strip-club bartending job, she takes on a maid position. This is where she meets our two male MCs- Maxwell Emerson and Weston Uhler.
Well, not sure meets is the right word- stumbles upon these two virile, hot men having sex while she was cleaning Maxwell's penthouse (unbeknownst to them). When Maxwell and Wesley learn of Jane's voyeuristic behaviors, they're intrigued by the beautiful woman. Jane also solves a huge dilemma for them- hiding their gay relationship from the media. She can be their beard of sorts. She's hard up for cash and they have ample to give away- for a price- marriage to Maxwell.
Though the book starts out with her more voyeuristic tendencies with these two hot boyfriends, they fairly quickly invite Jane to take part in their playtime. This book was seriously pretty damn hot for an MMF love story. It's heavy on the stream but still has a backstory for each character so we get a fairly decent depth of plot that is often lacking in menage erotica.
Oftentimes in polygamous type storylines, I fear that "odd guy out" component but these three had rules they followed and I didn't ever get that feeling like it was 2 plus 1 but they were a threesome, physically and emotionally. Both men bisexual and thought they had everything within their existing long term relationship but now also adding Jane to their relationship equation.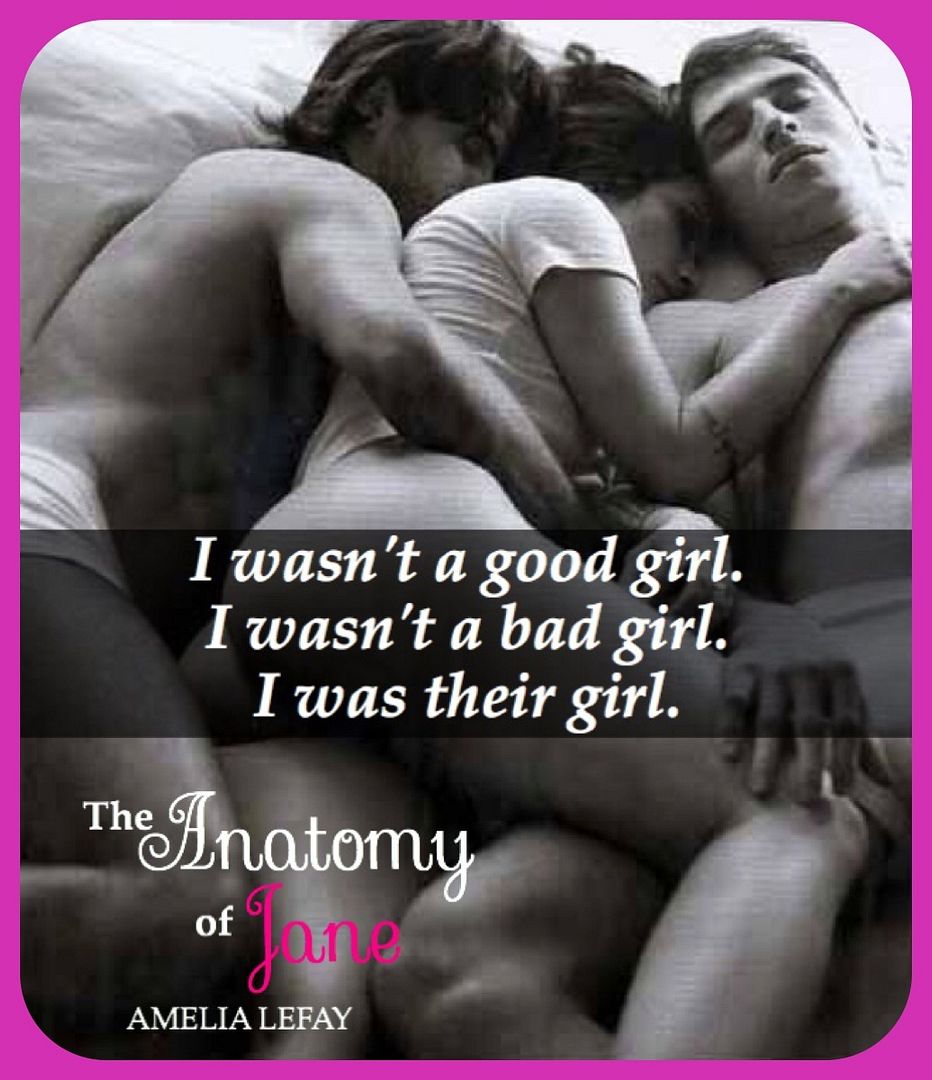 This is my first book by this author (under either pen name) but won't be my last. This book does end in a significant cliffy and the second installment,
The Anatomy of Us,
is plotted for release in late Fall or Winter so proceed with caution and patience for that happily ever after I hope these three MCs can find.
Advanced copy received by author in exchange for my honest review.