Book Title:
Forgetting August
Author:
J.L Berg
Series:
Lost & Found #1
Release Date:
December 1st, 2015
Genres:
Contemporary Romance
She can forgive, but can she forget?

Some days, Everly still thinks she sees him. In the food court at the mall, or in a car speeding past as the light changes. It only lasts a second, but when it happens, she slips back to a time when she was ruled-and nearly ruined-by August Kincaid. And it doesn't matter that she's moved on, that she's about to marry another man. In those moments the only thing she can do to regain control is take a deep breath and remind herself that August can't hurt her-because he's in a coma. Except that he's not anymore.

August is awake. With no memories, he sets out to solve the mystery of his lost life. He unearths a photograph of a beautiful redhead named Everly and knows instinctively that she's the key. But when he finds her, the August she describes is more monster than man.

Tortured by the thought of having hurt her, August wants only to become the man Everly deserves. As the new August emerges, Everly glimpses the person she first fell in love with. But can she trust that this August is real? When the final secret of their shared past is revealed, one of them will make a choice that changes their future forever . . .
Forgetting August by JL Berg depicts a second chance love story in the event of tragedy and amnesia. August Kincaid wakes from a two-year coma to find nothing...no visitors, no family, no friends. Just the belongings that were on his body leaving him to put the pieces back together of his previous life. His power of attorney happens to be his live-in girlfriend but even she appeared to run for the hills in his 2-year slumber- leaving his attorney and an accountant to keep up his sprawling estate. How does someone obviously so rich and successful have nothing?
When Everly Adams gets the phone call she's been dreading the past two years, her peaceful life with fiancée Ryan comes to a screeching halt. "He's awake." Two words that cause her house of cards to come crashing down. August was the love of her life until money and greed turned him into a controlling, paranoid monster of a man. She escaped that prison of a mansion and now the hospital calls and wants her to visit him?






He was like a ghost- my own personal poltergeist.
Forgetting August is one of those trickle fed books that had me feverishly turning the pages to find out why August was attacked, what kind of man he was pre-mugging, and can this completely new man win back the love of his life- his Everly. Everly thought his whole "amnesia" story was one big ruse to get her back but she starts to see big changes in him- changes that show her the old August she fell in love with- not the newer August that chose money over love and happiness. Can she help him rebuild his last 31-years of life yet prevent the ugly side of that man from returning? And at what cost to her and her fiancée Ryan?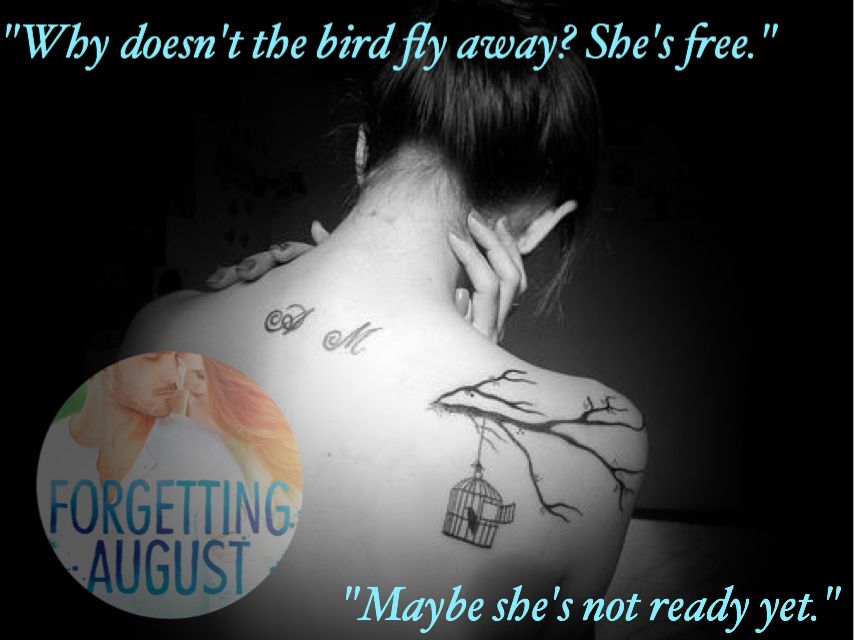 I enjoyed watching Everly teach August what life in San Fransisco was like when they first met. Taking him to all the touristy spots and basically reliving those early days. Having lived outside the San Fransisco area several years ago, I loved getting a tour of one of the best big cities in the U.S.- Fisherman's Wharf, cable cars, Ghiradelli chocolate, Haite Ashbury- Miss Berg knows her San Fran.
Everly and August can't help but feel the connection that was so strong before grow with time spent together. Revisiting their old hangouts was supposed to "provide closure" per their therapists yet it seems to be opening doors versus closing them...
Forgetting August had the potential to be uber angsty and I'm a bit disappointed it wasn't more so. I love the angsty push-and-pull of second-chance romances when clearly things ended on not-so-good terms. Can Everly trust that this new sweet, romantic August will stay--- or will old ghosts and memories creep into their new-found chance of love and happiness?
This book is not a standalone. It ends with a twist I didn't see coming and although it's not a complete cliffhanger, I'm feverishly anticipating the next installment in the Lost & Found series.
Advanced copy received by Grand Central Publishing via NetGalley
in exchange for my honest review.