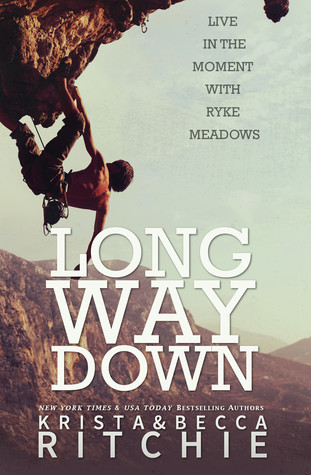 Book Title:
Long Way Down
Author:
Krista & Becca Ritchie
Series:
Calloway Sisters #4
Release Date:
November 20th, 2015
Genres:
Contemporary Romance, New Adult
With a seven-year age difference, Ryke & Daisy have faced an uphill battle in the eyes of the world and their families. Known as the most adventurous, fast-paced couple — their next step has always been elusive to the rabid media.

Behind the scenes, heartbreaking troubles continue to test Ryke & Daisy's resilience and shape their future together.

They promise:

To never slow down.
To never compromise who they are.
To never abandon their love for each other.


But preserving their happiness also means adding more risks. Ones that Connor Cobalt wouldn't even take. As a professional free-solo climber, Ryke is no stranger to risk, but his next step with Daisy wagers more than just his health.

With their lives on the line, Ryke & Daisy head towards the vast, wild unknown in this epic final conclusion to the Addicted series.
"Never give up or back down on the things that fill your soul, Calloway. There is no worse life than a hollow one."
Every couple in the Addicted series have their own battles to fight but with Ryke & Daisy, they're the risk-takers. Everyone sees them as reckless but to each other, their love runs deeper than that and they see each other for who they truly are. Their love was selfless, not only to their own but to every single person they cared about. It broke my heart over and over again to watch them fight their battles but it was their strength and faith to overcome them that really sent me into puddles of tears.
Even with this being marked as the 9th book in the series, I'm still blown away by the dynamics of the entire Addicted gang. Whether it's the Calloway sisterhood or the brotherly love of Lo, Connor & Ryke; the Ritchie twins continues to showcase the growth of these characters and the level of maturity they've reached since the very first book. I felt like I've grown along with these characters and witness every ups and down with them. The kind of attachment I have for these people are as real as they can be.
Exhilarating yet heartbreaking, I dare you to not fall in love with this read. The Ritchie twins have brought their A-game to greater heights by delivering the perfect conclusion to this epic saga. There was no other ending I could possibly ask for than the beautiful one given to us. The Addicted series was more than just a series of stories, it was an adventure of a lifetime and an unforgettable journey. From friendships to love, from hitting rock bottom to making breakthroughs; I wouldn't trade the experience of it for anything else in this world.
Krista & Becca Ritchie are definitely forces to be reckoned with and they continue to outdo themselves with each book they put out. I could easily find myself completely immersed in this world they've built and wishing that I could spend an eternity with these characters. With this bittersweet finale, no doubt it'll definitely take me a while to recover from this read.