Book Title:
I've Seen You Naked and Didn't Laugh
Author:
Eden Butler
Series:
Standalone
Release Date:
November 15th, 2016
Genres:
Contemporary Romance
Raine Quinn was a huge disappointment to her haters.




She wasn't supposed to make it out of Waco, TX.




She wasn't supposed to land even one acting job. And she sure as hell wasn't supposed to fall in love with her best friend.




Will Callahan liked to call himself the younger, hotter Shatner, minus the ham acting and distracting toupee. He loved everything comics, he loved playing the hero of the beloved, defunct space western, AURA and he loved his best damn friend, Raine Quinn.




Raine and Will shot up the Hollyweird ranks together. They became stars, Geek legends and over the years, family. But one night, with the meddling of their dearly departed friend, too many shots and too much time reminiscing, Raine and Will cross a line...and it's one they can't jump back over.
I've Seen You Naked and Didn't Laugh is quite different than most of the books I've read by Eden Butler. I'd embraced her writing first with the Thin Love series which was a gritty and angsty fighter trope. Here we get exactly what the title entails- a geeky love story.
I've Seen You Naked and Didn't Laugh (I'll term it ISYNaDL) is set within the lives of aspiring actors and actresses. It's quirky and humorous as the two main MCs have a deep-seated love for all things Star Wars, Star Trek, Harry Potter- you name it.
Let's be friends and quote Star Wars and laugh at lesser mortals.
Adults that seem stuck at the awkward age of adolescents, Will and Raine have been best pals for years. Their mutual love of geeky science fiction, they were fast friends but harbored hidden mutual feelings for each other. On the night of a pop-star's untimely death and their drunken vigil in his memory, tequila made their clothes fall off... well this just got awkward.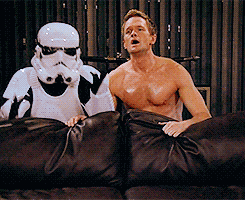 Very light in angst and steam, ISYNaDL is cute and quirky. I'd highly recommend it for fans of all things "geekster." Fans of Penny Reid type books would enjoy the endearing nature of the book, leaving the reader with a permanent grin for the duration of the book. Although different from what I've read by Eden Butler, this was a refreshingly different story for me.
Advanced review copy received by the author in exchange for my honest review.
Eden Butler is an editor and writer of New Adult Romance and SciFi and Fantasy novels and the nine-times great-granddaughter of an honest-to-God English pirate. This could explain her affinity for rule breaking and rum. Her debut novel, a New Adult, Contemporary (no cliffie) Romance, "Chasing Serenity" launched in October 2013 and quickly became an Amazon bestseller.When she's not writing or wondering about her possibly Jack Sparrowesque ancestor, Eden edits, reads and spends way too much time watching rugby, Doctor Who and New Orleans Saints football.
She is currently living under teenage rule alongside her husband in southeast Louisiana.
Facebook | Twitter | Blog | Pinterest | Tumblr | Amazon Page | Goodreads | Newsletter