Book Title:
Damnable Grace
Author:
Tillie Cole
Series:
Hades Hangmen #5
Release Date:
April 18th, 2017
Genres:
Dark Romance
EVEN THE BROKEN, THROUGH LOVE, CAN FIND GRACE...

Secrets never stay hidden.

The burden of guilt never lifts from the heart.

Born and raised in The Order of David, Sister Phebe knows nothing but cult life. Head of the Sacred Sisters of New Zion, Phebe was groomed from childhood for one purpose: to seduce. Prized as a harlot, as a New Zion whore, Phebe is taken from the doomed cult by Meister, the notorious leader of the Aryan Brotherhood. Taken as his possession. Taken to be the woman who will obey his every sexual demand. Under his heavy hand, Phebe finds herself in a place much worse than she could ever have imagined... with absolutely no one to help. And no glimpse of hope.

Xavier 'AK' Deyes is content with his life as Sergeant-At-Arms of the Hades Hangmen. Leader of the infamous 'Psycho Trio' and ex-special ops sniper, AK knows how to fight. Experienced in warfare and schooled in military operations, AK is vital to the Hangmen. When his Vice President needs help retrieving his missing sister-in-law, Phebe, from a Klan-funded trafficking ring, AK volunteers to go in. AK remembers the redhead from New Zion. Remembers everything about her from the single time they met—her red hair, blue eyes and freckled face. But when he finds her, heavily drugged and under Meister's control, her sorry condition causes him to remember more than the beautiful woman he once tied to a tree. Saving Phebe forces hidden demons from his past to return. A past he can never move on from, no matter how hard he tries.

As AK fights to help Phebe, and in turn she strives to help him, they realize their secret sins will never leave them alone. Kindred broken souls, they realize the only way they can be rid of their ghosts is to face them together and try to find peace.

Despair soon turns to hope, and damaged hearts soon start to heal. But when their deep, painful scars resurface, becoming too much to bear, the time comes when they must make a heavy choice: stay forever damned; or together, find grace.

Dark Contemporary Romance. Contains explicit sexual situations, violence, disturbingly sensitive and taboo subjects, offensive language and very mature topics. Recommended for age 18 and over.
The damned souls who together found grace.
Gah! That ending. I'm a pile of mush!
Leave it to Tillie Cole to, once again, give me a book that'll make me cringe in its darkish, graphic clarity yet instill a sweet, heartwarming love story at the same time. In the age of a plethora of gritty biker club books, Tillie Cole has the very rare ability to chock her books full of the graphic nature of cult rape, torture and brutal murder and throw in a heartwarming dose of family, friendship, brotherhood, loyalty, and true love. It's amazing to me that she can consistently pull all that off seamlessly in her Hades Hangmen series.
Damnable Grace is Phebe and AK's story. Both kindered souls. Both fighting for survival for different reasons. Phebe has been under the control of Meister, the klan's highest leader. Beaten, drugged and raped repeatedly, no chance of freedom or survival until the Hades Hangmen MC come a calling... specifically A.K., the man she vaguely remembers from her past. Those eyes...
When the Hangmen get word of the klan torturing and trafficking cult women, its game on. AK has always wondered what happened to the raven-haired beauty he saw in the forest years ago. The girl he spared. When his eyes settle again on her red locks, it's all-out war with the klan to rescue her from the hell she's been enduring at the hands of Meister.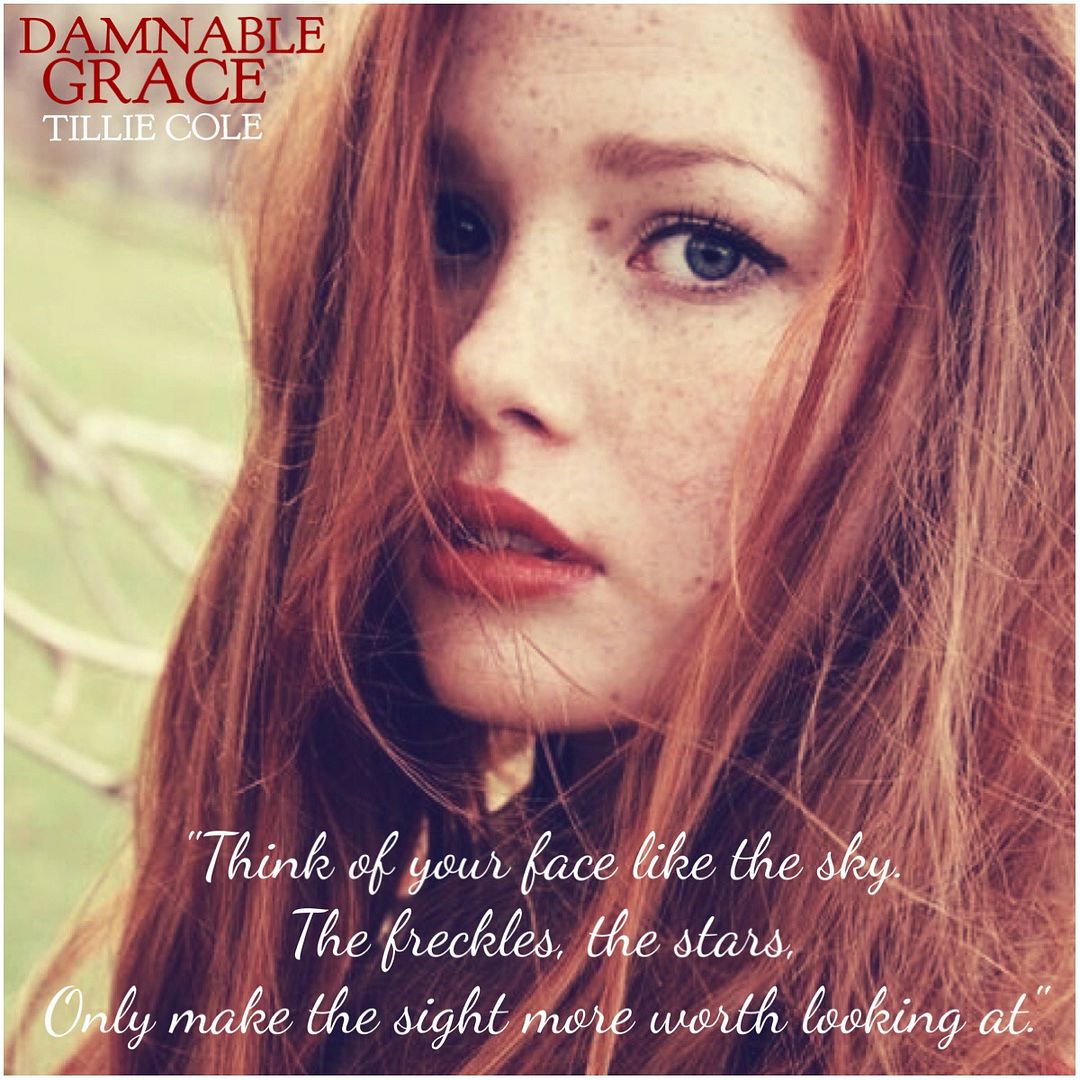 Damnable Grace is all about second chances at life. Finding that right person. Healing. It's a core theme to this series. Each book focused on different kindered spirits that come together through the torture and pain to heal one another. Every time I think I've found a new favorite love story in this series, I read the next and it tops the list. I didn't think anyone could beat Flame for me but AK is my new favorite Hangman. He's fiercely loyal, badass with a sniper rifle, the best kind of friend, and the most tender lover. The man is perfection. And Phebe is the perfect person as his potential old lady. But is it in the cards for them? Read this and find out!
Advanced copy received by author in exchange for my honest review.
Tillie Cole hails from a small town in the North-East of England. She grew up on a farm with her English mother, Scottish father and older sister and a multitude of rescue animals. As soon as she could, Tillie left her rural roots for the bright lights of the big city.
After graduating from Newcastle University with a BA Hons in Religious Studies, Tillie followed her Professional Rugby player husband around the world for a decade, becoming a teacher in between and thoroughly enjoyed teaching High School students Social Studies before putting pen to paper, and finishing her first novel.
Tillie has now settled in Austin, Texas, where she is finally able to sit down and write, throwing herself into fantasy worlds and the fabulous minds of her characters.
Tillie is both an independent and traditionally published author, and writes many genres including: Contemporary Romance, Dark Romance, Young Adult and New Adult novels.
When she is not writing, Tillie enjoys nothing more than curling up on her couch watching movies, drinking far too much coffee, while convincing herself that she really doesn't need that extra square of chocolate.