Book Title:
Before We Were Strangers
Author:
Renee Carlino
Series:
Standalone
Release Date:
August 4th, 2015
Genres:
Contemporary Romance
For fans of Jojo Moyes and the movie Before Sunrise, a sweeping love story inspired by a real-life missed connections story, from the USA TODAY bestselling author of the romantic women's novels Sweet Thing, Nowhere But Here, and After the Rain.

During their senior year of college, in an NYU dorm tucked into the heart of the East Village, Grace and Matt struck up a friendship over Jeff Buckley, Pearl Jam, and the Ramones. She was going to be a world-class cellist and he was going to be a famous photographer, their paths destined to diverge after graduation.

Even after an afternoon pub crawl ended in their drunken, spontaneous wedding, their visions for the future never overlapped enough for them to be together. The summer after college, he left his "ex-wife" on good terms and went to Brazil to work for National Geographic. They vowed to stay in touch and see each other soon.

They never did.

Fifteen years later, back in New York City, Matt sees Grace as she boards the J train. They're both different in a hundred ways, and yet they're still the same. But just as they recognize each other, just as he understands what he left behind all those years ago, the train pulls away. His only recourse is to send a missed connections letter out in the world, and hope she remembers where to look.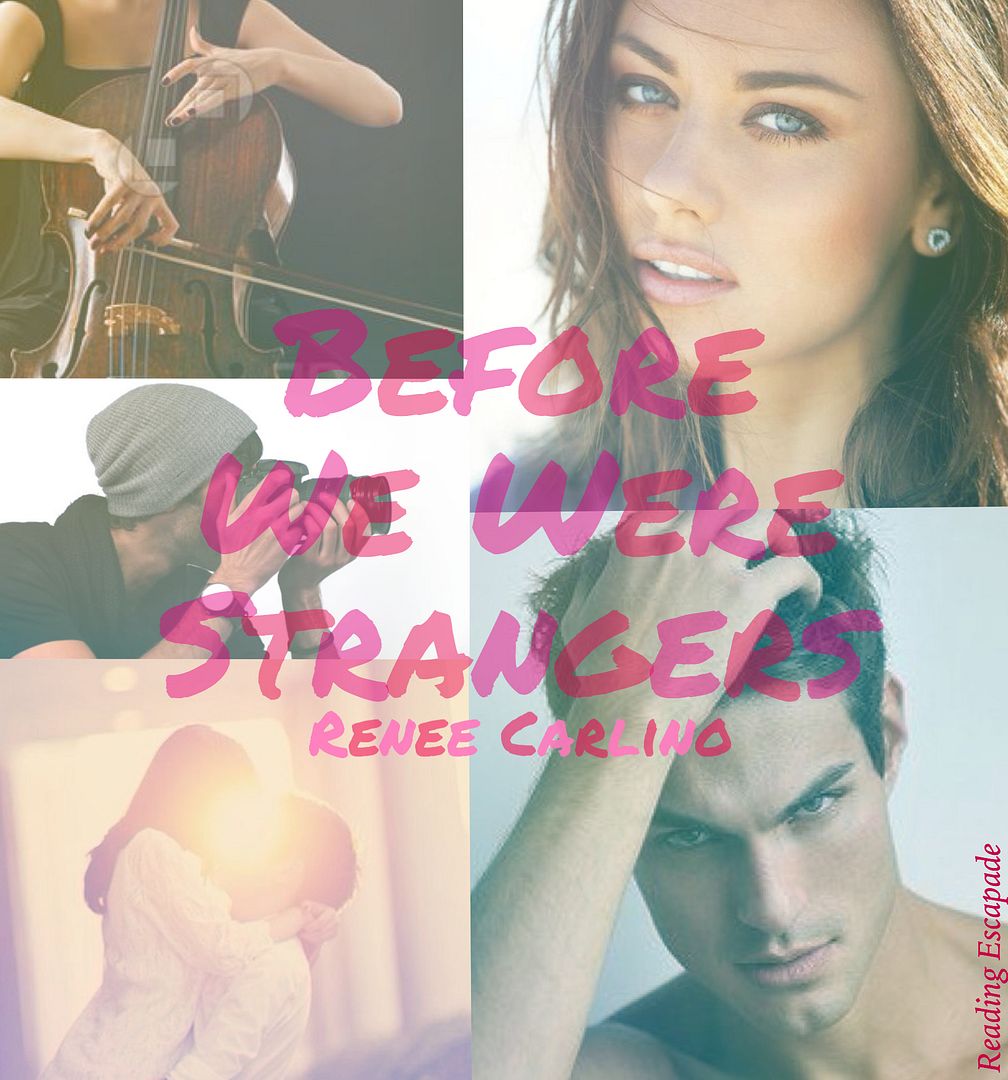 To the Green-eyed Lovebird: We met fifteen years ago, almost to the day, when I moved my stuff into the NYU dorm room next to yours at Senior House...
Before We Were Strangers had a book blurb that captured my attention immediately. Couple that with the fact that this is written by Renee Carlino, the author of one of my favorite NA romance novels, Sweet Thing, I couldn't wait to dive into it!
Before We Were Strangers is divided into then and now. I'll divide my review as such because my opinion is split almost as if it was two different books with two different sets of characters.
THEN
Matt and Grace meet while in college. Matt is a photography student and Grace is a music major, a gifted cellist. Grace comes from almost nothing and struggles to pay her tuition, much less afford food. She fast learned how to make very little go very far. Matt is attracted by her inner strength, her positive attitude and they become fast friends. Matt's father is very wealthy so he doesn't much struggle for the things that Gracie does. He wants to help her...her pride be damned.
I LOVED this aspect of the book. NA is definitely hit or miss for me but this was PERFECTION. Ms. Carlino built their relationship one step at a time. It was realistic and I grew in love with their connection as two unique, fun college kids. It wasn't rushed. It wasn't insta-love. Those days hanging out in the dorm room, Grace practicing cello, Matt photographing Grace in every imaginable situation...it was innocent and sweet. Did I also mention it was perfect? Well, all good things must come to an end, maybe. Matt is offered a huge opportunity to go overseas for the summer after they graduate. Just for a few months and he will be back for Grace while she prepares for graduate school.....
NOW
This is the aspect of the book that somewhat failed for me. We see from the blurb that Matt sets eyes on Grace from across the subway platform but she's gone before he has the chance to catch her. They both set eyes on each other. He SAW her whisper his name. He HAS to reconnect with her.
What is this Missed Connections on Craigslist? It's a venue for people to post messages for missed connections with people they may or may not know. "To the woman I saw running down the street today at State and Eisenhower. You're beautiful..." Posted such as that. I had no clue such a beast existed. It's strangely very romantic to me. I found myself looking online to my area Missed Connections. Some are SO sweet and romantic, some weirdly sexual and stalker-ish. But I digress...
This is an example of where time jumps fail me. I really didn't mind all the events of NOW. My issue is more with what happened BETWEEN the then and now. My mind is still a little befuddled and I feel the author didn't 100% clear up why they fell out of touch while he was overseas. And, let's face it, that's a huge premise of the book! It just didn't make sense to me.
Do not click the spoiler unless you've read this book or don't plan to
[Highlight the text below to view spoiler]
So Matt goes overseas and suddenly stops calling Grace. Then Grace reads articles about his blooming career and how he's teamed up with Elizabeth, planning to extend their trip to go here, there and everywhere. Matt calls his mother weekly because 'she can take collect calls?' Really? Then why didn't he pass on a message thru her to Grace telling her that? Why would he call his mom and ignore Grace? I get the collect call thing but I don't understand why he didn't want Grace to be assured he was okay and would call ASAP. Why not write her? It was never really explained what he was doing those months. Then he returns and Grace is gone with Dan and Tati in a traveling orchestra? I just don't get it. This is such an epic event in their relationship and it just fizzles out like there was nothing between them? But when they reconnect 15 years later, that spark is sizzling hot again? Do they have this consuming love connection or do they not? I know Elizabeth wrote a letter to Grace. I know Elizabeth hid letters from Grace to Matt but I'm under the impression this happened later when she and Matt were actually together, not during this brief summertime internship with National Geographic.
So, because of this giant question mark for me, I had to deduct a solid star. I really liked their reconnection part of the book yet my mind kept going back to the questions I had during the 15-year time gap.
Another great book by Renee Carlino. She has the ability to create characters I immediately fall in love with. You can completely picture each person, envision their personalities and interactions.
This quote is while they were giving blood. Talk about endearingly cute...
"You come here a lot?" "That's such an old pickup line, Matt. I think you need new material." "I'm really into girls with big platelets." "Much better. Now you have my attention. You're in luck, because I'm really into guys named Mathew." "It's Matthias, actually." "No shit?" She cocked her head to the side. "I've never heard that name before. Is it biblical?" "Yep. It means God-like." "Stop." "No, I'm serious. It means God-like appendage."
Before We Were Strangers is a great second chance, friends to lovers, romance that, for me, was both tragic and endearing. Characters both intelligent and so very stupid. Mature behind their years yet immature in their own ways. I can see how events in this book may bother some readers. It didn't bother me to the point of not enjoying the book. It just gave me the lingering "huh?" through till the end. And I'm still kinda befuddled...
I'd still highly recommend this book for those who loved Sweet Thing. The character of Matt is so stinking endearing. I loved him. And I commend Ms Carlino for creating a NA book twice now that I truly enjoy!
I had to include this excerpt only because it's written so perfectly, describing that first feeling of falling in love. I just thought Ms Carlino hit this interpretation of first love right on the mark-
"You can't re-create the first time you promise to love someone or the first time you feel loved by another. You cannot relive the sensation of fear, admiration, self-consciousness, passion, and desire all mixed into one because it never happens twice. You chase it like the first high for the rest of your life. It doesn't mean you can't love another or move on; it just means that the one spontaneous moment, the split second that you took the leap, when your heart was racing and your mind was muddled with What ifs?—that moment—will never happen the same way again. It will never feel as intense as the first time."
Advanced copy received by Atria Publishing via NetGalley in exchange for my honest review.
Quotes are taken from pre-published version and may change in final product.
ABOUT THE AUTHOR
Renee's first friends were the imaginary kind and even though her characters haven't gone away, thankfully the delusions have. She admits she's a wildly hopeless romantic and she blames 80's movies staring Molly Ringwald for that. She lives in Southern California with her husband, two sons, and their sweet dog June. When she's not at the beach with her boys or working on the next book, she likes to spend her time reading, going to concerts, and eating dark chocolate.
Website
||
Facebook
GIVEAWAY
a Rafflecopter giveaway