Book Title:
The Fall Up
Author:
Aly Martinez
Series:
Standalone
Release Date:
October 26th, 2015
Genres:
Contemporary Romance
I wanted to jump.
He made me fall.

As a celebrity, I lived in the public eye, but somewhere along the way, I'd lost myself in the spotlight.

Until he found me.

Sam Rivers was a gorgeous, tattooed stranger who saved my life with nothing more than a simple conversation.

But we were both standing on that bridge for a reason the night we met. The secrets of our pasts brought us together—and then tore us apart.

Could we find a reason to hold on as life constantly pulled us down?

Or maybe there's only one direction to go when two people fall in love at rock bottom—up.
The Fall Up
just took the prize for my favorite Aly Marinez book! And knocking a hot, stacked fighter (sorry Flint Page) off that shelf is no easy feat... but
Sam Rivers
takes the prize for one helluva perfect book boyfriend.
Levee Williams
met Sam on top of the Golden Gate Bridge in San Francisco. Two people trying to find solace, peace, however they can from their grieving and broken hearts. Sam is instantly drawn to helping
Designer Shoes
as it appears she's a step away from stepping off. And so their dialogue begins...two strangers lost yet finding a connection in
their darkness
the dark high above the city.
Alert the press!
Aly Martinez
has one hell of a sense of humor, boys and girls! Holy smokes, this book forced a near-constant shit-eating grin on my face! Nothing I love more than to see two sad souls find comfort in each other
through humor
...smiles! I'd like to say it's all Sam, but Levee was one snarky heroine as well. Though weak in her fight against depression and exhaustion from being a pop-music star, she found happiness in all things Sam. They were the perfect balm to each others' broken hearts.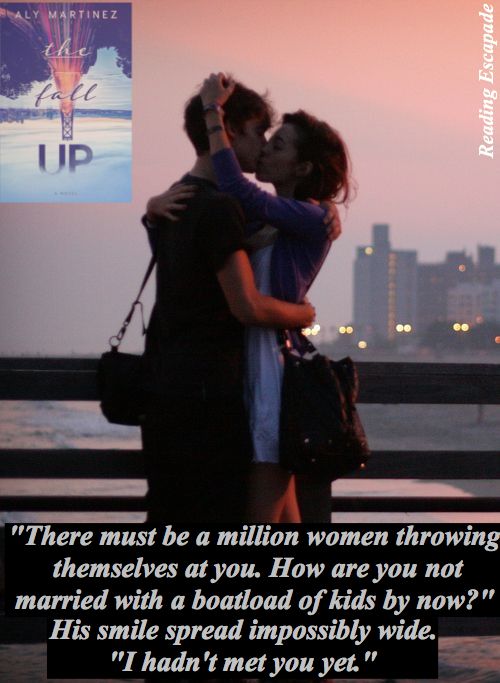 The Fall Up
delivers the perfect dose of emotional tug-at-the-heartstrings angst, humor, and sexy times. I loved how the author took a rich and famous pop star and made her
real.
A young woman with real feelings, real hurts, real struggles. And one simple guy who ventures up on the bridge for his own reasons, can see past her
designer shoes
, blonde wig, and dark sunglasses to find that person crying out in pain. All these millions of people look at Levee daily, even her close staff and friends, but nobody truly
sees
her until the heavily tatooed man chain-smoking on that dark bridge. So one night leads to the next, easy banter and walls start to crumble. Loved that evolution!
Secondary characters such as Sam's mom (that lacks any verbal filter) and Henry, Levee's pop-star gay BFF add that extra humor and fun camaraderie. Looking forward to Henry's book in 2016- What straight man is that sex-on-a-stick going to lasso?
The Fall Up
is an all-around feel-good, yet emotional (but not TOO heavy on the angst) love story. Loved it! Bravo!
ARC copy kindly provided by the author in exchange for an honest review.
Born and raised in Savannah, Georgia, Aly Martinez is a stay-at-home mom to four crazy kids under the age of five, including a set of twins. Currently living in South Carolina, she passes what little free time she has reading anything and everything she can get her hands on, preferably with a glass of wine at her side.
After some encouragement from her friends, Aly decided to add "Author" to her ever-growing list of job titles. Five books later, she shows no signs of slowing. So grab a glass of Chardonnay, or a bottle if you're hanging out with Aly, and join her aboard the crazy train she calls life.
Website
|
Facebook
|
Twitter
|
Goodreads