Book Title:
Scarlet Stone
Author:
Jewel E. Ann
Series:
Standalone
Release Date:
December 10th, 2016
Genres:
Contemporary Romance
"My name is Scarlet Stone, and my biggest fear is that someday I will find what I want most in life, and it will be impossible to steal."




What happens when life just stops? When one moment makes you question your entire existence?




Scarlet Stone is a third-generation thief who has everything: a doting fiancé, a spacious London flat, and a legitimate job offer. In a single breath, everything becomes nothing, and she finds herself on a plane to Savannah, Georgia in search of the meaning of life.




After securing a six-month lease for a beachfront house on Tybee Island, Scarlet changes the way she looks, thinks, eats—basically her entire outlook on life. She needs peace, but what she gets is a housemate who looks like Thor, acts like a warden, and smells her proximity like a Bloodhound.




Theodore Reed is a carpenter and perfectionist with a body built of steel, a black, hollow heart, and a hunger for revenge. He doesn't like company, girly-smelling crap, and British accents.




He resents every breath she takes.

She's fascinated by his every move.




In time, they discover their coexistence is toxic, their physical attraction is electric, the secrets they keep mean the difference between life and death, and the only truth they share is that everything is a lie.




"Over eighty-five percent of the world's population believes in a higher power, yet, very few people believe in miracles."




Do you believe?
My name is Scarlet Stone, and I'm drawn to anything out of the ordinary, the crazy, the eccentric. I've been this way all my life.
It's no surprise that Scarlet Stone was a sure hit for me. Everything shines for me with Jewel E. Ann. She has this innate ability to soften my little heart up with endearing, likable characters, humor, and relatable plots. And then often-times than not, stomp on it while it's all warm and soft!
But I digress...
Scarlet Stone is one of those characters I can't help but attach to. She's like one giant onion with so many layers. A third generation thief (don't worry- this book isn't about being an outlaw), Scarlet leaves her life in England behind to move to her birthplace, Savannah, Georgia. She thinks she's majorly lucked out when the guy next to her on the flight has an opening for his rental on Tybee Island. Huge stress of her shoulders, beautiful beach house, what can go wrong?
Until she meets her new "roommate"...
Theodore Reed doesn't 'do' roommates. In fact, he doesn't much 'do' human interaction at all. He's clipped, brooding, and aloof. And Scarlet is the absolute bane of his existence. He has four words for this all-kinds of crazy, 'funny-talking' chick,
"I am the law."
Scarlet Stone steals the show here. She's endearingly quirky funny yet deep down she's got a sadness that makes you want to laugh then cry for her. She's got a hard shell making the world think she's indestructible but she's sensitive and soft at her core.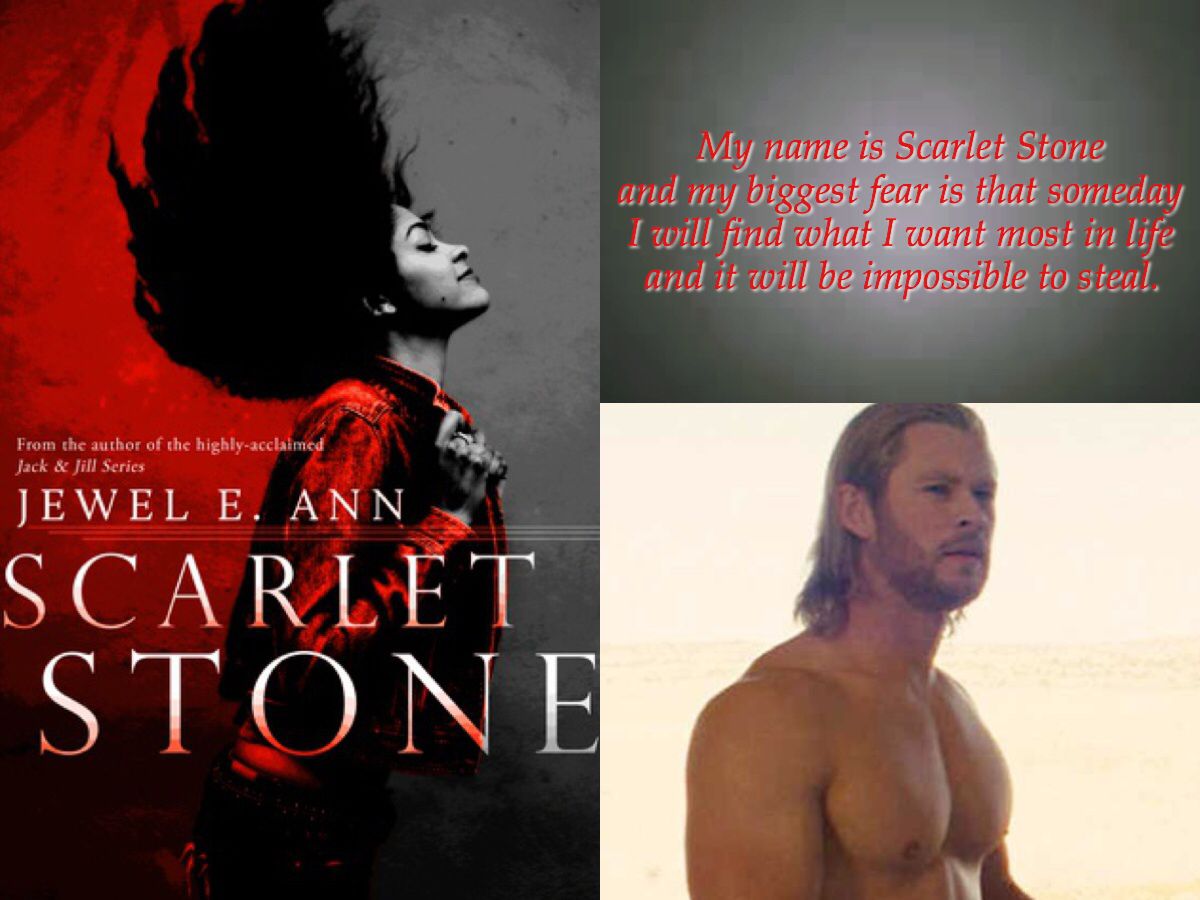 Jewel E Ann constructs characters like no other. The way she instills humor with an equal side of heart makes me attach to them as if I know them personally and their battle is my battle. I always seem to have this goofy grin on my face while reading her stories- but I do believe that's to soften me up for the sucker-punch blow to my heart she's sure to inflict. I can almost hear her inner monologue as she writes, "soften them up before you go for the emotional kill." I think she's a closet sadist. And I keep coming back for more. And I will continue to come back...
Scarlet Stone is a great story for fans of an emotional rollercoaster ride- chock full of humor, steam, angsty emotion, and endearing characters. Nothing is simple here and she will take you on a true journey for a young woman named Scarlet Stone. So pack the tissues. You'll need them for laughing and crying. But in the end, I assure you that you'll close these pages with a warm and happy heart. ❤️
Well done...
Advanced copy received by author in exchange for my honest review.
Jewel is a free-spirited romance junkie with a quirky sense of humor.
With 10 years of flossing lectures under her belt, she took early retirement from her dental hygiene career to stay home with her three awesome boys and manage the family business.
After her best friend of nearly 30 years suggested a few books from the Contemporary Romance genre, Jewel was hooked. Devouring two and three books a week but still craving more, she decided to practice sustainable reading, AKA writing.
When she's not donning her cape and saving the planet one tree at a time, she enjoys yoga with friends, good food with family, rock climbing with her kids, watching How I Met Your Mother reruns, and of course…heart-wrenching, tear-jerking, panty-scorching novels.