Book Title:
The Pawn
Author:
Skye Warren
Series:
Endgame #1
Release Date:
December 6th, 2016
Genres:
Dark Romance, Mystery/Suspense
The price of survival…




Gabriel Miller swept into my life like a storm. He tore down my father with cold retribution, leaving him penniless in a hospital bed. I quit my private all-girl's college to take care of the only family I have left.




There's one way to save our house, one thing I have left of value.




My virginity.




A forbidden auction…




Gabriel appears at every turn. He seems to take pleasure in watching me fall. Other times he's the only kindness in a brutal underworld.




Except he's playing a deeper game than I know. Every move brings us together, every secret rips us apart. And when the final piece is played, only one of us can be left standing.




THE PAWN is a full-length contemporary novel from New York Times bestselling author Skye Warren about revenge and seduction in the game of love.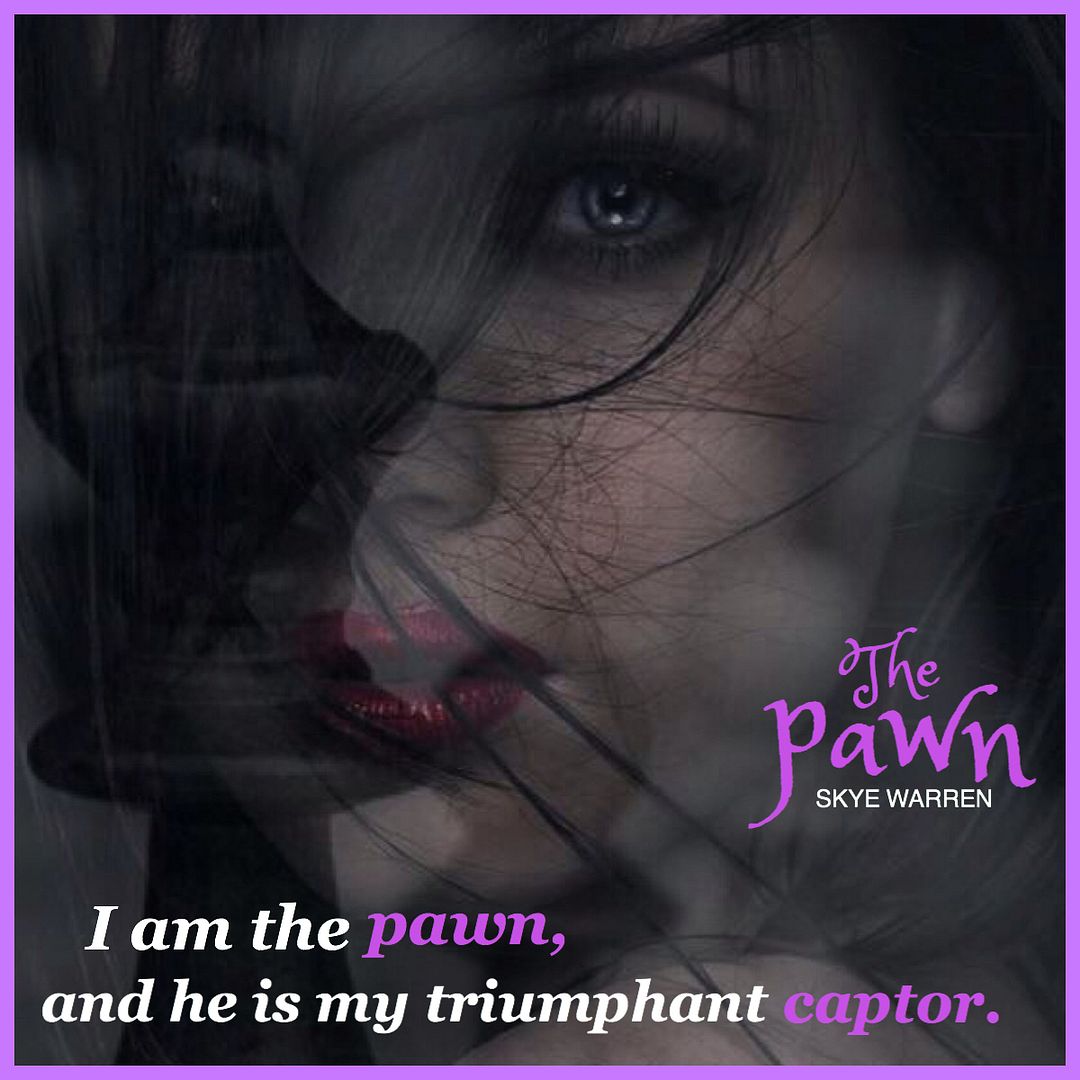 The Pawn is the first book in the new Endgame series.
Avery James has lived a life of innocent yet blissfully ignorant privilege. Only child of a fiercely protective father, she never predicted their quick fall from grace. The fall from wealth, prestige and connections to barely being able to afford the care for her deathly injured ill father. With nowhere else to go, she swallows her pride and enters the lion's den- or more accurately, The Den, home of a ruthless loan shark. She has no choice but to bow down in desperation to save her family estate and her father. She just didn't realize the high price she'd have to pay...
Gabriel Miller is out for one thing- revenge. He's taken a key role in bringing down the house of cards Avery's father has built on lies and business corruption. Now for the checkmate- his prized daughter. She will be his to own... she has no choice. He's left her no choice...
The Pawn is a darkish story chock full of suspense, revenge, and seduction. It's all one big chess game of life and Avery is the true pawn. Who will come out the victor in this game of precisely planned moves? It's hot and spicy yet a bit dark and mysterious. As much as I wanted to hate Gabriel, I found myself hoping for some angelic transformation. For villain to hero. Until the next installment The Knight...
Check-mate...
***This book does end in a cliffhanger. It's a full sized book but NOT a standalone.
Advanced review copy received by the author in exchange for my honest review.
Skye Warren is the New York Times and USA Today Bestselling author of dark romantic fiction. Her books are raw, sexual and perversely romantic.