Book Title:
Bombshell
Author:
CD Reiss
Series:
Hollywood A-List #1 (Standalone)
Release Date: May 1st
, 2017
Genres:
Contemporary Romance
From New York Times bestselling author CD Reiss, a standalone romance about a nanny, a Hollywood star, and a love they never expected.




Hollywood bad boy Brad Sinclair always gets his way, whether it's the role he wants or the bikini-clad model he has to have. But when a bombshell gets dropped in his lap in the form of a dimpled five-year-old from a forgotten relationship, he knows his life is about to change forever.




Cara DuMont isn't exactly thrilled when she gets assigned to be the nanny for the latest box-office king. She has one rule: no celebrity fathers, especially single ones with devilish good looks and rock-hard abs.




But as soon as Cara meets Brad and his adorable little girl, she knows she's in for a world of trouble. Because there's something about the way Brad looks at her that makes her believe that some rules are meant to be broken…
CD REISS has gone heart-warmingly sweet with Bombshell. Little did I know the queen of erotica can also write some enjoyable contemporary romance! Take a rakish party-animal famous actor, throw in a sweet nanny hell-bent on not f@cking 'the dad,' and add a darling, too-smart-for-her-own-good 5-year old, and you've got yourself a great cast of characters that'll keep you turning the pages!
Brad Sinclair, actor extraordinaire, didn't bank on fatherhood to a 5-year old orphan. But when tests show she's truly his kid, he's a stand-up guy. Well, kind of- as long as it doesn't f@ck up his rising career. Enter the newly hired nanny-on-consult, Cara. Squeaky-clean reputation is her focus. If there is one commonality with nannies it's their uncanny ability to ruin their careers by messing with the dads. Not her, no matter how spell-bindingly handsome Brad Sinclair is. So she agrees to a 30-day consultation contract with the dynamic duo (Brad and Nicole). Give him tips to parenting, pave the road for the permanent nanny. Easy peasy.... but who's more irresistible- Brad or 5-year old Nicole?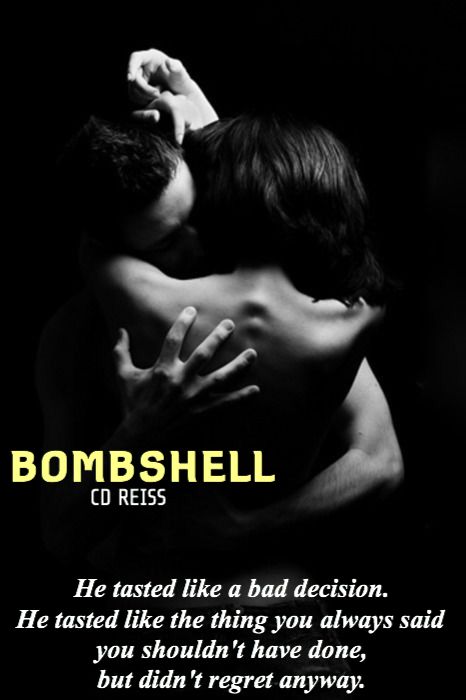 Bombshell ebbed and flowed for me, but all in all, I found the book sweet and truly enjoyable. There's something I love about taking the wild party animal and watching him be tamed by love- love of family and the right woman. Brad is sexy and, on the surface, seemed not wholeheartedly invested in fatherhood but his gradual transformation, growth, was a sight to see. He doesn't stand a chance between these two women in his life. However, Cara has hard limits-not being a tabloid headliner. And crossing professional boundaries will surely ruin her career and reputation. Is it worth the cost? Depends on who you ask.
Nicole, I swear, stole the show in Bombshell. She was both sweet and smart yet strong-minded and could be a bit of a pistol for both her dad and Cara. She was a perfect little bombshell.
Advanced review copy received by the author in exchange for my honest review.
CD Reiss is a USA Today and Amazon bestseller. She still has to chop wood and carry water, which was buried in the fine print. Her lawyer is working it out with God but in the meantime, if you call and she doesn't pick up, she's at the well, hauling buckets.
Born in New York City, she moved to Hollywood, California to get her master's degree in screenwriting from USC. In case you want to know, that went nowhere, but it did embed TV story structure in her head well enough for her to take a big risk on a TV series structured erotic series called Songs of Submission. It's about a kinky billionaire hung up on his ex-wife, an ingenue singer with a wisecracking mouth; art, music and sin in the city of Los Angeles.
Critics have dubbed the books "poetic," "literary," and "hauntingly atmospheric," which is flattering enough for her to put it in a bio, but embarrassing enough for her not to tell her husband, or he might think she's some sort of braggart who's too good to give the toilets a once-over every couple of weeks or chop a cord of wood.
If you meet her in person, you should call her Christine.