Book Title:
Stain
Author:
Francette Phal
Series:
Standalone
Release Date:
December 16th, 2015
Genres:
Dark Romance
"You're like the sun...and I'm the stupid moon. Always chasing after you."

I didn't know it was possible to fall so deeply into someone. To drown so strongly into their bottomless depths coming up for air was unfathomable. Until he comes along, with his sun-hot radiance, and eclipses the candle that is me. He's Lucifer before the fall, beautiful but the devil is in the way he looks at me. In the way his touch brands his name across every inch of my skin. His kisses possess my soul in the most sinful of ways.

Maddox Moore is my beginning and my end. Protector, friend, and lover—he's become my sole religion. At his side I become fearless, in his arms I burn to cinders, and in worshiping him I lose myself and discover the person he sees in me. But nothing is forever. Moments are ephemeral. No matter how much you want something life inevitably reminds you that you can't have it.

I'm damaged. He's broken. We're both covered in stains. Stains that make it impossible for us to hold onto each other.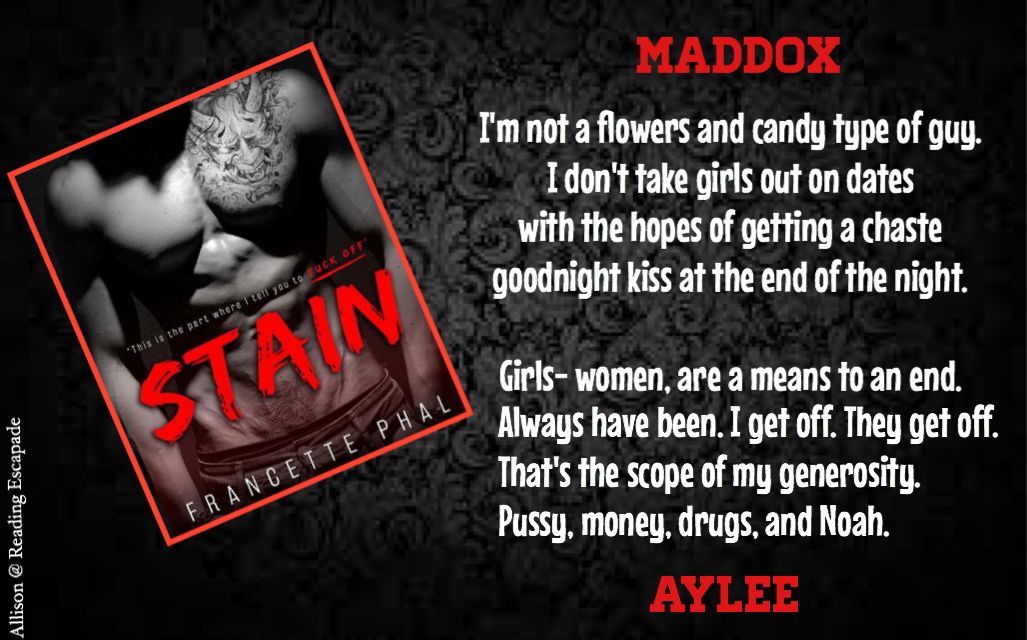 Stain was one of those books you start thinking "I'll get a half hour of reading in before I hit the hay" and the next thing you know, you're 60% into it and sleep be damned! I was hooked from the get-go. Nothing grabs my attention more than being thrown into a dramatic scene right from the start. And Franchette Phal didn't fail me in keeping my attention for the duration of the book.
Maddox and his twin brother Noah lived a childhood of horror at the hands of their father. The book starts out in a graphic scene that grabbed my heart for those boys right off the bat. But over the years, where Noah stayed sweet, Maddox got angry. And when I say the guy had the tendency to be a grade-A "I don't give a f*ck about anyone or anything" asshole, he takes the cake! But knowing what events caused his hardened shell made me fall for him nonetheless.
Aylee hasn't had the greatest childhood either. She was a kid in the foster care system, but luckily she was adopted. Lucky? Not so much. She too endures her fair share of the filthy side of human nature. Aylee stays true to her goals- graduate, get into a great art school, get the f*ck out of there...
Both Maddox and Aylee are stained. Both fighting their inner demons the only way they can.
Stain is not a book for the hearts-and-flowers romantics. In fact, some of the subject matter may be triggers for readers...child abuse, rape, and drugs. Both kids are only 18 but I felt as if they were in their late twenties for all they'd gone through in life. Something about Aylee draws a fierce protectiveness out of Maddox. He's usually one to not give a f*ck about anyone but Noah and himself but he can see the facade she hides behind. He sees Aylee's hidden scars...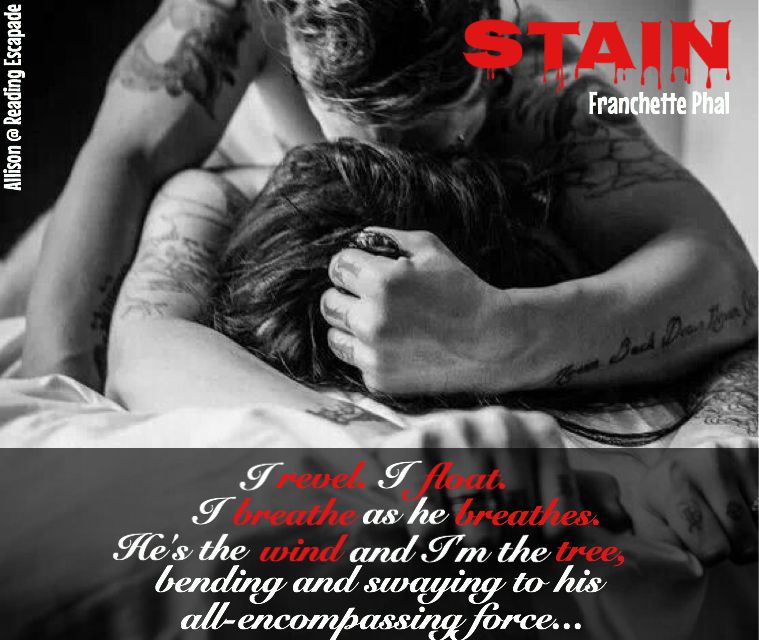 I loved just about every aspect of this book...
Tortured hero- check
Asshole yet redeemable hero- check
Sweet yet flawed heroine- check
Two broken souls finding solace in one another- check
Dark and gritty- check
Steamy- check
Franchette Phal has an artistically poetic prose to her writing style and I'd highly recommend this for fans of Pepper Winters or Nashoda Rose. It's definitely darker and grittier for New-Adult fans. I truly forgot that I hate reading books with kids this age! I don't often stop mid-book and start feverishly texting friends to "read this book!" I took a chance recommending something I hadn't even finished and I'm so happy she didn't let me down!
My only minor deduction is I felt the climax and resolution to the story was fairly rushed- all in the last 10% or so of the book. And I'd love to have an epilogue. But a little mouse told me there's a Maddox and Aylee novella in the works!
Bravo! Well done! If all New Adult books could be like this, I may start reading that genre again. Stain releases on Dec 16th. It's .99 on pre-order and will only be that .99 sale for thru the release day.
Advanced copy received by author in exchange for my honest review.
Francette lives in Massachusetts with her amazingly supportive husband of ten years and her darling two year old son. Reading amazing books has led her to writing and she's dabbled in fan-fiction before self-publishing her own works. She's constantly thinking up new stories to write and does her best work when music is playing in the background. Romance is where she's most comfortable but she hopes to one day venture in mystery novels. She has a weakness for coffee ice cream, tropical fruits and a good glass of wine.
Win 1 of 5 signed copies of Stain by Francette Phal and a Surprise Swag Pack!