Book Title:
To Love Jason Thorn
Release Date:
December 3rd, 2015
Genres:
Contemporary Romance, Humor
Jason Thorn… My brother's childhood friend.

Oh, how stupidly in love with that boy I was. He was the first boy that made me blush, my first official crush. Sounds beautiful so far, right? That excitement that bubbles up inside you, those famous butterflies you feel for the very first time—he was the reason for them all. But, you only get to live in that fairytale world until they crush your hopes and dreams and then stomp on your heart for good measure. And boy did he crush my little heart into pieces.

After the stomping part he became the boy I did my best to stay away from—and let me tell you, it was pretty hard to do when he slept in the room right across from mine.

When tragedy struck his family and they moved away, I was ready to forget he ever existed.

Now he is a movie star, the one who makes women of all ages go into a screaming frenzy, the one who makes everyone swoon with that dimpled smile of his. Do you think that's dreamy? I certainly don't think so. How about me coming face to face with him? Nope still not dreamy. Not when I can't even manage to look him in the eye.

Me? I'm Olive, a new writer. Actually, I'm THE writer of the book that inspired the movie he is about to star in on the big screen. As of late, I am also referred to as the oh-so-very-lucky girl who is about to become the wife of Jason Thorn.

Maybe you're thinking yet again that this is all so dreamy? Nope, nothing dreamy going on here. Not even close.
Having stumbled across Ella's previous work and found myself surprised with how much I've enjoyed it, I couldn't pass on this read with a blurb that screamed childhood love and a cover so pretty that I'd like to stare at for a long while. I think excited is probably an understatement at this point.
We got Olive Taylor and Jason Thorn who met when they were younger and just like most 8-year olds, Olive developed a crush on Jason whom is her older brother's best friend. You're never too young to dream but for Olive, that came to an end when Jason only saw her as a younger sister. After a tragedy that drove Jason to leave town, these two crossed paths again many years down the road when their work paths collide.
Once again, this book took my by surprise especially with how I found myself enjoying the light-heartedness of this read. At first glance, I thought it'd be laced with unnecessary drama with the whole Hollywood shenanigans but it wasn't. It was quite amusing to see someone as awkward as Olive be paired up with a charming playboy like Jason, and how their relationship grew over the course of the read. With Olive being unsure how to thread the line between treating Jason like a big brother or something more, I thought the transition was done nicely without coming off as too rushed for these two.
Also I really liked secondary characters like Lucy whose outrageously hilarious and had me cracking up more times than I'd like to admit! I would like to demand that a spinoff book be done for her and Jameson, I think Lucy deserves her own spotlight after this one.
Overall if you're looking for a sexy light-hearted read, this would fit the bill for what you're searching for. It was the kind of read that I enjoyed after reading an emotional one because it made laugh and grin so hard. Oh and how can I forget, the sexy times in the book was off the charts HOT! Bonus points to Jason for being such a dirty talker because boy did those scenes completely caused my ovaries to explode.
ARC kindly provided by the author in exchange for an honest review.
ABOUT THE AUTHOR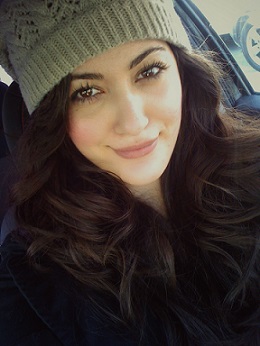 I'm an avid reader. Therefore, a big dreamer. I love nothing more than to escape real life to find those very few magical moments in a book. I love how it has the power of stealing your worries away, putting a smile on your face, and of course sometimes making you crush on fictional characters. If I can manage to do even one of those things for a reader, I will be a happy writer.
I can't even begin to describe how exciting it is to give life to new characters and fall for them. It's a different kind of addiction.
I'm still searching for my own happy ending. Until that happens, I'll live vicariously through my own characters.
Website
||
Facebook
||
Twitter
||
Goodreads