Author:
Ella Frank
Series:
Sunset Cove # 2 - Standalone
Release Date: May 24th, 2016
Genres:
Contemporary Romance, M/M Romance
What do you do when the one you least expect to matter…




Ends up mattering the most?




Derek Pearson likes to think he's an easygoing guy. Uncomplicated, upfront, and unapologetic with what he wants. His what you see is what you get attitude is on prominent display for anyone who cares to look, and his foul mouth is right there to back it up should you miss the point.




However, what you see isn't always what you get, and only a select few have ever glimpsed the real man under the brash exterior.




Among them? Professor Jordan Devaney. Complicated, high-maintenance, and vibrant, he's Derek's opposite in every way. From the moment they saw each other, a love-hate relationship began.




But what happens when one person wants more?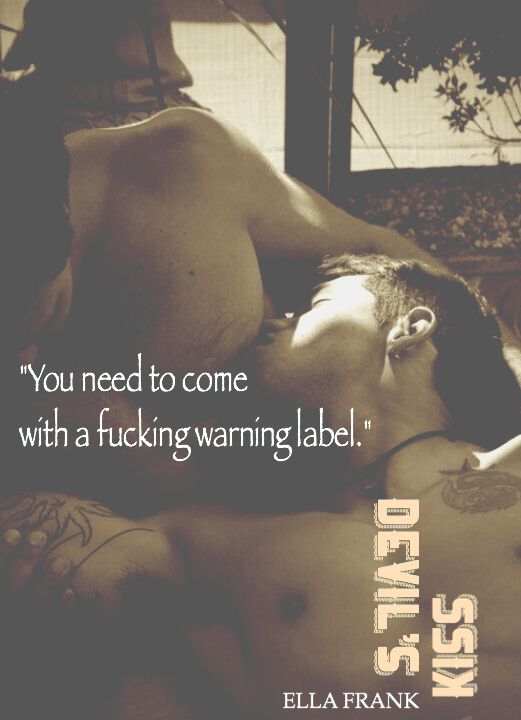 I've been looking forward to this book ever since I met the drama queen, aka Posh, Professor Jordan Devaney, in Finley. Devil's Kiss is the second book in the Sunset Cove series but can be read as a standalone. All I knew when I first met these two fellas is that there was serious history between them... A chemistry that on the surface looks like hatred but if you looked a bit closer, it was a balls-to-the-wall explosion of testosterone ready to combust.
A second-chance romance of sorts, Jordan Devaney and Derek Pearson have known each other since Derek was Jordan's brooding student in history class. Derek was always a bit of a mystery and never backed down to Professor Devaney, a challenge Jordan readily accepted.
Devil's Kiss starts out years in the past during those early college years and brings us full circle to the present day. We needed to get the history between these two in order to understand the animosity between them we observed in Finley. As I said, this can be read as a standalone but I'd highly recommend reading Finley for the backstory of all the characters we get to know here...
Devil's Kiss was one huge "can we ever get our sh*t together" trope. Seems the two of them never seemed to get their sh*t on the same page and at times my kindle was at risk of getting thrown across the room. For two grown adults, they let lots and lots of time pass where simple communication and less stubbornness would've prevented those years apart. But this is fiction and without that drama, what story would we have?
Jordan Devaney was everything campy diva I expected him to be. Couple him with a tall, muscular, tattooed guy like Derek Pearson and they seemed as ill-fitted as can be. But they just fit, each person bringing something to the table the other guy needed... And damn, Jordan seemed, on the outside, a bit flamboyant but stick him in the bedroom and he took over with his raw masculinity and control....
And if Derek called, Jordan always answered, no matter how many months or years passed. Speaking of months and years, this is my one issue with the book that rather impeded my ability to really attach to a love story between them. The infamous time jumps. The first half of the book (60%) is essentially jump after jump until we get to the present and I had a really hard time connecting to these guys when they spent years apart. Here's the example of chapter timeframes-



Ch 10- 1 year later


Ch 11- 3rd year of college (2 years later)Ch 12- 1 week laterCh 13- 1 year laterCh 14Ch 15- 3 years laterCh 16- 4 years laterCh 17- 6 months later



So I'm reading and thinking Okay, so what's going on for that year...for those three years...four years? To expect them to be celibate or not dating others is not realistic and that brought a disconnect to them as a couple or love story for me. I wanted them pining away for each other and with such time jumps, I didn't see it likely. Lots of time wasted, for sure.
What saved the book for me is the present tense. Yes, still making stupid decisions that communication would've prevented this time apart, I attached to their love story much more in that last 40%.
I also couldn't wait to catch any glimpse of Brantley and Finn and their blooming romance within this book. And we got it. Some of the timeline runs parellel to Finley.
Ella Frank has found her niche in MM romance and I look forward to more male hotness in the Sunset Cove series...maybe a book with the beautiful male model Dylan...
Advanced copy received by author in exchange for my honest review.
Ella Frank is the author of the #1 Bestselling Temptation series, including Try, Take, and Trust and is the co-author of the fan-favorite erotic serial, A Desperate Man. Her Exquisite series has been praised as "scorching hot!" and "enticingly sexy!"
Sign up
here
to receive the latest information on Ella's upcoming book releases, ARC opportunities, sales & events!
a Rafflecopter giveaway