Author:
Kendall Ryan
Series:
Standalone
Release Date: May 23rd, 2016
Genres:
Erotica Romance
Hard-core fucking.




It's not what I really want, but it's all he has to offer. He's filled with turmoil and heartache and regrets, but for two hours every Wednesday all he feels is me. How much I desire him, how desperate he makes me, how much I'd like things to be different between us. Real.




He used to be my best friend back before he got married. And now? Now, he's a young widower. It would be wrong on so many levels to expect something more from him, so I give him what he needs. Dark, delicious fucking.




But I know I can't keep this up. I've already given him my body, my soul. I want him to have my heart. It might drive him away forever, but that's a risk I'm willing to take.




Wednesday is an angsty romp told from dual points of view. If you're in the mood for something quick and dirty, you've found it. Proceed at your own risk.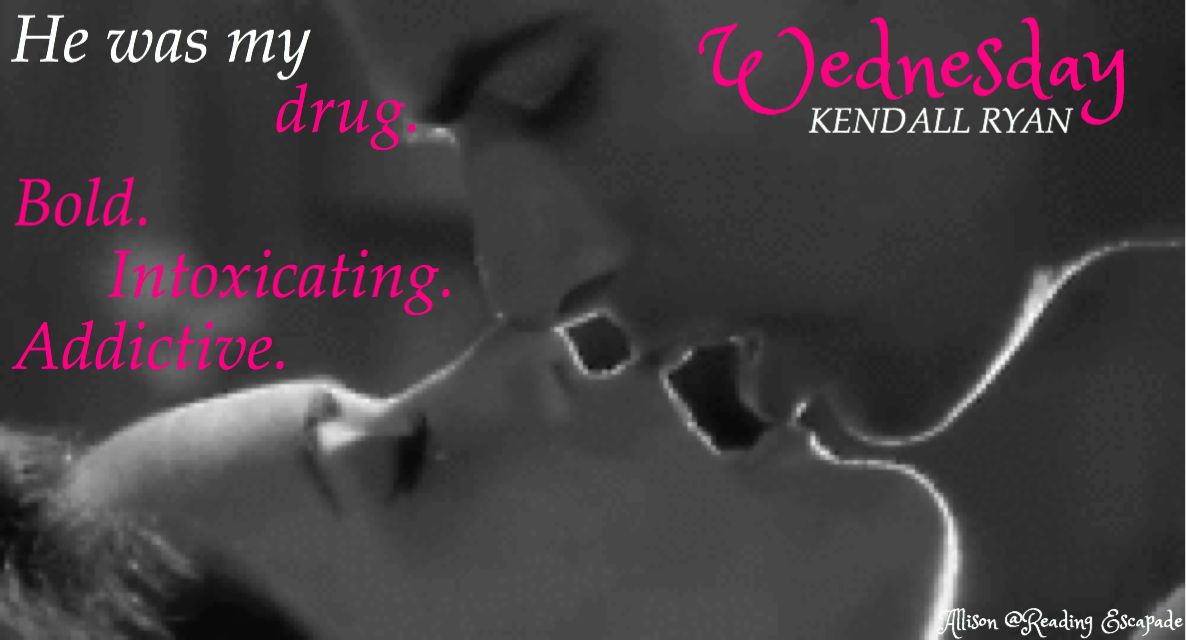 I believe this is the first book I've read from Kendall Ryan. I'm not entirely sure why but when I checked out this book blurb (and the book cover pant pant) I couldn't resist giving it a try.
Shaw and Chloe have been best friends since childhood but that's all they've been- aside from him teaching her how to kiss in those early tween years. Now they're grown and out of college working in their family-owned resort businesses in the Florida Keys. Then Shaw finds himself a widower at the hands of a drunk driver. Thrown into a world of grief and feeling completely out of control, he turns to Chloe for an escape...for release.
Chloe is willing to do just about anything for Shaw. She's loved him for years but he belonged to someone else. Until now. He needs her, even if it's all just physical. Every Wednesday he comes to her door. Hard, hot and rough is the way he likes it and she gives him what he needs. Her heart be damned.
I wanted him to heal. I wanted him to be okay. And for those few hours every week, if he could lose himself in me, I was only too happy to oblige.
I must say this book was sizzling. My first impression of Shaw was not good considering his actions on the day of his wife's funeral! But then the steam took over, the story progressed and I found myself forgiving his flaws. Wednesday is a quick and steamy read with a bit of angsty tug at the heartstrings to go along with it.
Looking forward to more hot book covers steamy love stories from Kendall Ryan.
Advanced copy received by author in exchange for my honest review.