Book Title:
The Empty Jar
Author:
M Leighton
Series:
Standalone
Release Date: May 8t
h, 2016
Genres:
Contemporary Romance
Three months touring Europe.
Romantic. Dazzling. Unforgettable.
The trip of a lifetime.

But some lifetimes are shorter...

We couldn't have known it would work out this way.
No one could. No one could've guessed that something so beautiful could be so tragic.

But it is tragic.

Yet so, so beautiful.

That's what sacrifice is—beauty and tragedy.
It's pain and suffering for something or someone you love.

And this is the ultimate sacrifice.
One stunning act of true love.

This is our story.
Our true love story.
Well, that wasn't an easy read. Originally, I posted my review unable to actually finish this book. I didn't think I could. I set it down, regrouped, donned my big girl panties, picked it back up, pushed through my fears and finished it. And for that, I'm thankful.
The Empty Jar is so beautiful. It's raw and so emotionally gripping, it hit entirely deep within my heart. It's also about profound love- a love for friends, family, and that one true love that stands the test of time- thru life and beyond.
M. Leighton wrote this on the heels of losing her father and for that reason, I feel her heart is truly poured out within this story and it's characters. It's so true to life, love and loss it'll grip you that much harder. Her writing is so poetic, beautiful and descriptive, I feel every ounce of pain in the dual POV between the two main characters, Nate and Lena.
M. Leighton deserves every ounce of my five stars. My heart bled thru the pages and I just needed to walk away a few times in emotional self-preservation. This book is THE MOST raw, gripping, emotional book I've read (and I've read over a thousand books). I crave deeply emotional reads, and I don't need a happily-ever-after, walking off into the sunset ending but something about The Empty Jar and the way she wrote it, hits hard in the feels. So just time this read when you're craving an immense tug-at-the-heartstrings story. Just stock up on wine and/or ice cream.
So, a gentle word of warning. I'll spoiler tag this but it's a trigger warning -
[highlight to view spoiler]
If you've lost someone close to you, watched them die one painful step at a time, especially from cancer, this book may not be for you. I've lost my dad, and NOT to cancer, and this book stirred a shitstorm of emotions with me. I can't imagine someone whose lost a spouse to cancer. The death from cancer is so long and painful for everyone involved and this book highlights it in technicolor.
[end of spoiler]
My message to Michelle Leighton- I hope you've found peace within writing this story. I pray you're in a happy place now, your jar is full and your feet are clean every night you go to bed.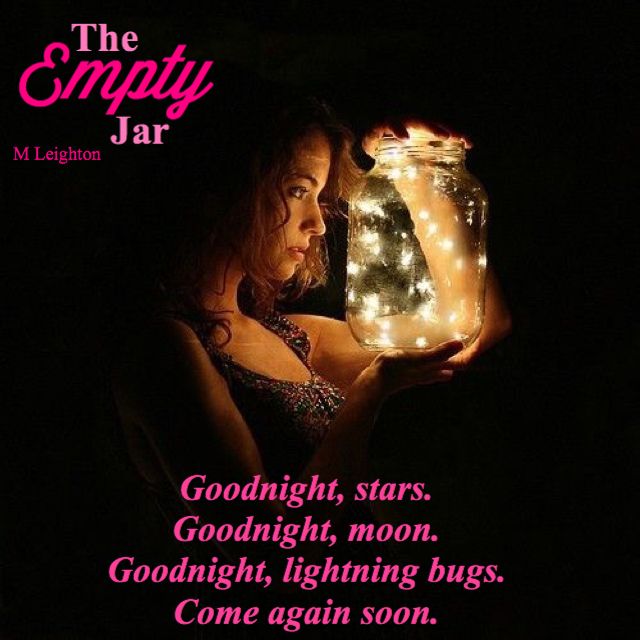 I'll now move on to some easy on my heart RomCom...
New York Times and USA Today Bestselling Author, M. Leighton, is a native of Ohio. She relocated to the warmer climates of the South, where she can be near the water all summer and miss the snow all winter. Possessed of an overactive imagination from early in her childhood, Michelle finally found an acceptable outlet for her fantastical visions: literary fiction. Having written over a dozen novels, these days Michelle enjoys letting her mind wander to more romantic settings with sexy Southern guys, much like the one she married and the ones you'll find in her latest books. When her thoughts aren't roaming in that direction, she'll be riding wild horses, skiing the slopes of Aspen or scuba diving with a hot rock star, all without leaving the cozy comfort of her office.
About Michelle: I love coffee and chocolate, even more so when they are combined. I'm convinced that one day they could be the basis for world peace. I also love the color red and am seriously considering dying my hair.