Book Title:
Backfire
Author:
Keri Lake
Series:
Standalone - Vigilantes #1
Release Date: June 9th
, 2016
Genres:
Dark Romance
No matter how unbreakable he may seem, every man has a weakness.




A year ago, my home became a bloodstained crime scene. That night marked the beginning of my hell—the same night I was tortured by my enemies and tossed into an underground prison to die.




They failed. I survived.




Now that I'm free, only one motive burns in my soul: revenge.




Lucky for me, they think Jase Hawkins is dead. Maybe I am. I've got nothing but a cold, merciless rage, and Black Betty, the sharp steel blade that never leaves my side.




Then she drifts into my life.




Lucia wants answers—so much so, she's willing to fall into the darkness where my enemies lie in wait, to kill her for what she knows.




Or to take her for the depraved fantasies her body alone can rouse in a man's mind.




Me? I want her for the fire in her touch that feeds my addiction, forces me to feel what has become numb, but my appetite for bloodshed runs deeper than flesh.




For my own sanity, I've vowed to stay away from her. Because she's my only weakness, an obsession that leaves me craving more—one that could make even the most steadfast plan backfire.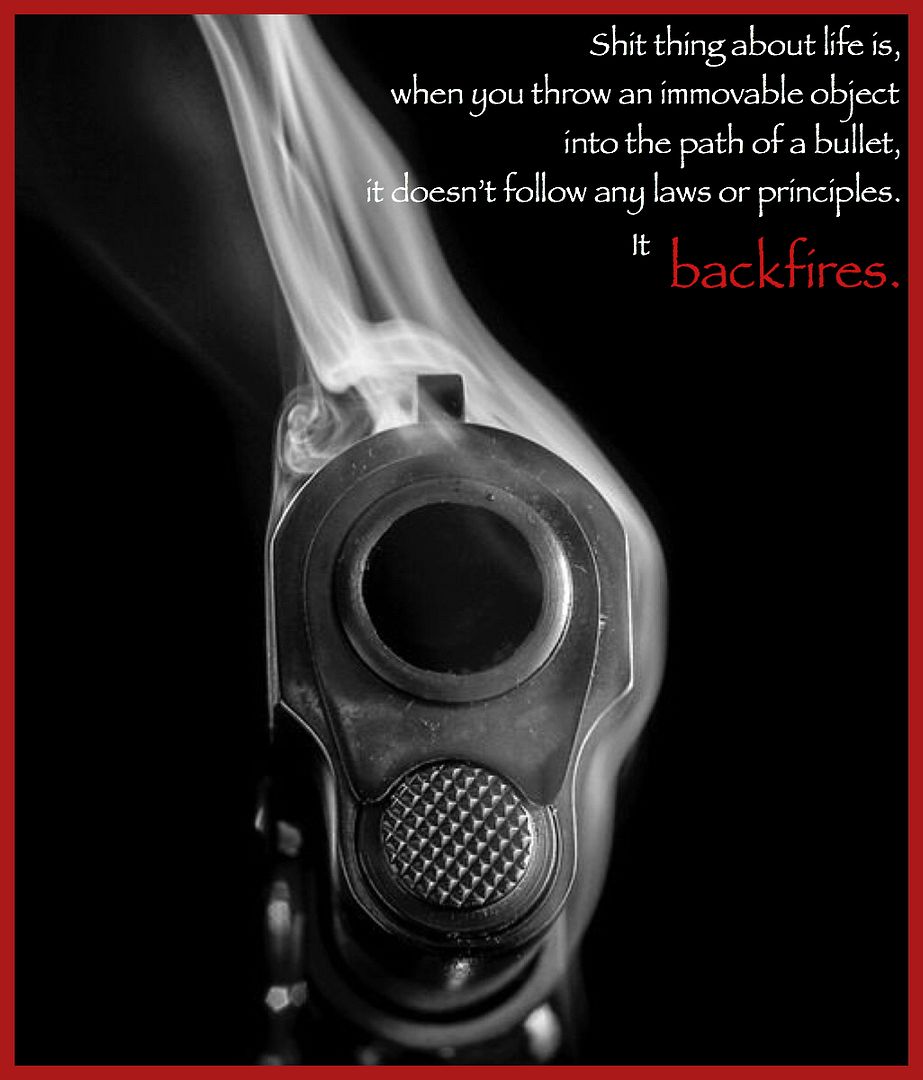 When I'd read my first novel by Keri Lake last year, I knew she had a gift of taking a raw, gritty, dark story and somehow shine a beautiful light on it with her poetic prose. This such book was titled Ricochet and was in my top reads of 2015. Backfire is the second (standalone) book in that series and she, once again, did not disappoint.
Backfire, like Ricochet, takes place in the seedier parts of Detroit. Where crumbling, abandoned buildings are the backdrop in the city of corruption, violence and human trafficking. Where there's more victims living within its city limits than there are success stories.
Jase Hawkins is one of those victims. Growing up poor and hungry, Jase would do anything for money to support himself... steal, cheat, deal. Doesn't matter. Life's never been good for him and he does what he can to survive until it all catches up with him. His family is murdered and he's thrown in the pits of Hell. But he survives to live another day. Eleven months later, he's back for revenge on the sick bastards that took it all away from him...



I wanted their blood.




Their punishment.




My revenge.
Lucy is a photojournalist for a local magazine The Detroit Mudracker, when she accidentally finds herself filming something that'll make her a target for the most ruthless of the underground crew. When half the Detroit police are involved in underground crime, who protects the innocent, brings punishment to the criminals, and justice to their victims?
Backfire kept me riveted throughout its entirety. It's not a short book and I'm so thankful she chose to go the one long book route versus giving us two smaller books. Once you enter its pages, you won't want to leave until you see Jase and Lucy get their vengeance.
Jase is one of those anti-heroes you really want to be disgusted with but instead find yourself at risk of ovary combustion. On the surface, he's almost dickish but with that comes a healthy dose of testosterone and knowledge of his self-protection, you know deep down, his bark is way worse than his bite...at least where Lucy is concerned.
Jase has got one helluva dirty mouth and gets off on feisty, tough women and making them beg for more... and Lucy is the definition of tough and feisty. One he can't ignore. Let me just say, he's unapologetically non-Casanova and you'll fall at this man's feet in all his raw, virile masculinity
Not enough virility? Oh, this is my favorite...
"I need you to know that I don't hate you, Lucy, but I'm about to fuck you like I do. Ready for me?"
Be still my ovaries.
Sorry, jumping off the Jase fan-train.
Keri Lake trickle feeds us a fairly complex, suspense plot where the reader can't figure out the good guys from the bad. Everyone is suspect. I didn't think she could match the dark suspense we received with Nick in Ricochet but I do believe she's matched it here. In fact, I found myself attaching to Jase and Lucy's love story even more so. Jase and Lucy have a past dating back to grade school. A bond formed in the early years and one that's never really broken, no matter the hardships endured throughout the years apart. So reunite them after years apart, add the element of both fear and vengeance, and you've got yourself a bond that's unbreakable. They'll risk their lives and kill to protect each other.
Another great, dark romantic suspense from Keri Lake. I look forward to the next installment in the Vigilantes series.
Advanced copy received by the author in exchange for my honest review.
Keri Lake is a married mother of two living in Michigan. By day, she tries to make use of the degrees she's earned in science. By night, she writes dark contemporary and paranormal romance. Though novels tend to be her focus, she also writes short stories and flash fiction on the many occasions when distraction sucks her in to the Land of Shiny Things.
She loves hearing from readers …
Website: http://www.KeriLake.com
Twitter: http://www.twitter.com/kerilake
FB Fan page: http://www.facebook.com/kerilakeauthor
Amazon: http://www.amazon.com/Keri-Lake/e/B006VY7EM6/
Newsletter Sign Up: http://eepurl.com/HJPHH
Pinterest: https://www.pinterest.com/kerilake
Goodreads: https://www.goodreads.com/author/show/5335601.Keri_Lake
Instagram: https://instagram.com/kerilake/
Prize #1
: A $50 Amazon gift card AND a tote filled with Backfire swag!
Prize #2
: Leave an honest review on Amazon or Barnes & Noble
and enter the form below for a chance to win:
***SIGNED PAPERBACK COPY OF BACKFIRE (signed by author and cover model, Johnny Kane) to 5 readers who submit a review*
*You must submit review link in the Google doc. Winners will be randomly drawn from the Google doc list.