Book Title:
One True Loves
Author:
Taylor Jenkins Reid
Series:
Standalone
Release Date: June 7th, 2016
Genres:
Contemporary Romance
From the author of Maybe in Another Life—named a People Magazine pick and a "Best Book of the Summer" by Glamour and USA Today—comes a breathtaking new love story about a woman unexpectedly forced to choose between the husband she has long thought dead and the fiancé who has finally brought her back to life.




In her twenties, Emma Blair marries her high school sweetheart, Jesse. They build a life for themselves, far away from the expectations of their parents and the people of their hometown in Massachusetts. They travel the world together, living life to the fullest and seizing every opportunity for adventure.




On their first wedding anniversary, Jesse is on a helicopter over the Pacific when it goes missing. Just like that, Jesse is gone forever.




Emma quits her job and moves home in an effort to put her life back together. Years later, now in her thirties, Emma runs into an old friend, Sam, and finds herself falling in love again. When Emma and Sam get engaged, it feels like Emma's second chance at happiness.




That is, until Jesse is found. He's alive, and he's been trying all these years to come home to her. With a husband and a fiancé, Emma has to now figure out who she is and what she wants, while trying to protect the ones she loves.




Who is her one true love? What does it mean to love truly?




Emma knows she has to listen to her heart. She's just not sure what it's saying.
When I'd feasted my eyes on this book blurb, I knew I had to stop at nothing to read One True Loves. If there's nothing I love more, it's angst and what plotline can bring that kind of emotional torture than that of a presumed dead spouse coming back...after you've moved on in life. Couple that with this book being written by none other than Taylor Jenkins Reid, who ripped my heart out with After I Do, I put everything aside to read this.
Emma lived through the worst kind of tragedy a wife can live through- the tragic death of her husband. His helicopter disappearing into the Pacific, all occupants presumed dead. But she couldn't believe it. Jesse wouldn't abandon her like that. Not to mention, he's an all-state swimmer. If anyone can swim to safety, it's Jesse. So she stands vigil on her roof, binoculars in hand, waiting for him to swim back to her... until he doesn't.
Until her sister says he's not coming back. One step in front of the other, she moves home to Acton, Massachusetts to be near family and help run their book store. It's everything she ran from but is now her salvation from a life of grief and loneliness.
Years pass, baby steps but Emma begins to smile at the memory of Jesse instead of cry. Her crippling grief becomes a burden she longs to shed. And fate brings her back to Sam, a childhood pal and a balm to her broken heart.
I wonder if grief isn't something like a shell. You wear it for a long time and then one day you realize you've outgrown it. So you put it down.
And just when she's shed that burden of grief, fallen in love again and has plans for her happily-ever-after with Sam, the call comes...









"It's me. I'm alive. I'm coming home."
Holy mother of build-ups and angst! The timeline of the book starts with current day when she gets the "he's alive" phone call then takes us back to the early days with Jesse and Emma's young love story- then gradually taking us through the accident, her crippling grief, and finally onto meeting Sam and their epic friends-to-lovers story.
You'll love them all. You'll want everyone to have their happily-ever-after. But someone has to lose in order for someone to win. This is where Taylor Jenkins Reid surpasses all my expectations. Her writing puts you smack dab in Emma's head and you feel every ounce of struggle. She loves two men. One from her past and one from her present. Her husband. Her fiancée. Who is her one true love? Or can we have more than one true love in life?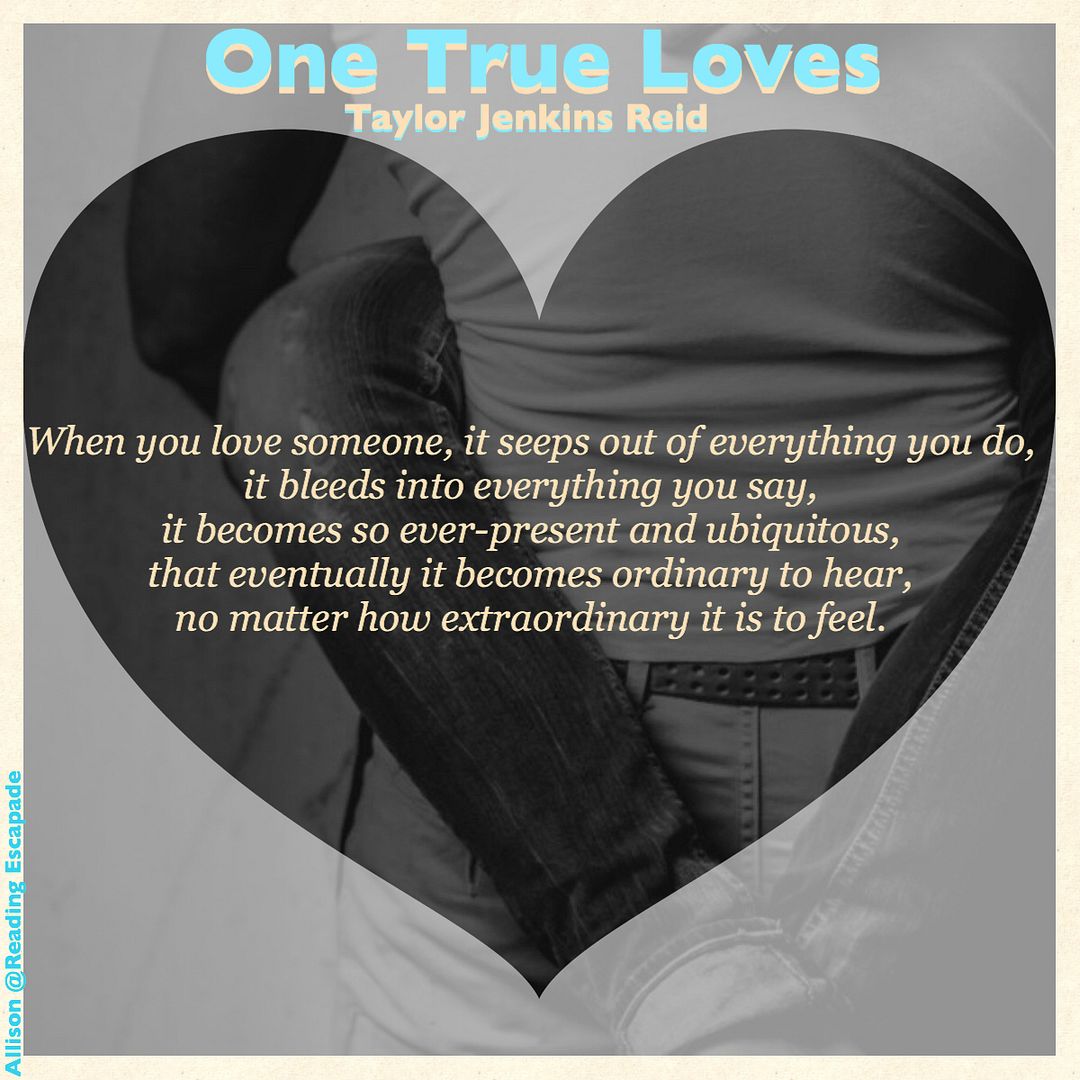 I absolutely devoured this book. It's what true romance is all about for me. We are gifted with not one but two epic love stories. One True Loves will capture your heart and not let go until the very last page. Actually, it still hasn't let go... It's so tragic yet beautiful; poetic and crippling. Sexy times fade-to-gray and I didn't miss it. I just held on and let the tears flow.
I highly recommend this book for fans of books that'll really make you feel. It's hearts-and-flowers coupled with tragedy and heart-wrenching indecision. But, in the end, it was perfect. Everything happens as it should and I finished the last words with a smile on my tear-soaked face. Bravo! So well done!
ARC copy received by Atria Books via Netgalley in exchange for my honest review.
Taylor Jenkins Reid is an author and essayist from Acton, Massachusetts. Her first novel, Forever, Interrupted, was named one of the "11 Debuts We Love" by Kirkus Reviews. She lives in Los Angeles with her husband, Alex, and their dog, Rabbit. You can follow her on Twitter @tjenkinsreid.