Book Title:
The First Taste
Author:
Jessica Hawkins
Series:
Slip of the Tongue #2
Release Date:
August 4th 2016
Genres:
Contemporary Romance
Andrew Beckwith has already devoted his life to one girl—and as far as he's concerned, she's all he needs. The rough-around-the-edges bad boy left his reckless ways behind six years ago when his daughter Bell was born. To the female population's dismay, he's unapologetically single. When Bell's mother walked out on them years ago, he vowed never to let another woman close enough to hurt them again.




Amelia Van Ecken isn't just another woman. She's an independent, smart, and savvy businesswoman who doesn't have time for sex, much less love. In the midst of a drawn-out, bitter divorce, all she wants is to bury herself in work. But when sharp-tongued Amelia and stubborn Andrew cross paths, sparks fly—and burn. Two things are obvious in an instant: they want each other, and they're from different worlds. It's the perfect formula for an off-the-charts one-night stand. After all, it's not as if opposites ever attract.




The First Taste, a standalone spin-off of the Slip of the Tongue.
Anyone up for a hot hunka manmeat who slips seamlessly into the sweetest freaking single-dad mode ever?
Yah, I was too! And ladies we got one here!
We met Andrew Beckwith in A Slip of the Tongue. brother to Sadie, single dad, PERFECT dad, I couldn't wait to see what kind of woman would make him take a break from bring everything his little girl needs 24/7- to take a chance at love when his biggest love walked out of their lives four years ago. Loving and losing, he's busy enough owning an auto shop and taking care of all things 6-year old.
I almost dropped my freaking kindle down the toilet when I saw who Andrew's love interest would be in this book! I hate to use the word heroine because she was a Grade-A snooty beotch of a boss to Sadie in A Slip of the Tongue. I'm a tough nut to crack with "those types" but Jessica Hawkins managed to show us the other side of Amelia VanEcken. The side that too has been scorned at love and maybe her bite is more in self-protection than true bitchiness. What we do find out is that she's everything Andrew doesn't typically look for in a woman- she's a bit too polished and put together for his rougher grease-stained hands. But she gives him a run for his money in witty snark and he finds her challenge a breath of fresh air. And it's just for one night...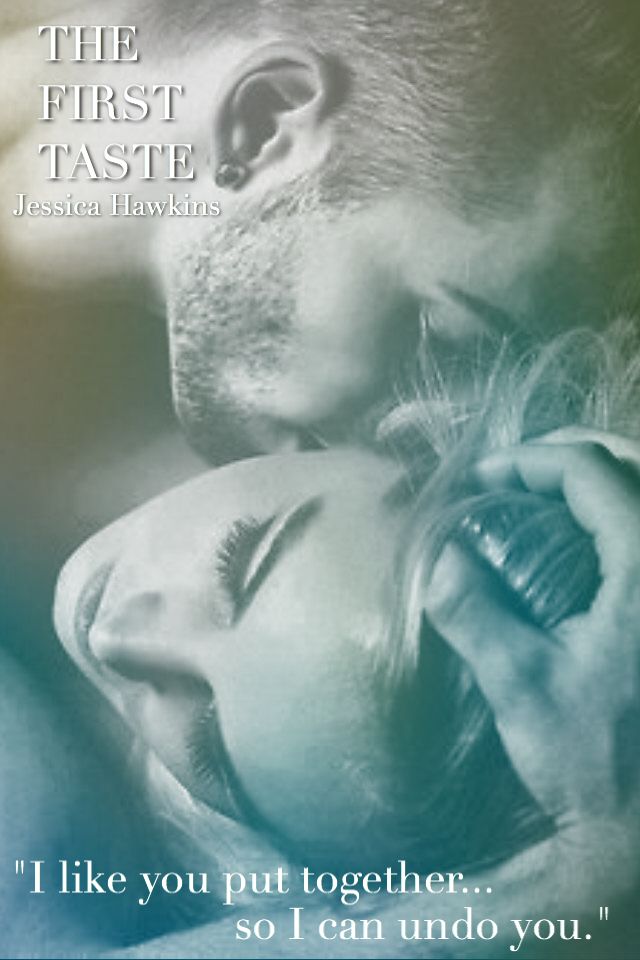 I swear, if all single dads were like Andrew, there'd be no single dads. He was so perfect with Bell. His needs be damned, he made sure he was enough for both parents and not just a dad figure. There's nothing hotter than a masculine dad with his little girl and Jessica Hawkins nailed it here in The First Taste. She has a great capability to show and not tell with her characters, allowing the reader to attach wholeheartedly to their love story.
I can't review this book without adding the steam factor to it. Wow. For all the sweet dad vibes Andrew has, he turns on the hot Alpha in the masculine virility that he is! Wowsa! Amelia didn't stand a chance even if he was polar opposite her type of guy. Just one night wasn't enough physically or emotionally.
The flow of the book progressed well- no insta-love but also not dragged out to the point of boredom. There's a decent amount of real-life ex drama but it's not thrown in for drama sake. I guess what I loved most about this book is the realistic nature of it. It's very down to earth yet Andrew is every woman's true fantasy! When I name a book by its hero and not the title, you know he's the star of the show! I look forward to more fantastic reads by Jessica Hawkins!
Advanced copy received by author in exchange for my honest review.
Jessica Hawkins grew up between the purple
mountains and under the endless sun of Palm Springs, California. She studied international business at Arizona State University and has also lived in Costa Rica and New York City. To her, the most intriguing fiction is forbidden, and that's what you'll find in her stories. Currently, she resides wherever her head lands, which is often the unexpected (but warm) keyboard of her trusty MacBook.