Book Title:
Disclaim
Author:
Pam Godwin
Series:
Deliver #3 -
Standalone
Release Date:
August 31st, 2016
Genres:
Dark Romance, Erotica
Camila was seventeen when Van Quiso kidnapped her. Ten years after her escape, the shackles refuse to release her. Not while there are still slave traders preying on her city. She will stop at nothing to end them.

Even if that means becoming a slave again.




Returning to chains is her worst fear—and only option. They won't know who she is or what she intends to do. She's prepared for every complication.

Except him.

The one who decimated her sixteen-year-old heart.




Matias is charming, gorgeous, and dangerously seductive. He's also untrustworthy and enshrouded in secrets. After years of no contact, he finds her—on her knees, wrists bound, in the clutches of her enemy.

Will he sabotage her mission by needlessly saving her?

Or will he keep her in chains and never let her go?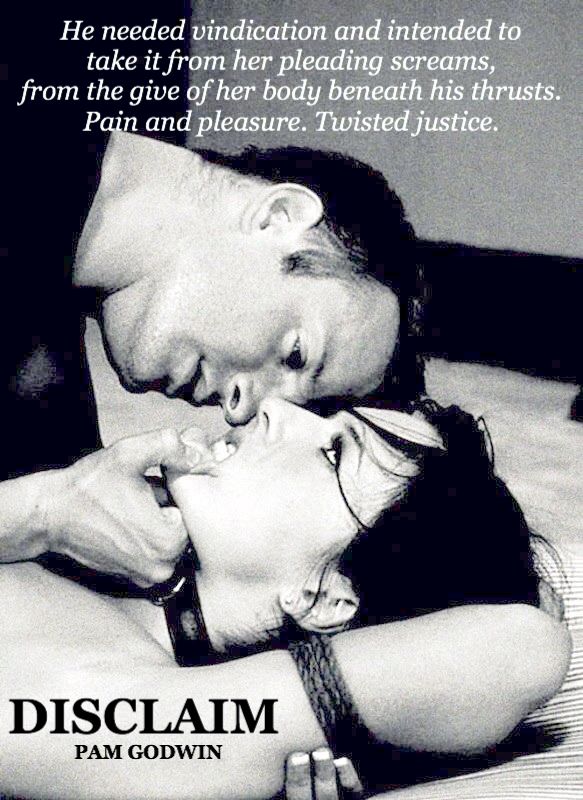 Thank you Pam Godwin for reassuring me that I haven't in fact gone soft. Having struggled with the past few darker romances, I feared my days of liking the gritty, dark anti-heroes was over. This author, along with a certain ruthless man with connections to the Colombian cartel, has reaffirmed my love of all things ruthless and naughty!
I think what always seems to surprise me with Pam Godwin is the depth of the suspense plot. With her books, nothing is completely as it seems and things slowly begin to unwind and everything comes into full clarity in the end. Everything happens for a reason and everything seems to have ties to the end...the resolution.
Camila is a woman with one mission in life- remove the filth of human trafficking from the world. Even if she has to go undergound as a sex slave to remove one trafficker at a time. Abducted several years ago and eventually being freed, she's made it a life mission to free the slaves and crucify the traffickers. Never committing to a life of quiet success... of love. She had that as a child in her peaceful orchard of citrus trees with a man boy named Matias. But he too is gone. Their happily-ever-after a pipe dream. Why did he never come for her? Want to see her again? Until she does see him again in the worst of circumstances. Is he the long lost love of her teens or her worst nightmare of a monster?
Though this book can be read as a standalone, I'd highly recommend reading them in order as several characters are revisited in this book. It's truly a plot that keeps building and building, getting better with each and every book. Pam Godwin has the ability to take the dark and ugly of human nature, inflict her poetic prose, and soften the blow that we experience between her bookcovers. She has the innate ability to make you love a man that is simply not all-together good but they have a smidgen of good that glows beneath all that dark. Couple that with raw masculinity and her guys are simply swoon-worthy. The heroines, even if victims at one time in their lives, always come out strong and confident but still owned by that one special virile hero.
I look forward to more in this series...or from Pam Godwin in general. I see a great set-up for a future book I hope I'm not imagining. ***cough...Tate...cough***
Advanced review copy received by author in exchange for an honest review.
New York Times and USA Today Bestselling author, Pam Godwin, lives in the Midwest with her husband, their two children, and a foulmouthed parrot. When she ran away, she traveled fourteen countries across five continents, attended three universities, and married the vocalist of her favorite rock band.
Java, tobacco, and dark romance novels are her favorite indulgences, and might be considered more unhealthy than her aversion to sleeping, eating meat, and dolls with blinking eyes.
EMAIL: pamgodwinauthor@gmail.com
FACEBOOK:
facebook.com/pamgodwinbooks
AMAZON AUTHOR:
amazon.com/author/pamgodwin