Book Title:
Away From The Dark
Author:
Aleatha Romig
Series:
The Light #2
Release Date: October 18th
, 2016
Genres:
Mystery/Thriller, Romantic Suspense
Nine months ago, Sara Adams awoke with no memory. The man holding her hand told her she's a member of The Light, a tight-knit religious group led by the terrifying and charismatic Father Gabriel. As a woman in the community of The Light, her duty is to be unquestionably obedient and to submit to the will of her husband.




But as Sara's memory starts to return and she remembers her past, she sees that everything she's been told is a lie. The Light is an insidious and dangerous organization, and its corrupting influence reaches well beyond the confines of the remote campus where Sara is being held.




With everything at stake, Sara struggles to sort out her true memories from her indoctrination. The desire to escape consumes her, but who can she trust? And which other followers of The Light were forced into this life, brainwashed to believe they belonged? The more she remembers, the more it becomes clear that Jacob, the man who calls himself her husband, is keeping shattering secrets of his own.




But Sara cannot flee alone, leaving innocents behind. She must fight to extinguish The Light.
I'm so glad I waited until I could read both of these books back to back because, let me warn readers, this is one UNputdownable suspense plot. Three days later, and my mind is completely frazzled by the complex story Aleatha Romig crafted for her readers. My one question- where does she come up with this stuff? It's refrshingly EPIC!
Away from the Dark is the second installment in a two-part series (that I firmly suspect has more story to be told after the epilogue). But I digress...
Away from the Dark picks up right on the heels of Into the Light. Stella, an investigative reporter who asked one too many questions, peered into one too many dark shadows- finds herself named Sara, married to a member of The Light (religious cult), and all her previous life memories had been erased courtesy of an amnesia drug she'd been inadvertently taking. Starting 'fresh' with no memory, Sara is gradually brainwashed trained to the ways of The Light, their doctrines, lifestyle, expectations for her as a member and as a wife to Brother Jacob. Not knowing what she doesn't know, Sara gradually falls into the life of a sister for The Light, even falls for her husband Jacob in all his protective ways.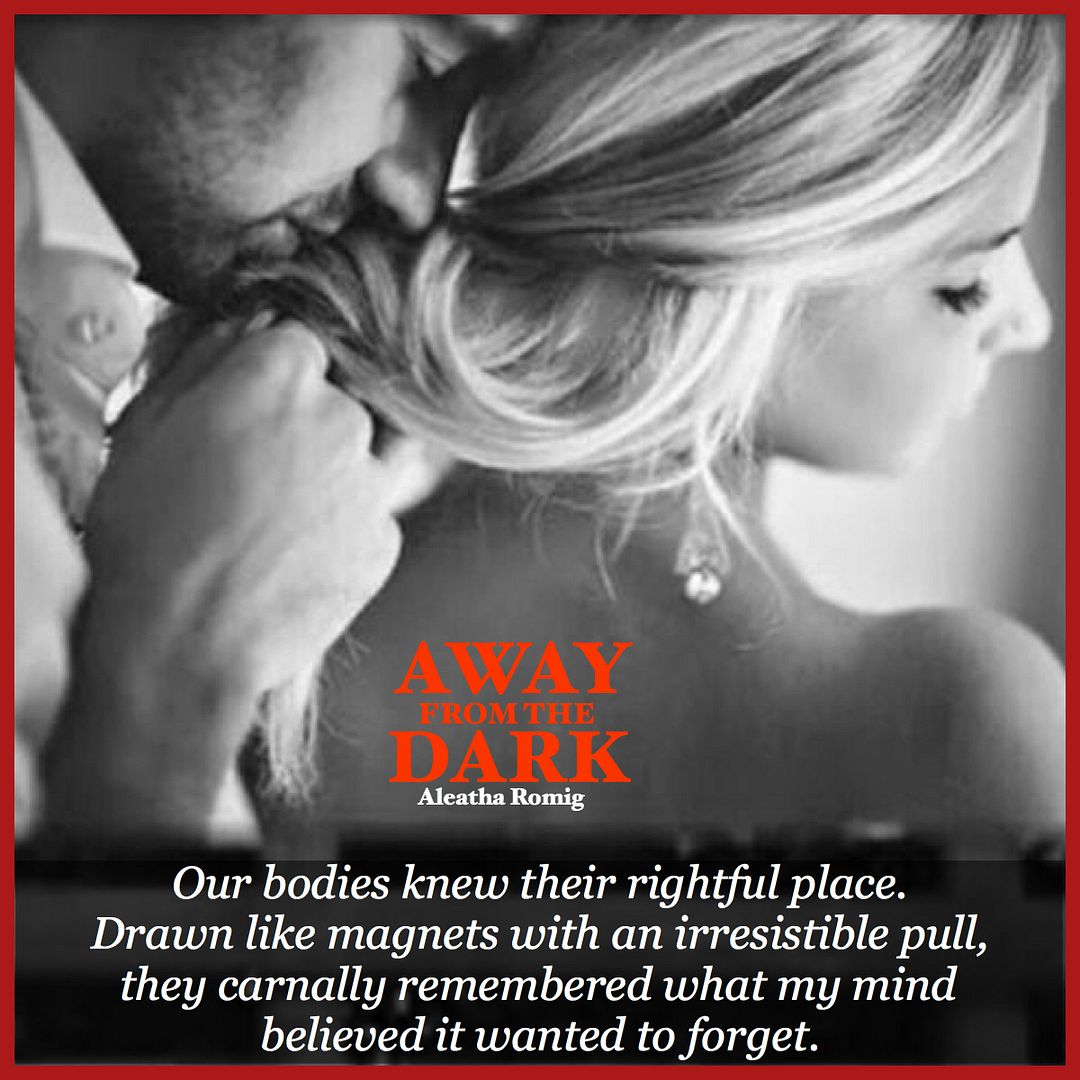 Only when she stops taking her 'birth control pills' do her memories start to recover. Her past collides with her present and everything she's lived the past year is a sham... or is it?
This series is so chock full of twists and turns, I can't begin to organize my thoughts except to say, READ THIS DUET! The plot is so well developed, it's seriously like a movie in your head. If you're a fan of stories with trickle-fed plots that leave you guessing from page one to the final words, this one delivers in spades! Aleatha Romig is the queen of taking a plot and weaving it so full of secrets, deception, suspense, and even an unconventional love story, the reader cannot begin to predict the outcome. Expect the unexpected in The Light series, and you'll truly experience a ride of epic proportions! Bravo!
And what is up with that epilogue!
Advanced copy received by Thomas and Mercer Publishing via NetGalley in exchange for my honest review.
Aleatha Romig is a New York Times and USA Today bestselling author who lives in Indiana. She grew up in Mishawaka, graduated from Indiana University, and is currently living south of Indianapolis. Aleatha has raised three children with her high school sweetheart and husband of nearly thirty years. Before she became a full-time author, she worked days as a dental hygienist and spent her nights writing. Now, when she's not imagining mind-blowing twists and turns, she likes to spend her time a with her family and friends. Her other pastimes include reading and creating heroes/anti-heroes who haunt your dreams!
Aleatha released her first novel, CONSEQUENCES, in August of 2011. CONSEQUENCES became a bestselling series with five novels and two companions released from 2011 through 2015. The compelling and epic story of Anthony and Claire Rawlings has graced more than half a million e-readers.
Aleatha released the first of her series TALES FROM THE DARK SIDE, INSIDIOUS, in the fall of 2014. These stand alone thrillers continue Aleatha's twisted style with an increase in heat.
In the fall of 2015, Aleatha moved head first into the world of dark romance with the release of BETRAYAL, the first of her five novel INFIDELITY series. She also began her traditional publishing career with Thomas and Mercer. Her books INTO THE LIGHT and AWAY FROM THE DARK will be published through this mystery/thriller publisher in 2016.
Aleatha is a "Published Author's Network" member of the Romance Writers of America and represented by Danielle Egan-Miller of Browne & Miller Literary Associates.