Book Title:
Keepsake
Author:
Sarina Bowen
Series:
True North #3 -
Standalone
Release Date: October 25
th, 2016
Genres:
Contemporary Romance
There's a first time for everything.




Lark Wainright used to be fearless. Her life was a series of adventures, each one more exhilarating than the last. But her recent overseas adventure was one too many. Now she's home and in one piece. Mostly. But her nights are filled with terror.




When her best friend offers her a stay at the orchard in exchange for help at the farmers' markets, Lark jumps at the chance to spend fall in Vermont. But her nightmares don't stop. Desperate to keep her fragile state a secret, she relies on the most soft-spoken resident of the Shipley Farm to soothe her when her dreams prove too much.




Zachariah is a survivor, too. It's been four years since he was tossed aside by the polygamist cult where he grew up. He's found a peaceful existence on the Shipley's farm, picking apples and fixing machinery. But getting thrown away by your own people at nineteen leaves a mark on a guy. He doesn't always know what to make of a world where movie quotes are the primary means of communication. Before hitchhiking to Vermont, he'd never watched TV or spoken on the phone.




Actually, there are a lot of things he's never done.




Zach and Lark slowly grow to trust one another. One night they become even closer than they'd planned. But Lark may still be too broken to trust anyone. When she pushes Zach away, he will have to prove to himself that he's good for much more than farm labor.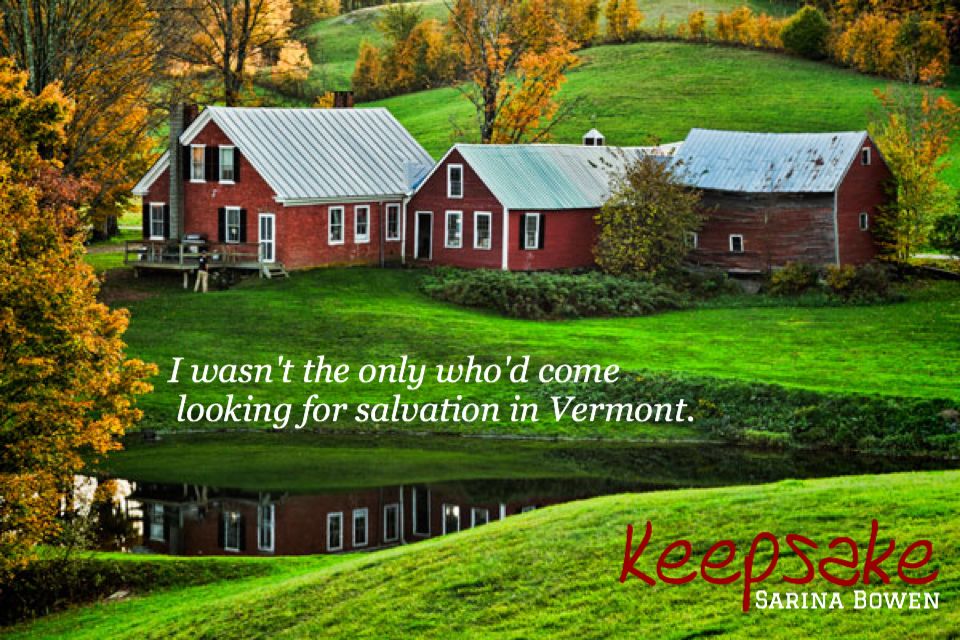 First and foremost, Keepsake is the third installment in the True North series and can be read as a standalone. Each book revolves around life in rural Vermont, specifically the Shipley farm. We'd met Zachariah right in the series beginning. The farmhand that found himself in Tuxbury, Vermont as a castaway from a religious cult community. A 24-year old virgin, he was shy and sweet and I couldn't wait for his first chance at love. He got that with Lark.
Lark Wainright just needs to get away. Coming off a horrendous abduction experience at her non-profit employer in Guatemala, she suffers from many sumptoms of PTSD and is tired of her parents constant helicoptor parenting her recovery process. So she takes up her bestie May Shipley's invitation for a much needed reprieve working her family farm during apple picking season. Open, fresh air is just what the doctor ordered.
Zach and Lark were so perfect for each other and I loved the progression of their love story. Both had a certain degree of scars from the past, they were both the balm the other needed when they most needed it. Their story was emotional, sweet and mutually therapeutic.
Sarina Bowen has constructed a series here that's cemented in family values, friendship, hard work and play. I love the values instilled deep within- whether it's caring for the elderly family members, age-old family traditions over the holidays, pride in their farm, or the general giving nature to neighbors and friends in need. This series has it all with a sweet romantic cherry on top! I highly recommend this for those who are looking for easy reading, low on angst, contemporary romance.
Advanced copy received by the author in exchange for my honest review.
Sarina Bowen
is the USA Today bestselling author of steamy, angsty Contemporary Romance and New Adult fiction. She lives in the wilds of Vermont.
She is the author of
The Ivy Years
, an award-winning series set amid the hockey team at an elite Connecticut college. Also, the
The Gravity
series.
With Elle Kennedy, Sarina is the author of HIM and US.