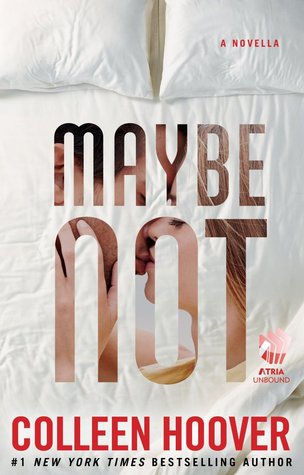 Colleen Hoover, the New York Times bestselling author of Maybe Someday brilliantly brings to life the story of the wonderfully hilarious and charismatic Warren in a new novella, Maybe Not.
When Warren has the opportunity to live with a female roommate, he instantly agrees. It could be an exciting change.
Or maybe not.
Especially when that roommate is the cold and seemingly calculating Bridgette. Tensions run high and tempers flare as the two can hardly stand to be in the same room together. But Warren has a theory about Bridgette: anyone who can hate with that much passion should also have the capability to love with that much passion. And he wants to be the one to test this theory.
Will Bridgette find it in herself to warm her heart to Warren and finally learn to love?
Maybe.
Maybe not.
"She's the best worst thing that's ever happened to me."
Jasmine Trivia 101: Whatever this lady writes, I read it as soon as it releases even at the expense of my job. Colleen Hoover is my "drop everything right now to read" author and even if I didn't love [book:Ugly Love|17788401], my faith in this author never wavers. So imagine my surprise when this was dropped out of nowhere and when I heard it featured my most fav character from [book:Maybe Someday|17788403], EVERYTHING IN LIFE IS PUT ON HOLD AND I DO A HAPPY DANCE.
If you've read Maybe Someday and have already met Warren and fell in love with him like I did, then Maybe Not is CoHo's way of sending you that early Christmas gift you've been dying to get your hands on eventhough you haven't been a nice kid this year ;) On the contrary, this was like a naughty version of Maybe Someday wrapped up with so much humor and wit!
Told entirely from Warren's POV, this book NEVER had a dull moment. We all remembered Warren as being the master prankster and for his endless porn-watching days (psst, there's a reason for this *winks*), but being in his head definitely opened up a whole new side to him. I loved how shamelessly entertaining his thoughts were and there was no shying away from his cocky, ego-boosting ways which just made me love him so much more.
"If you have sex with me, Bridgette, you're the one in danger of becoming clingy. You'll want so much of me, I won't be able to tell the difference between you and Saran Wrap."
And there's Bridgette who let's admit, didn't exactly leave as good as much of an impression in MS but in this one, readers will finally get to see more of her and boy, is she one hard nut to crack! She definitely challenged Warren in more ways than one that brought out the steam factor to a CoHo all-time high!
Of course with a novella, the main challenge is being the relationship build-up and while I definitely wished for more (note: the book ends at 80% mark), CoHo still played out Warren & Bridgette's relationship with just the right pace without coming off completely rushed or unrealistic. There are times where it leaves you a little frustrated but sooner than later, you can't help but fall for these endearing characters.
"The only difference between falling in love and being in love is that your heart already knows how you feel, but your mind is too stubborn to admit it."
In a true CoHo fashion, Maybe Not was a nice quick heart-warming read packaged together with a swoon-worthy male lead and an added bonus of humor with some steam to go along. After being letdown by her previous work, this one definitely redeemed it for me & I absolutely devoured it within hours!
And while this is a spinoff novella of Maybe Someday, I'd like to emphasize that it's NOT a rehash of that aforementioned book :)
Maybe Not is a spinoff novella of Maybe Someday and while it can be read as a standalone, it would be recommended to be read after the first book.