Author:
Claire Contreras
Series:
Hearts #3
Release Date:
March 20th, 2016
Genres:
Contemporary Romance
Victor Reuben.

Most sought out divorce attorney in LA.




Nicole Alessi.

Soon to be ex-wife of Hollywood's biggest star, Victor's latest client and his boss's daughter.




In such a high profile divorce, they can't afford any extra drama. Luckily, neither one of them has anything to hide.

Unless you count the mind blowing sex they had…

Once…

Twice…

Three times all those years ago.




As long as they leave the past where it belongs, they'll be fine. But with her wearing those tight dresses and him giving her those heated glances, keeping their hands to themselves is proving to be more difficult than either one of them realized.




It won't be long before the paparazzi start to smell smoke, and where there's smoke...
Elastic Hearts was one of my most highly anticipated reads for the month. I knew we would get all kinds of hot, arrogant attorney love with this book and Claire Contreras did not fail with Victor Reuben.
Elastic Hearts is a second chance romance of sorts. Nicole Alessi and Victor Reuben had a steamy few nights of unbridled sex five years ago. However, when Victor found out she was his new boss's daughter, he put a quick stop to it. Valuing his career over any roll in the hay, he immediately broke it off and Nicole found herself married to a famous actor within a month.
Now this is where karma is a b*tch... Nicole's father, his boss, has now offered him partnership in their law firm if he could simply handle her very public and messy divorce. It all seems easy enough...their affair was long ago and obviously she didn't pine over him too long with the quick marriage to Gabriel, right? And then she walks into his office. This just may be a bit harder than it seems... No woman is worth his license and chance for partnership. No woman...right?
Elastic Hearts was one of those angsty anticipation-type romances. Both characters having this insane attraction for each other but know giving into their physical urges is a mistake on all counts. Not to mention the paparazzi are hounding every move they make. Can both Nicole and Victor withstand their feelings until at least the divorce is final? And hold onto your panties, ladies, it's gonna get hot in here!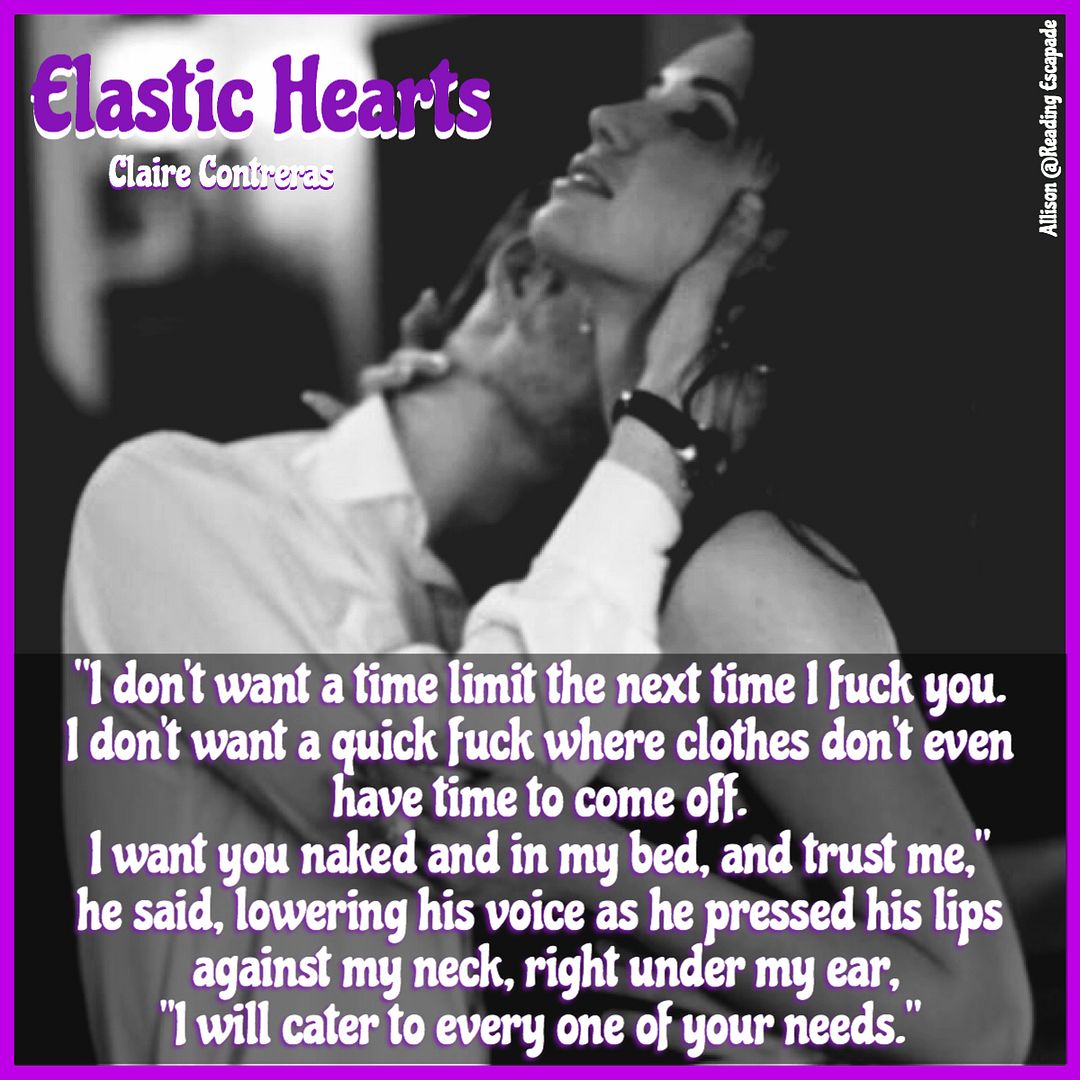 Elastic Hearts had a whole different feel to it than the first books in this series. All books can be read as standalones yet there's rather frequent cameos of past characters in this book so that was also nice to see. Even if the book is an anticipatory-type trope, it had a fair amount of steam. I could feel the chemistry between these two characters and their strength to withstand their attraction was giving me lady blue-balls commendable. I knew they both had a lot on the line by taking things to that sexual level, yet I found myself subconsciously begging them to give into their basilar urges. That being said, Victor Reuben is all fricking man.. Holy smoking masculinity. I could've quoted this entire book with his bedroom talk...
Ahem...
And props to Nicole for being equally confident and self assured sexually. It was refreshing to see. No shrinking violet, missionary-position-only gal here!
"I'm going to ride you," I said. "And you're not going to remember any woman you fucked before me."
Looking forward to all things Claire Contreras as to come. She has a great ability to incorporate a fantastic love story, well rounded cast of characters, and smoking hot love scenes. The perfect all around recipe for romance novel success...
Advanced review copy received by author in exchange for an honest review.
ABOUT THE AUTHOR
Claire doesn't like to talk about herself. Because of this, she asked a friend of hers to write her bio. This is what she got:
Claire is caring, smart, witty, and funny as heck. Despite being a New York Times Best Selling Author of a popular contemporary romance series, Claire doesn't read many romance novels. However, when she sits down to write, those are the ones that pour from her fingers. Much to her displeasure, we like to say she's a romantic at heart.
She is a breast cancer survivor who lives in Miami with her good looking husband, two adorable boys, three bulldogs, and two stray cats that she refuses to admit are hers (even though they live on her porch and she continues to feed them). When she's not writing, she's always lost in a book (the more suspenseful, the better).