Author:
Alessandra Torre
Series:
Standalone
Release Date:
March 14th, 2016
Genres:
Contemporary Romance
From NYT Bestseller Alessandra Torre...
The sexy serial that exploded on Cosmopolitan.com is now a full-length, standalone novel.

Chloe Madison. That's me. A former NYU princess who just fell from grace, right off my pampered Manhattan throne and onto the unforgiving steps of Nicole Brantley, socialite and queen bitch. Now, I walk her dog and mix her smoothies. Try to navigate my own problems while fixing all of hers.

I want what every New York girl wants. A career, an apartment, and true love, preferably in a smoking hot package.

It turns out I'll have to fight for all of it.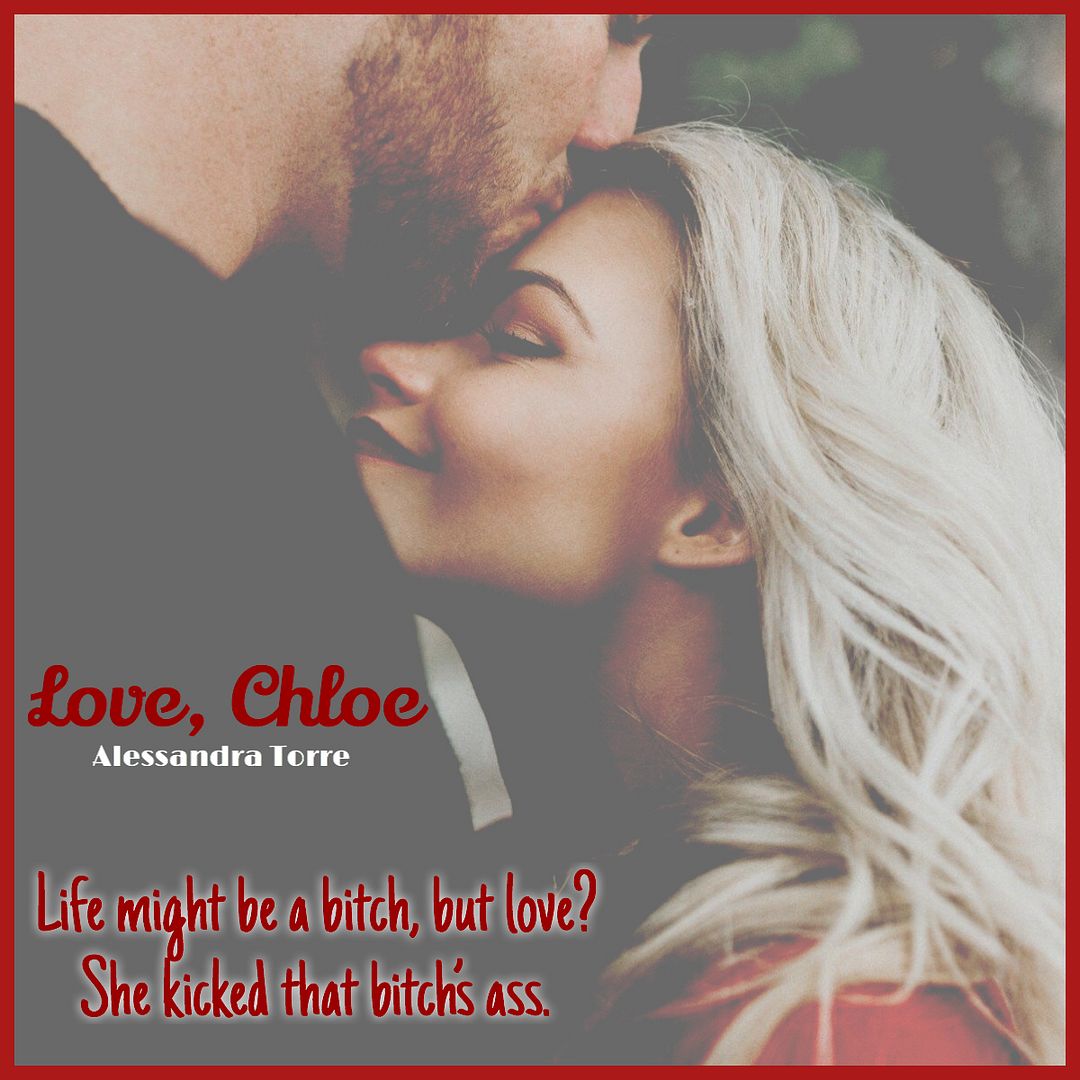 Love, Chloe is based off a mini series Alessandra Torre did for Cosmopolitan Magazine. I hadn't seen it so I was happy to get the episodes in a lump sum within the covers of this book.
Chloe Madison has fallen quite hard from grace. When her very wealthy parents get into trouble with the Feds for insider trading, her once posh lifestyle quickly turns to a life of wondering how her tuition at NYU will be paid...of how she's going to put a roof over her head or food on the table. How does one go from the top of the food chain to dead bottom? Fast, especially in New York City.
When Chloe gets a job as an assistant for a debutante Nicole Brantley, she thought she'd hit her lowest...until she turns into the help.. But bills gotta get paid...
A big bulk of this book is Chloe's day to day floundering to survive after having so much in life and with the snap, so little. The people she used to rub elbows with are now looking down at her, especially considering her parents are felons- guilty by association and all that jazz. I do commend her two besties, even as high society as they were, their loyalty to Chloe never faltered. So many people disappoint when the going gets rough but not her besties! Because of them, Love, Chloe had a of a Sex in the City feel to it- the friends, the city.
Chloe's life was given lemons and dammit, she made lemonade. I think in her situation many people would've been bitter and b*tchy, the whole "the world revolves around me" attitude. Not with this heroine. She was tough and swallowed the bitter pill life had given her. I loved her quick realization that life isn't about things but more so the people surrounding you and just being happy in your skin. There's a lesson here.
One aspect of the book I wish I could've seen more of (and sooner) is the romance angle- the love story. I remember being at 50% and wondering if there was even a hero involved here or was this just a journey of sorts for Chloe. More importantly, I didn't even know who specifically would be the hero. We do eventually get the love story but because it flourished kind of late, I didn't quite connect with them the way I could've if it was more focused on him and grew more early-on.
Love, Chloe has a very chick-lit feel to it- the steam factor virtually non-existent until the second half. So if you're looking for the Alessandra Torre erotica you got with her Innocence series, this is not it. That being said, Ms. Torre has still proven she can write all kinds of tropes and definitely pull it off. Brad Deluca is still my favorite AT hero though....
Advanced review copy received by author in exchange for an honest review.
ABOUT THE AUTHOR
Alessandra Torre is an award-winning New York Times bestselling author of ten novels. Her books focus on romance and suspense, all with a strong undercurrent of sexuality. Torre has been featured in such publications as Elle and Elle UK, co-hosted Dirty Sexy Funny with Jenny McCarthy, as well as guest blogged for the Huffington Post and RT Book Reviews. She is also the Bedroom Blogger for Cosmopolitan.com.
You can learn more about Alessandra on her website at
www.alessandratorre.com
, or you can find her on Twitter (@ReadAlessandra) or Facebook.