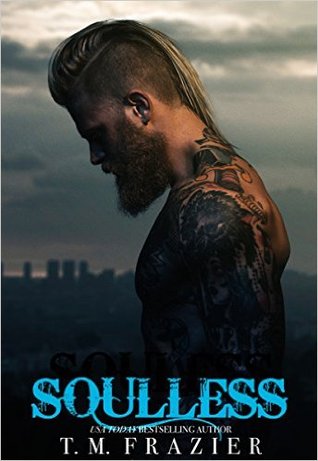 Book Title:
Soulless
Author:
TM Frazier
Series:
King #4
Release Date:
February 23rd, 2016
Genres:
Dark Romance, Mystery/Suspense
The finale to Bear and Thia's epic love story.
Oh how the mighty have fallen.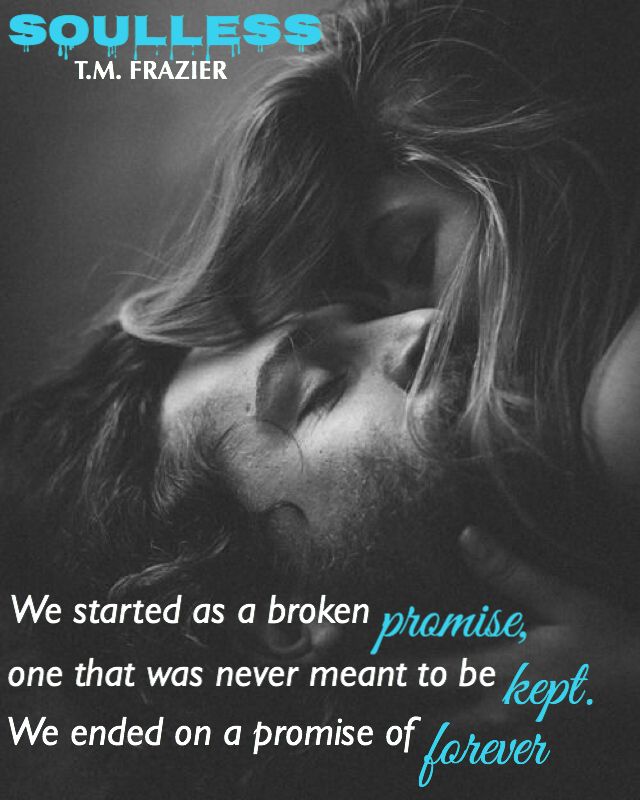 Soulless was one of my most anticipated reads for this year. After the conclusion of Lawless, I need my Bear fix and to hopefully see this broken soul get his happily ever after with his Thia.
Soulless starts right out on the heals of Lawless so you must read that book first. I knew after the ending of Lawless, Bear and Ti have their work cut out for them to be together again but I had little worry that somehow, someway, they'd make it work. King wouldn't fail them. Bear's father is still a ruthless MC president and continues to lurk in the shadows throughout this book as well.
There were times before I read this book that I contemplated whether a second book was really that necessary. Some of this story seemed a tiny bit filler to me but it still really kept my interest nonetheless. If she would've jam packed the stuff in this book into one big book, it'd be so long.
I loved each and every character within these pages...Well, not EVERY character- sans Chop- there's a cold place in Hell for fathers like him...but I digress. Any more chances to get snippets of King and Ray's well-deserved happily-ever-after, I was also feverishly tuned in. I also felt we got the true feel of MC brotherhood here. So much of Lawless was filled with MC brother betrayal, I was happy to see the flip side of that coin.
Bear and Ti have a bond that has stood the test of time and this book really highlights that commitment. It's more than lust and each of them are willing to sacrifice their life to save the other person. Bear was such the Alpha male and so protective yet Ti stepped up to the plate when the going got tough as well...
I don't think Bear is my hero. I don't need him to be my hero. Love isn't about wanting a hero, it's about wanting to be one for the other person.
Secondary characters such as Grace, King, and Ray built their familial unit that much stronger. Even snippets of Preppy in his ghost form brought a goofy smile to my face. This is a book about family...about home. And not about the DNA running through your cells. It's about everyone coming together, willing to give their lives for each other, thru good times and bad. I loved the underlying messages Frazier presents here. It's not where you lay your head at night, home is with the people you love.
All in all, a great conclusion to Bear and Ti's story. The epilogue took me back a bit, especially the last paragraph. I don't know what to think....shocked, yes, not entirely sold, but ecstatic nonetheless...
Looking forward to more from T.M. Frazier. We met a new character in this book that I think would be a great heroine...Rage. Hint hint. Let's see where she goes with the next installment...
Advanced review copy received by author in exchange for an honest review.
ABOUT THE AUTHOR
T.M. (Tracey Marie) Frazier resides in sunny Southwest Florida with her husband and three feisty fur kids.
She attended Florida Gulf Coast University where she specialized in public speaking. After years working in real estate and new home construction, she decided it was finally time to stop pushing her dreams to the back burner and pursue writing seriously.
In the third grade she wrote her very first story about a lost hamster. It earned rave reviews from both her teacher and her parents.
It only took her twenty years to start the next one.
It will not be about hamsters.