Book Title:
High
Author:
LP Lovell
Series:
Standalone
Release Date:
March 7th, 2016
Genres:
Contemporary Romance
I'm Blake McQueen, daughter of Miles McQueen: businessman, politician, all around upstanding member of the community.

I'm told that name means something, but well, I've pretty much doused it in petrol, set it on fire, and taken a shit on it for good measure. I like to think of myself as a walking middle finger.

My name is now synonymous with booze, parties, sex, and drugs. I have to read the newspaper in the morning just to see where I was, possibly who I fucked, and judge my state of inebriation based on how much tit or minge is splashed across page five.

Judge me all you like, love me, hate me. I don't give a fuck.

Life's a party and you should never stop dancing.

But even the sweetest of highs has it's low. There is only so high you can go before you fall, and fall I did, right into the arms of the only man that could possibly stop me from crashing and burning. I've always been untouchable. I've never cared enough to be touchable. Until now.

Love is the most destructive drug of all.
Wow! What a great read! I'd read Absolution by the Stevie J Cole and LP Lovell duo and vowed that I'd try both of these authors in their own distinct works. Now I see where the humor came in with Absolution.
High is the story of a young Blake McQueen, the daughter of high ranking Minister of Justice in England. Everything is about appearances for her parents and Blake has long lost her feeling of family loyalty where they are concerned. So she instead throws all caution to the wind and lives a life of complete debauchery- drugs, partying, sex, and anything to get on the front page of papers to stick it to her parents.
To say Blake is one hot mess is a gross understatement. That she survived the timeframe of this book without overdosing or being raped is amazing to me. I worried for her safety. So when she comes face to face with one of her one-night-stands in her friend Felix's office, she begins to think maybe a repeat with the hot as f@ck Rhett Torres may be in order. It's only when her father finds out and demands she stay away from Rhett that her interest is really peaked. Again, any chance to stick it to her dad... And Rhett is no consolation prize. Too bad her drug induced state that night prevents her from remembering the events of their one night stand. Yes, a repeat is definitely in order.
I was kind of taken back when Rhett actually pursued our complete hot mess lovely Blake McQueen. You'd think this staunch businessman would run the other way. I'm so glad he stuck around because he's just what the doctor ordered for this girl.
If sex is a drug, then he's pure heroin. One hit and I feel addicted in the most destructive way.
Blake broke my heart. On the outside she's this footloose and fancy free party animal but you could tell deep inside she just wanted someone to love her and value her as a person. Constantly being judged by her parents who cared more about public image than their daughter's safety and happiness has really cut deep for her. Can Rhett heal those deep seated wounds?
Rhett- talk about a walking orgasm. Holy smokes. Blake didn't stand a chance. My kindle was smoking, I swear. Gah, if I smoked, I'd be having a cigarette fag after their sexual escapades.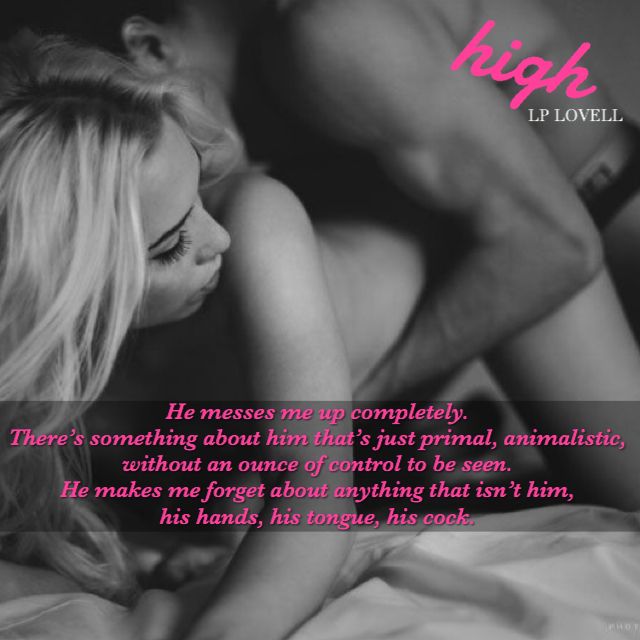 High was a FANTASTIC journey for me. The flawed heroine crying out for compassion in the worst way and her finding just the right guy to rescue her from herself. It had it all- steam, light angst, and some pretty laugh-out-loud humor. There's a particular scene with body hair removal cream on girlie parts that had me laughing hysterically. And I'll never look at a carton of Ben & Jerry's the same again. The author is a true Brit and I loved all the Britishisms in High. Thanks to my dolly, Katy, for being my British Urban Dictionary in all the naughty words! Now I know what a mirth and a Jonny is!!! And I can't wait to use "wee" in my next trip to the ladies room.
I truly enjoyed every bit of this book and I look forward to more from Ms. Lovell.
Advanced review copy received by author in exchange for an honest review.
ABOUT THE AUTHOR
Lauren Lovell is an indie author from England. She suffers from a total lack of brain to mouth filter and is the friend you have to explain before you introduce her to anyone, and apologise for afterwards.
She's a self confessed shameless pervert, who may be suffering from slight peen envy.
LP Lovell's She Who Dares series are all international best sellers.
Lauren loves to hear from readers so please add her on Goodreads, Facebook and Twitter.
a Rafflecopter giveaway