Book Title:
In Your Dreams
Author:
Ginger Scott
Series:
Falling #4 (Standalone)
Release Date: March 29th, 2016
Genres:
New Adult Romance
Casey Coffield has a growing list of personal flaws he keeps locked away in his head:
He's never on time.
His list of IOUs to his best friend is endless.
Money is always short.
Goals are never in reach.

Oh, and he's decided to add college drop-out to that list, too. He doesn't really think that last one's such a bad thing, but his family insists it is, so it stays on the list.

On paper, he's a zero. But in person, when he's mixing tracks for a sea of bodies at the hottest clubs and parties, he's downright irresistible. Just-right stubble on his chin, body of a boxer and a smirk that stimulates all the right nerves—women have never been a problem. They flock to his swagger and fall for his charm…fast.

All except for this one.

Purple hair, gray eyes, a raspy voice and sass, Murphy Sullivan is a little bit country and a little bit rock-n-roll. And her and Casey? They have history. He can't remember it, but she wrote a song about him—and it's not exactly a love song. But it is good. Damn good. And uncovering her inspiration just might be the key to solving a few of his shortcomings—not to mention open doors to his own big break in the music industry.

But sometimes dreams get messy when they collide. Sometimes life changes patterns. A past paints the wrong picture and futures get cloudy. The only question that remains is who will you choose when the dust settles—you? Or the girl of your dreams?

** This book is a Falling Series spin-off. It can be read as a standalone.**
So let me say that when Ginger Scott announced that she would be doing a spinoff on the Falling series, I was doing a happy jig in the middle of my room. I've come to love Ginger's writing through this series and this one was just as good as the rest in the series! It's amazing how she pulls off a simplistic plot yet still manages to evoke the emotions from her readers. Casey & Murphy's story was filled with endearing moments but tugged at my heartstrings with the struggles they've faced.
In Your Dreams introduces Casey Coffield, whom from the start has been defined as somewhat the black sheep of his family. An inspiring DJ who is pursuing his dreams in the music industry, he lacks the support of his father who is battling a terminal illness. However that hardly put the lights out in Casey's dreams and his sheepish personality which I found amusing whenever he's with his best buddy, Houston (FYI Houston was from Book #3 of Falling). Those two guys are like the yin and yang of each other and their "bro" talk sometimes had me chuckling because of how Houston puts up with Casey- love them both!
Then there's Murphy Sullivan, who suddenly shows up in Casey's radar after she wrote AND sang a song about him. Being the reformed manwhore that Casey is, it's almost no surprise that he has no clue who this girl is and why she even wrote a song about him. Bring impressed by her vocals, Casey was determined to know who this girl is and plans to mend whatever broken bridges they two had in the past.
I loved how different both Casey and Murphy were and how their personalities clashed at their initial encounters. Murphy may seemed a little introvert but she still knows how to demand for respect and stand her ground when it came to Casey. She proves that she's not easily pushed over by a guy who barged into her life and demanded things from her. I love that she was resilient without overshadowing her insecurities that she secretly harboured.


"Maybe he isn't as selfish as everybody thinks-as I think. Maybe he just needs someone who's willing to walk through fire with him and hold him through the ugly parts. Maybe I'm stronger than I think."
And gah sweet broken Casey! I loved that he could be a sheepish at times but still showed his caring personality when he's around people he cared about. What I mostly admired about him was how driven he was about his music dreams and that complimented so well with Murphy who just needs that extra push to believe in herself too. Toegther, both of them saw themselves in each other and brought out the slow burning romance in the book.
A story of second chances, forgiveness and chasing dreams
;
In Your Dreams
is a story that leaves her readers with a strong hopeful message. It had a good balance of light and heavy moments throughout the read with a tad bit of steam towards the end. The only reason the book missed the mark a little for me was the time jump between the epilogue and the chapter before. Definitely would have loved to know more how the gap was filled but nevertheless, I was still happy with how it came together at the end :) Here's to hoping there's more of the Falling series in the future!
**This book can be read as a complete standalone without reading the rest of the Falling series.**
Advanced review copy received by the author in exchange for an honest review.
ABOUT THE AUTHOR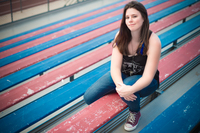 Ginger Scott is an Amazon-bestselling author of eight young and new adult romances, including Waiting on the Sidelines, Going Long, Blindness, How We Deal With Gravity, This Is Falling, You and Everything After, The Girl I Was Before and Wild Reckless.
GIVEAWAY