Book Title:
The Debt
Author:
Karina Halle
Series:
Standalone
Release Date:
August 29th, 2016
Genres:
Contemporary Romance
Her life changed in an instant.

And he's the only one who could have prevented it.




From the New York Times bestselling author of The Pact and The Lie comes a new standalone contemporary romance about those McGregor men.




Jessica Charles shouldn't have even been in London when the unthinkable happened. She should have been back at home in Edinburgh, perhaps hanging with her boyfriend, having drinks with her sister or doing yoga with her group of friends. She should have been going on in her normal, dependable life as always.




But on that fateful day in August, when a mentally-ill ex-soldier opened fire in public, Jessica's world changed forever.




Now single and crippled from the gunshot wounds, Jessica finds herself scared and alone, losing faith in herself and humanity with each agonizing moment that passes. That is until a stranger enters her life. A stranger who makes her live again. Keir McGregor has always been the strong, silent type. Throw in tall, dark, and handsome and you've got pretty much the perfect Scotsman.




Except Keir is anything but perfect. He's got a past he's running away from and a guilty conscience he can't seem to shed. But the more time he spends with Jessica, the more he falls in love with her.




And the more his secret threatens to tear them apart. He may have been a stranger to her.

But she's never been a stranger to him.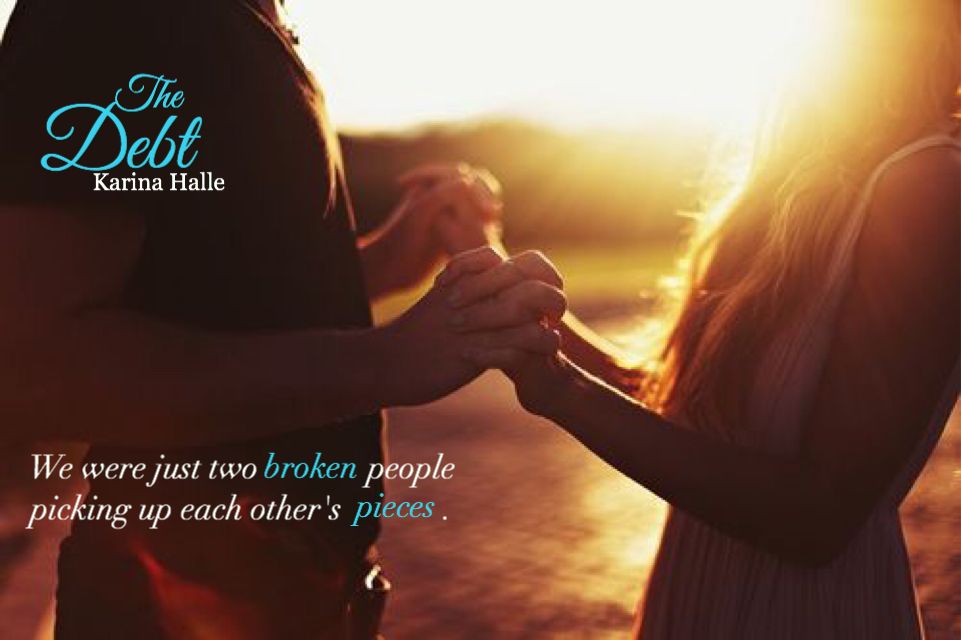 When I'd first heard Karina Halle was writing another McGregor book, I couldn't wait to get my hands on it! With this story, fans of a broken hero will find this especially heartwarming. The Debt, at its core, delves into finding love in the most unforeseen places. Finding love within pain, mutual pain and suffering yet, with selfless support, healing can take place. Even in the darkest hours, two people can rise from their pain for hopes of a happily ever after.
The Debt can be read as a complete standalone. We do get glimpses of Lachlan (our seriously hot McGregor rugby player) but there's zero spoilers for his book within this storyline.
I think what struck me most in this book was the strength of each character. Both Jessica and Keir have their fair share of feeling a failure, of guilt, but they reach beyond their own pain to lesson that of the other person. It's a true selfless love story in that aspect. They can't see the errors of their own negative inner monologue but are very quick to correct that of the other. With that we find gradual healing.
The main reason a deducted from my rating was the extensive travel details amongst the storyline. I didn't feel it added anything to their love story and it became a bit monotonous reading about their extensive stops across the Scottish countryside. But I can see readers truly loving that aspect too. I just didn't feel it added to the story like it should have for the percentage of time spent on it.
Ladies and gents, another McGregor stud is off the market...a man deserving of his happily ever after, right alongside an equally deserving Jessica.
Advanced review copy received by author in exchange for an honest review.
With her USA Today Bestselling The Artists Trilogy published by Grand Central Publishing, numerous foreign publication deals, and self-publishing success with her Experiment in Terror series, Vancouver-born Karina Halle is a true example of the term "Hybrid Author." Though her books showcase her love of all things dark, sexy and edgy, she's a closet romantic at heart and strives to give her characters a HEA...whenever possible.Karina holds a screenwriting degree from Vancouver Film School and a Bachelor of Journalism from TRU.

Her travel writing, music reviews/interviews and photography have appeared in publications such as Consequence of Sound, Mxdwn and GoNomad Travel Guides. She currently lives on an island on the coast of British Columbia where she's preparing for the zombie apocalypse with her fiancé and rescue pup.