Book Title:
Darkest Before Dawn
Author:
Stevie J Cole
Series:
Standalone
Release Date: September 19th, 2016
Genres:
Dark Romance
Sixty-four days in captivity. Sixty-four days to lose yourself—or find yourself.




I'm Ava Donovan. I was abducted at the age of nineteen. I'm told I'm a survivor, but the truth is, I only survived because he saved me. Even when he kept me locked in that room—he saved me.




Constantly wondering when and how you will die, that does something to you. To your mind. But what do you do when it does something to your heart? What do you do when the man holding you captive seems just as broken as you are, when his mere presence becomes a comfort you crave—when you love him even though you shouldn't?




You smile and tell yourself it's okay because love has no morals.




Sixty-four days in captivity gave me a love most people will never have and my freedom took it all away.
Darkest Before Dawn is a captive trope that delves into the darkness within a person's psyche. Not just the captor- but that of the captive also. Max Carter was raised within the life of the mob. He's not a good guy. He doesn't bat an eyelash at killing the filth in this world. Does that make him good or bad? On the hunt to find his missing sister, Max infiltrates the world of human trafficking. He becomes them to get her back. But somewhere along the way, he meets his game-changer. Her name is Ava Donovan and their life connections date back to some of the worst memories in his life. She just doesn't know it yet...
Being captured and watching her boyfriend get murdered wasn't on the docket for tonight's date night with Bronson. Being held in a filthy cold basement wasn't either. She's cold, angry and terrified...and then Max walks in. He's beautifully dark. With time, his darkness and beauty shines a light in the world she's being captive in. Stockholm Syndrome? General f@cked-upness on her part? Time will tell. All she knows is she should hate him. But she doesn't...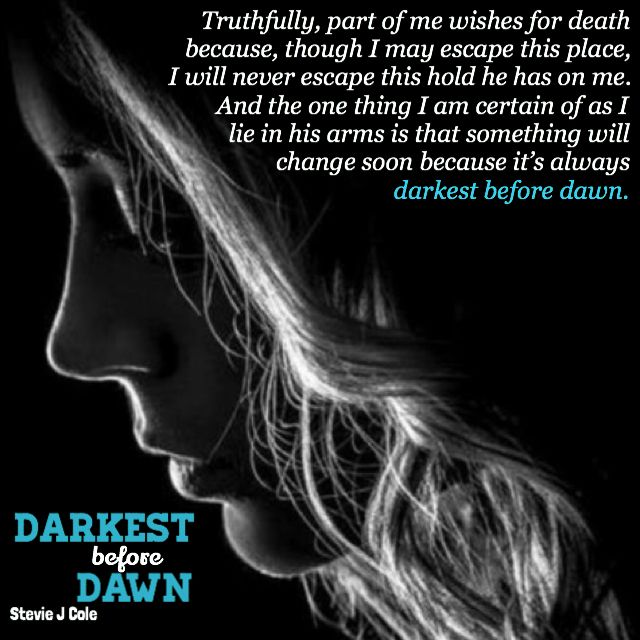 Ava is his victim but suddenly Max feels he's no longer in control. Is she a wolf in sheep's clothing or is she just as broken as he is? Does she too crave the darkness?
Darkest Before Dawn is symbolic to loving all parts of a person- even the darkness inside. That everyone is perfect and sometimes those imperfections are the true draw for two people and the adhesive that makes their love stick. It's not all hearts and flowers fluff in this love story...though it is still a love story shrouded in its darkness.
Advanced copy received by author in exchange for my honest review.
Stevie J. Cole likes to write realistic stories with raw, gritty characters you should hate but can't help but to love.
She's obsessed with rock music, loves sloths, and has an unnatural obsession with British accents.
Her books are not recommended for the faint of heart.