Book Title:
Loving Amber
Author:
Roya Carmen
Series:
The Riverstone Series #1 - Standalone
Release Date: September 26th,
2016
Genres:
Contemporary Romance
Torn by tragedy. Reunited by love.




Two years ago, I lost my husband and my brother to the same tragedy. To this day, I hold only one person responsible—Aiden Rogers, the beautiful boy I've known forever, the misfit I've both loved and hated, the one who always got to me. As far as I'm concerned, he's the only one to blame.




Now he wants to be part of my life again—when I can finally see a future for my son and myself. I've found the perfect man in David, someone I can start over with, a man who will be the perfect father figure for Trevor. I have a plan. At last, I see the light, and I know I can make this work.




I will not let Aiden Rogers drag me back into the darkness.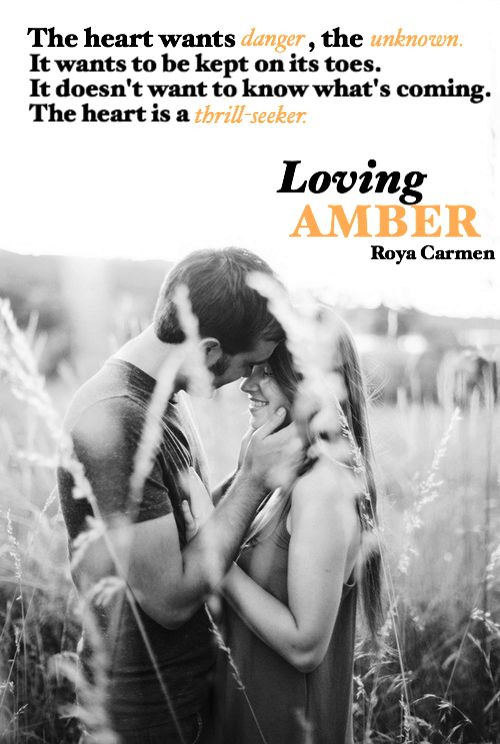 Loving Amber, from its book blurb alone, promises the reader an angsty emotional roller coaster ride. Amber lost both her brother and her husband on one fateful night. There's one man standing and her once childhood friend is now the man she most resents. How can she not? Except there's one thing- her heart didn't get the memo. Filled with pain and resentment, Amber struggles with Aiden. When her family estate hires him to renovate their master suite, dear Uncle Aiden as she son calls him, proves to be harder to resist than she thought...
I do have to admit, I vacillated between heartbroken for Amber to heartbroken for Aiden because of Amber and the way she treated him. The man had some serious patience and sometimes I wanted to chuck my kindle out of serious frustration with the way she pushes and pulls our hero. But it's in that angsty push and pull that we get the emotions in books like this. Nothing comes easy for this couple and sometimes it's difficult for the reader to understand.
That being said, I feel with such a huge build-up and back and forth, the resolution to conflict was almost a blip on the radar and much to easy for the story we received the first 80%. For that, I'm rather disappointed. I loved the ending. It was just a bit too easy.
Loving Amber is the first in a new Riverstone Estate series for Roya Carmen. I look forward to the next book featuring Amber's sister Ruby. And I especially cannot wait for eventual book for her brother, Flynn.
Advanced review copy received by the author in exchange for an honest review.
Romance writer, mom, book junkie. I have been writing for over ten years, finding my passion for romance in 2008. When I'm not spending time with my family, I enjoy reading, painting, and writing - there is nothing I enjoy more than sitting down at my laptop and making up my own stories - and if those stories should include beautiful men, a little romance, and a few steamy scenes, all the better!