Book Title:
Unsuitable
Author:
Samantha Towle
Series:
Standalone
Release Date: October 1st
, 2016
Genres:
Contemporary Romance, Romantic Suspense
From New York Times bestselling author, Samantha Towle, comes a new sexy, romantic suspense standalone novel...




Daisy Smith has spent eighteen months of her life paying for a crime she didn't commit. Now out of prison, she has only one focus—to get back custody of her younger brother, Jesse, who is deep in the foster care system. Desperate to rebuild her life and show the system that she is responsible enough to care for Jesse, she takes on the only job available to her—working as a maid at the Matis Estate.




On day one of her new job, Daisy meets Kastor Matis, the only son of the owners and her new boss. An enigmatic, handsome Greek god of a man, Kas is closed off, cold, and…well, kind of a bastard.




The more time Daisy spends around Kas, she starts to see there might be more to him than just his cold, bastard ways. He may actually have a heart beating in that frozen chest of his.




But Kas has secrets, too. Secrets that he's determined to keep.




Secrets make Daisy curious.




And you know what curiosity can do…
Hailing all fans of a$$holish heroes! We've got one helluva winner here in Unsuitable!
With that out of the way...
Unsuitable has it all! On the surface, the plot seemed as if something I've seen many times before- meek girl with tough lessons in life finds herself at the mercy of an a$$holish millionaire man/employer that'll test every ounce of her mental stamina (and physical pull to his sexual prowess). Yes, we've heard this before, yet Unsuitable has so much more. Mainly, suspense and a twist in the plot that'll have you anxiously turning the pages rooting on these two remarkable unsuited- but also perfect for each other- characters.
Daisy Smith has been behind bars for the past eighteen months for a crime she didn't commit. Fresh out of prison, she's assigned a job as a maid for the wealthy Matis estate on the outskirts of London. Her new employer, Kastor Matis. He's tall, dark, and a certifiable arsehole. But her probation is contingent on this job so she buckles down, bites her tongue and takes his cold aloofness. Without this job, she won't get custody of her little brother back.
It's clear from the beginning Kas has some secrets up his sleeve. He keeps Daisy at an arms-length yet it's clear Kas is painfully attracted to her.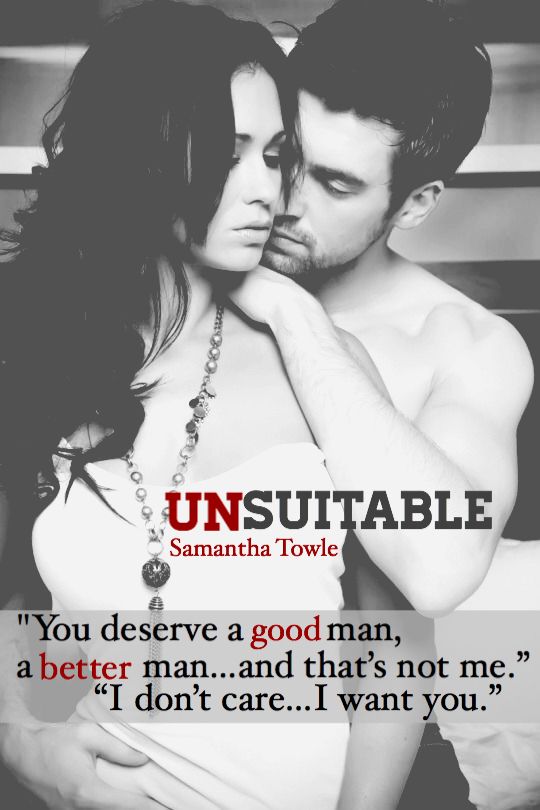 Unsuitable is truly one giant push and pull, nice then mean type stories. Just when Daisy starts to let her guard down, Kas would turn cold and simply disregard her. Samantha Towle did a fantastic job giving the reader just enough of this man to make us latch onto his character, feverishly searching for what he's hiding from us Daisy... and why he's fighting himself where Daisy is concerned. This push and pull only gets more heightened as secrets get revealed and their pasts come to threaten their safety and future.
A truly action packed novel full of mystery and suspense, steam and an unconventional love story. Nicely done! Now I'd love to see a story for Jude.