Book Title:
Preston's Honor
Author:
Mia Sheridan
Series:
Standalone
Release Date: February 19th
, 2017
Genres:
Contemporary Romance
There were two brothers—identical twins—and though I loved them both, my soul belonged to only one.




Annalia Del Valle has loved Preston Sawyer all her life. The daughter of an impoverished migrant farmworker, she grew up as an outcast in what was no more than a tiny, cooped up shack in California's Central Valley. But her heart found freedom in the land, in the wide-open spaces of Sawyer Farm, and in the boys who were her only friends.




Preston has yearned for Annalia since he was a boy. But a sense of honor kept him from pursuing her until he's unable to hold back any longer and their worlds—and bodies—collide one hot summer night. A night that sets off a chain of events that will alter their lives forever.




Now Annalia is back in town after disappearing without a trace for six long months. Determined to reclaim her heart, her life, and the baby she left behind—the son who was created in a moment of lust and love and pent-up yearning.




Preston has survived grief, a ravaging drought, and the despair of heartache, but he's not sure he can survive Annalia again. And he might be unwilling to try. Will pride and bitterness keep him from the one thing he's always longed for?




How do you heal what is irreparably broken? How do you forgive that which is unforgivable? How do you discover that real honor comes not from circumstance, but from the place deep in our hearts where truth resides? And how do you move beyond the wounds of the past to discover that some loves are as solid as the ground beneath your feet, and as enduring as the earth itself?




THIS IS A STAND-ALONE SIGN OF LOVE NOVEL, INSPIRED BY GEMINI. New Adult Contemporary Romance: Due to strong language and sexual content, this book is not intended for readers under the age of 18.
Mia Sheridan, I swear, has the capability to turn me into a pile of romantic mush. I adore everything she congers up in her mind. Her books always combine such a plethora of emotions, values, hidden signs and life lessons, I always walk away feeling like I've experienced something almost spiritual in nature. Preston's Honor fell right along those lines. The angsty emotional tug of war of young friendship and love between 'higher social status' farming twins, Preston and Cole, and the poor, shy Mexican girl living in a shack on their property with her mother, barely making ends meet. Relationships that transcend societal 'status' and are borne from youth, innocence, and mutual respect. But will society creep into their little bubble and ruin it all?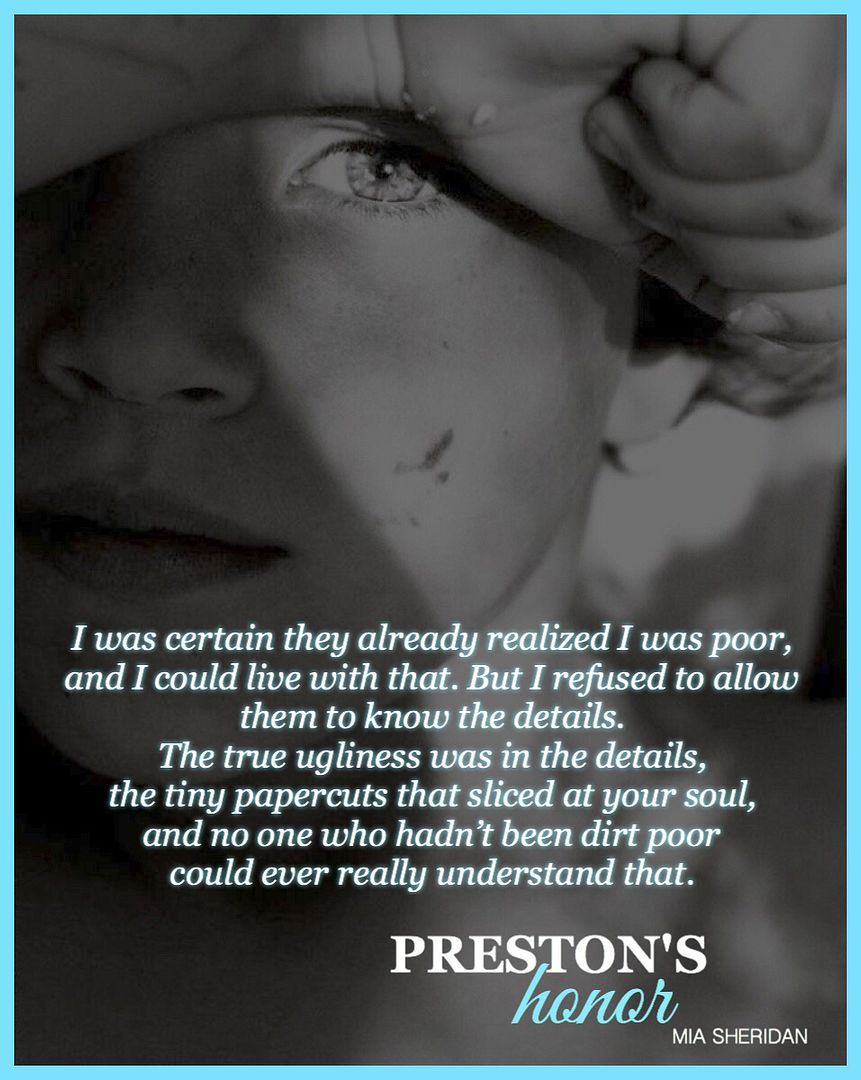 Another component I loved about this book was the focus of the bond within the Mexican community. Of immigrants risking it all to come to a country for a chance at life, of success, to raise their children with bigger and better chances than they had in their maiden country. The lives of migrant workers, doing the jobs nobody else wants to do to insure their family has food and shelter and a chance for a future here. I loved the deep connection between the Mexican community and how they rallied to assist their own, friend or stranger.
I must admit Preston Sawyer is a pretty close contender for my favorite Mia Sheridan hero. Archer has held that honor for years but this humble farm boy, turned man, though quiet and subdued, cared so much for his family and the legacy of his farm. Life struggles just really got in the way for he and Lia reaching their happily ever after and it was quite the journey for the two of them in the end. A journey that tugged at my heart-strings but in the end, left me with a warm, gooey happiness for them, their family, the community at large. Bravo, Mia Sheridan. You've done it again. My heart thanks you!
Advanced review copy received by the author in exchange for my honest review.
Mia Sheridan is a New York Times, USA Today, and Wall Street Journal Bestselling author. Her passion is weaving true love stories about people destined to be together. Mia lives in Cincinnati, Ohio with her husband. They have four children here on earth and one in heaven.