Book Title:
A Thousand Letters
Author:
Staci Hart
Series:
Standalone
Release Date:
February 9th, 2017
Genres:
Contemporary Romance
Sometimes your life is split by a single decision.




I've spent every day of the last seven years regretting mine: he left, and I didn't follow. A thousand letters went unanswered, my words like petals in the wind, spinning away into nothing, taking me with them.




But now he's back.




I barely recognize the man he's become, but I can still see a glimmer of the boy who asked me to be his forever, the boy I walked away from when I was young and afraid.




Maybe if he'd come home under better circumstances, he could speak to me without anger in his voice. Maybe if I'd said yes all those years ago, he'd look at me without the weight of rejection in his eyes. Maybe if things were different, we would have had a chance.




One regretted decision sent him away. One painful journey brought him back to me. I only wish I could keep him.




*A contemporary romance inspired by Jane Austen's Persuasion*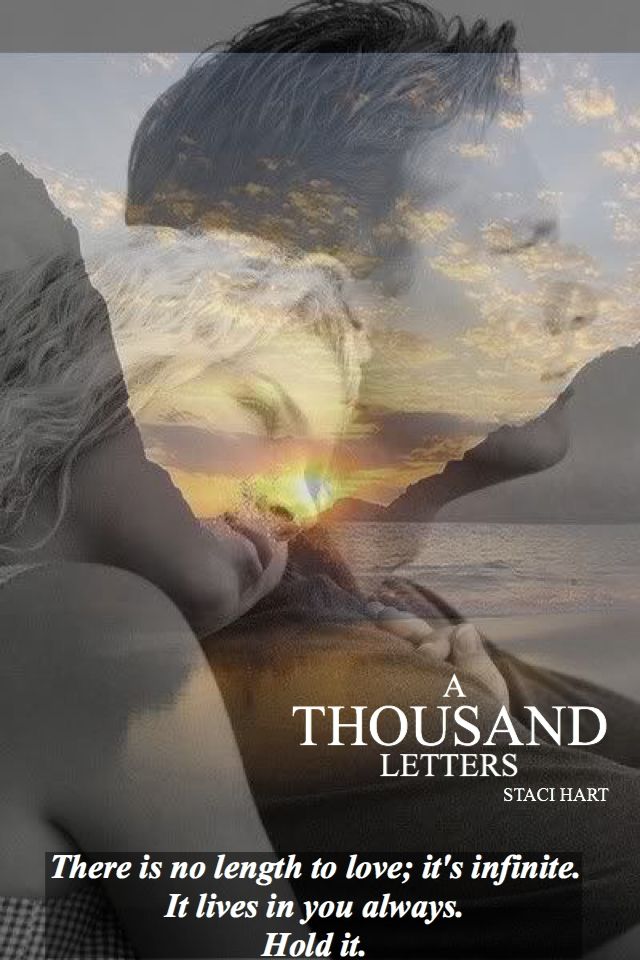 A Thousand Letters is the first book I've read by Staci Hart. I must admit, the book cover caught my eye first and foremost. It was then when I'd read the book blurb, promising a very angsty emotional rollercoaster ride, did I drop everything and request an early copy of this book.
One thing that really stood out for me is the very poetic nature of Staci Hart's prose. Granted. This book centers around a Literature graduate, several poems and classic books quoted along the way, yet her writing in itself has a very artistic nature to it. It's very apparent, inspired by Jane Austen's Persuasion, this author loves her classic literature.
A Thousand Letters centers around the long-fought journey of two lost lovers finding themselves face to face under very sad circumstances. Torn between grief and seeing each other again, the flame still flickers after seven years apart, of love letters gone unanswered. Can Elliot and Wade find their second chance amidst the sadness that brought Wade home after all this time?
I was in love with a girl who had dreams, a girl who loved quietly and without expectation. But the girl before me had her dreams dashed, and she loved submissively, putting everyone else before herself until she found herself buried and gone.
A Thousand Letters will take the reader on a very heartfelt emotional journey for both MCs. It's not lighthearted reading yet it pulls the reader through, chapter by chapter in dual point of view, towards that flicker of light, of hope, that still burns between these two long lost lovers. It's a journey instilled with hope, love for family that extends beyond blood ties, a bond that stands the test of time, through life and even death. Books like these ignite my inner romantic and are what drew me to reading in the first place. It's not smut. It's true romantic love. A beautiful book with a beautiful ending... the light at the end of their long tunnel.
Advanced review copy received by the author in exchange for my honest review.
Staci has been a lot of things up to this point in her life -- a graphic designer, an entrepreneur, a seamstress, a clothing and handbag designer, a waitress. Can't forget that. She's also been a mom, with three little girls who are sure to grow up to break a number of hearts. She's been a wife, though she's certainly not the cleanest, or the best cook. She's also super, duper fun at a party, especially if she's been drinking whiskey.
From roots in Houston to a seven year stint in Southern California, Staci and her family ended up settling somewhere in between and equally north, in Denver. They are new enough that snow is still magical. When she's not writing, she's reading, sleeping, gaming, or designing graphics.