Book Title:
Nine Kinds of Naughty
Author:
Jeanette Grey
Series:
Art of Passion #3 (Standalone)
Release Date: February 7th, 2017
Genres:
Erotica Romance, Contemporary
Lexie Bellamy can handle a boardroom. Relationships, however, are a minefield that always blow up. When a business trip takes her to Spain, Lexie knows she'll have no problem closing the deal. But spending uninterrupted one-on-one time with her crazy-hot coworker might be more than she can take.




At the office, Lexie gets to call the shots. But this trip is the perfect opportunity for Dane Huntley to show his gorgeous boss how good it can feel when someone else takes charge...




Miles away from home, giving in to Dane's naughty commands feels so easy. But when the trip is over, Lexie's determined to go back to their professional relationship. Dane, though, has other ideas. He'll have to prove that what they've found together is real... and he has no intention of letting go.
Holy hotness wow!! This book should come with a serious warning label that will warrant you multiple cold showers while devouring it. I've been in love with this series since the first two books but Ms. Grey here has brought sexy to a greater heights with this third installment and boy did i LOVE it! Note: This book can definitely be read as a standalone as it's a spinoff story on Rylan's sister, Lexie.
Lexie is a woman used to being in charge and taking control. Having to run their family company in Rylan's absence in the past, Lexie takes business matters into her hands seriously. When their latest potential acquisition brings her to Spain along with her very sexy assistant Dane, the battles ahead of her isn't just about merely closing the deal but having to deal with the burning attraction between herself and Dane.
Dane is one helluva sexy man with a dirty mouth (my personal favorite) who exudes confidence and is dominant in all ways possible. Battling with some demons of his own, he finds himself working for Lexie where he struggles with his need to dominate her outside of the boardroom. All it took was one business trip to Spain for Dane to show Lexie how to lose control.
"You don't get to keep having it both ways. We've been riding this line for months now. You push and I pull, and you back away and I let you go."
What I really enjoyed most about this read is the switch of dynamics between Lexie and Dane. As Lexie is technically Dane's boss, it was really interesting to see how that flipped over when Dane dominates Lexie outside the capacity of work. It was also easy for me to relate to Lexie in terms of feeling the need to be in control all the time and the struggle of having to let go of that to Dane outside of work. The palpable attraction between these two gripped me from the start and oh boy those steamy scenes seriously got me fanning myself multiple times.
Scorching hot with romance that will sizzle off the pages, Ms Grey once again proves that she knows how to entice her readers with a sexy contemporary romance with flawed characters that will leave a mark on you.
"He was gorgeous. Free. And for an instant - just an instant in time, he made her that way, too."
Advanced review copy received by author in exchange for an honest review.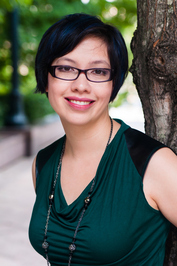 Jeanette Grey started out with degrees in physics and painting, which she dutifully applied to stunted careers in teaching, technical support, and advertising. When she isn't writing, Jeanette enjoys making pottery, playing board games, and spending time with her husband and her pet frog. She lives, loves, and writes in upstate New York.
Connect with the author!