Dirty Ties is my Book of the Month in Jan 2015 and needless to say, I enjoyed this one from Pam Godwin! Check out my review below!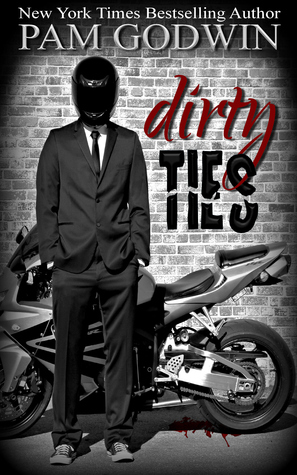 Official Blurb:
Revenge.
I race to finance it.
I evade to protect it.
I kill to attain it.
I planned everything.
Except her.
The alluring, curvaceous blonde at the finish line.
With sapphire eyes that cheat and lie.
Whose powerful family murdered mine.
I hate her
. I want her.
I know she's hiding something.
But so am I.
*************
4 DIRTY STARS! ★★★★
"The strongest love begins from a place of conflict."
Talk about hard, fast and dirty! Pam Godwin surely delivered one helluva read here that nearly made my Kindle spontaneously combust. It's official that Pam writes some of the best smut out there and being a fan of her dark reads, I'm not sure if I can possibly love this woman enough already.
Oh yes, that elevator scene lived up to its expectations and the brooding mystery of the notorious Evader surely got me hooked onto this read in no time. One of the things I really enjoyed reading about is being immersed in the world of corruption, the dirty secrets behind a family corporation and with each layer of secret being peeled off slowly, there was a twist awaiting there.
"My pursuit was personal; my vendetta fermented in hatred."
While the book delivered on the steam, ironically it was what that also made me struggled with the read. Initially I appreciated those scenes a lot but after a while, it came to a point that almost every scene of Kaci and Logan together were them going crazy on instalust. The angst was present with both of them feeling conflicted but it almost felt like it was not acted upon enough. Also another would be the inconsistency of Logan's character that threw me off a little. I felt like what was being portrayed by Logan in the first portion of the book got hit by a flip-switch almost too quickly after he gets enamoured with Kaci.
Overall I still really enjoyed this one and Pam Godwin surely is one of those authors that doesn't fail to deliver something unique and always putting her own twist to it. Also I wouldn't deem this to be her usual dark ones and definitely more on the erotica side laced with dark elements.
I would still recommend this read if you're fan of this author's work but it wasn't my most favorite one from her ;)
Dirty Ties is a standalone erotica suspense read with dark elements.