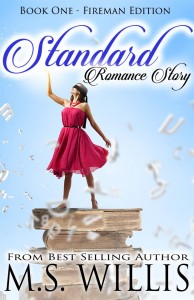 My name is Jane.
I'm not a virgin.
I'm not a stripper.
I've never been raped.
I don't have daddy issues.
I'm not in college.
I don't have magical powers.
I'm not naïve.
I haven't been abducted.
I haven't been sold.
I'm not unbelievably gorgeous.
I don't sleep around. I can't even tell you the last time I dated. I live a normal life making minimum wage at a bookstore. And my best friend is a guy who also happens to be my roommate. But I'm determined to find love.
This is my standard romance story. Follow Jane as she dates the standard romance guys in an attempt to find true love:
The rocker, the biker, the billionaire, the tattooed bad boy, the firefighter, the lawyer, the vampire, the cowboy, the alpha, the teacher, the movie star, the professional athlete, the fighter and the captor. Which one will finally win her heart?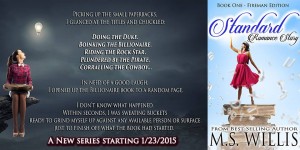 4 STARS! ★★★★

"From what I've read in Flirting with the Fireman, I'm supposed to have easy access. How else are we supposed to have sex on top of the firetruck without getting caught with our pants down?"


When I heard that one of the queen of dark authors is writing a romcom, part of me was terrified that her definition of romcom would be something sadistic! But thank lawd I've been proven wrong because this quick novella read turned out to be so hilariously entertaining that I might have choked and laughed at the same time.
A quick rundown of the series: Jane is your normal average girl who lives a standard life, working at a bookstore with minimal pay and lives with her best guy friend, Rich. Just like most of us, Jane loves to read and is a romance junkie and at some point we all wonder, why can't we find that book boyfriend in real life?! And so it begins when Jane placed an ad looking for the right guy that fits the bill.
"I'm refusing the standard in my life and shooting for the standard in the romance book life. I want the standard romance guy."
The first instalment as per the title is her dating a fireman and lawd knows how steamy those can be! But let's face it, reality is different and I enjoyed that the author depicted a realistic date where things never really worked out all the time as much as you'd like it to. It was filled with awkward-as-hell moments, laugh-out-loud moments and with that, it truly brought out such a light-hearted tone to this read.
Overall, this was such a quick fun read to ease off the angsty dark reads I've just had and can't wait to read more of these installments. I really hope Jane has better luck with the next one and the next next one LOL!
This is the first instalment of the Standard Romance Story novella series and MS Willis is planning to release a new one every 2-3 weeks.
ARC kindly provided by the author in exchange for an honest review.

M.S. Willis is a romance novelist whose debut novel, Control, was released in 2013. Although currently writing in the romance genre, Willis has plans to expand her literary pursuits into multiple genres and has no fear conquering difficult subject matters in her writing. Willis is a native Floridian who is also a photographer and musician. When not absorbing herself in written, visual or musical expression, Willis is an adrenaline junkie, a 'closet' video game enthusiast, and an avid outdoors person and nature lover. M.S. Willis also writes as Lily White.

Follow on Twitter - @mswillisbooks
Amazon Author Pages: