Book Title:
Fighting Solitude
Author:
Aly Martinez
Series:
On The Ropes #3
Release Date: February 2nd
, 2016
Genres:
New Adult, MMA
I was born a fighter. Abandoned by my parents, I spent my life forging my own path—one guided by my fists and paved with pain.

Untouchable in the ring, I destroyed everyone who faced me, but that's where my victories ended. Outside the ropes, I repeatedly failed the few people who loved me. Including my best friend, Liv James—the one person I'd die to protect.

Even though I didn't deserve her, Liv never stopped believing in me. Never gave up. Never let go. After all, she understood what I'd lost, because she'd lost it too.

Liv was everything to me, but she was never truly mine.

That was going to change.

I lost my first love, but I refused to lose my soulmate.

Now, I'm on the ropes during the toughest battles of my life.
Fighting to be the man she deserves.
Fighting the solitude of our pasts.
Fighting for her.
Aly Martinez has built the BEST fighter romance series I've read to date. The Page boys each getting their own book, their stories told, has gone full-circle with this final installment, Fighting Solitude. Each book can be read as a standalone but I'd highly recommend acquainting yourself to each character, watching their family grow as each book progresses. We knew at the conclusion of Flint's book, Fighting Shadows, that this book was going to be most gut-wrenching...but from sorrow draws strength and eventual happiness for this friends-to-lovers trope.
Quarry Page has known Liv since childhood. The spunky yet girly girl and daughter to Leo, the owner of a large security firm, she snatched up any chance to come to the gym and see her Quarry. Their attachment was one of early innocent childhood connection, never truly knowing until years later how deep their connection lies. But it takes a tragic loss for Quarry to truly realize the importance of Liv in his life...she's his crutch, his anchor, and life without her would be futile. Even a simple "Liv bear hug," something she's done since the tender age of 8, has the innate ability to settle his demons...
Only when life delivers it's biggest blow does Quarry truly find his strength in Liv. She's his roommate, his assistant, best friend, and rock. Only one thing lacks...his love.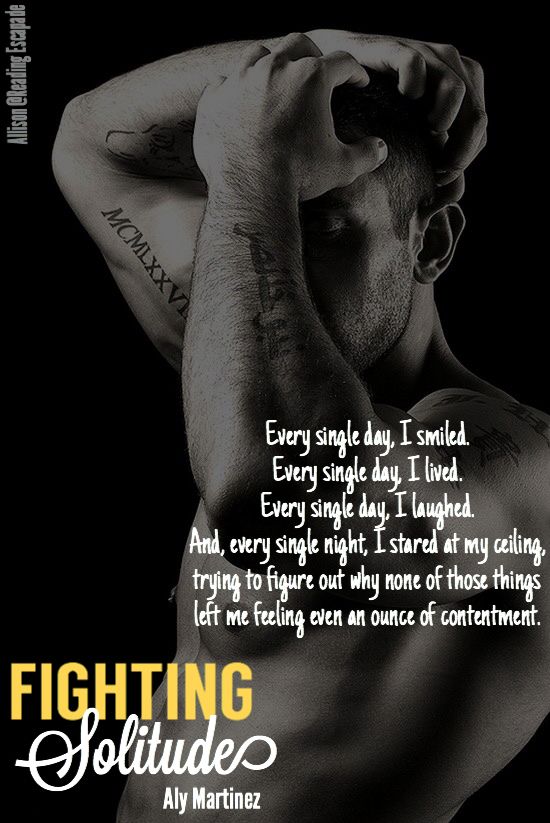 Fighting Solitude was the perfect slow build of the friends to lovers romance I crave. Even in the early years, my heart melted for these two sweet kids with not so much in common yet finding their perfect connection- he understands her demons struggles and she his, even as young children and adolescents.
Aly Martinez gives her readers the perfect balance of real life hardships, handicaps, family drama and connection, and true romantic love stories. Nothing is rushed, instead perfectly paced to allow the reader to grasp wholeheartedly onto their stories. Nothing comes for free with the Page boys, yet from book to book we find their commitment to each other withstanding everything life throws their way. I always savor catching up with Till and Eliza with their growing clan, and Flint and Ash and their well-deserved happily ever after. Now we finally get to experience Quarry's story and his well-fought journey to find love that lasts a lifetime- with the one girl he's unknowingly loved and has loved him Every. Single. Day.
A beautiful conclusion to the On the Ropes series. I'll truly miss the Page boys and the tough as nails women that truly complete them. Maybe Aly Martinez will be so kind as to give us snippet novellas of say, their Christmas gatherings, so we can all bask in their well fought happily-ever-afters...
Advanced copy received by author in exchange for my honest review.
ABOUT THE AUTHOR
Born and raised in Savannah, Georgia, Aly Martinez is a stay-at-home mom to four crazy kids under the age of five, including a set of twins. Currently living in South Carolina, she passes what little free time she has reading anything and everything she can get her hands on, preferably with a glass of wine at her side.
After some encouragement from her friends, Aly decided to add "Author" to her ever-growing list of job titles. Five books later, she shows no signs of slowing. So grab a glass of Chardonnay, or a bottle if you're hanging out with Aly, and join her aboard the crazy train she calls life.