Book Title:
Slip of The Tongue
Author:
Jessica Hawkins
Series:
Standalone
Release Date:
February 25th, 2016
Genres:
Contemporary Romance
Sadie Hunt isn't perfect—but her husband is. Nathan Hunt has her coffee waiting every morning. He holds her hand until the last second. He worships the Manhattan sidewalk she walks on. Until one day, he just…stops. And Sadie finds herself in the last place she ever expected to be. Lonely in her marriage.

When rugged and sexy Finn Cohen moves into the apartment across the hall, he and Sadie share an immediate spark. Finn reveals dreams for a different life. Sadie wants to save her marriage. Their secrets should keep them apart, not ignite a blistering affair. But while Sadie's marriage runs colder by the day, she and Finn burn hotter.

Her husband doesn't want her anymore.
The man next door would give up everything to have her.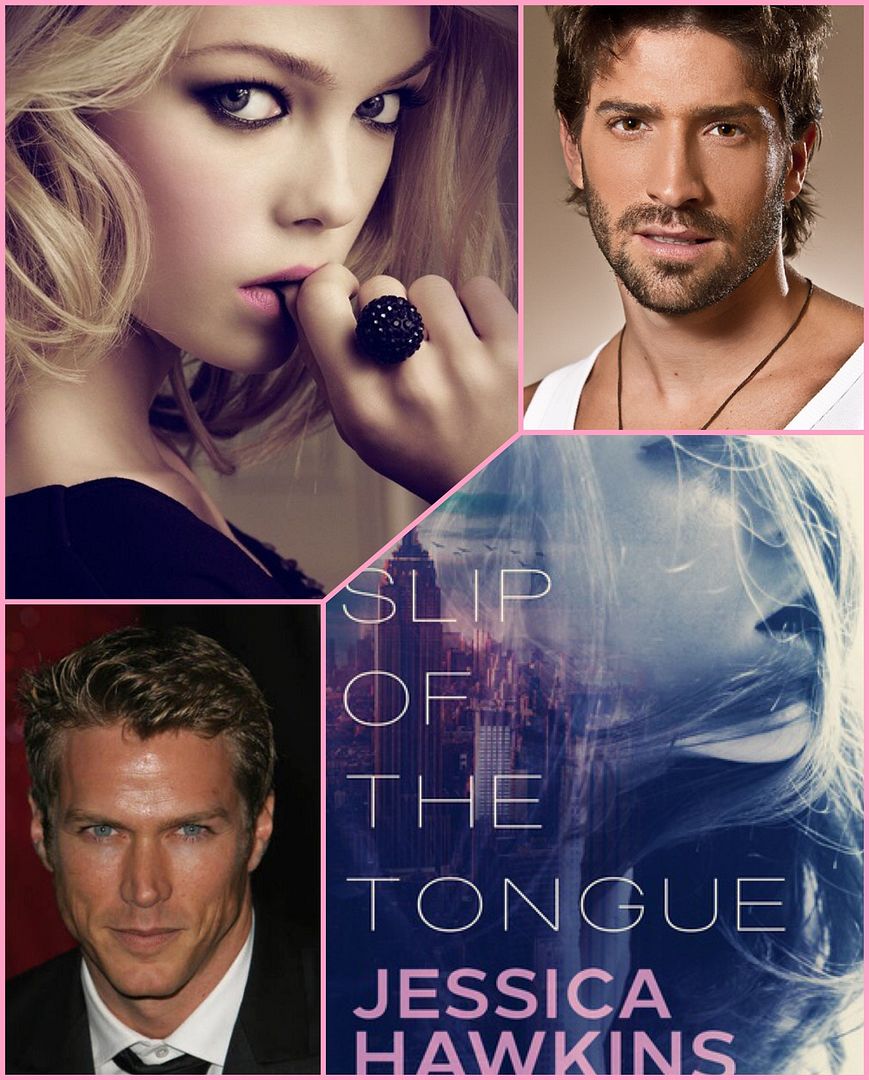 Wow. This book was really different on many levels. I felt like the author took us into the life of a married couple...a couple once perfectly happily married- until they weren't. A couple where suddenly, for no voiced reason, the husband starts staying out late after work, starts chilling her out physically, starts ramping up his gym regimen...stops communicating.
It all points to one huge beacon...another woman. If only he'd speak to her, voice his issues but nothing. Silence. And silence is the worst punishment of all because with silence we get imagination of all the worse case scenarios. Silence equals resentment and loneliness. Loneliness equals... finding what you're missing at home with another man.
Jessica Hawkins takes us within the life of Nathan and Sadie. They've been blissfully married many years and suddenly the past two months, everything changed. Sadie is at a loss and Nathan is growing further and further away from her both emotionally and physically.
One day a new tenant moves in across the hall- Finn Cohen. He's tall, masculine and tattooed perfection. And best of all, he pays attention to a very lonely Sadie. Sadie struggles against the pull of a man so warm and sweet and with each passing day, getting frozen out by Nathan...of sitting home alone as he is who-knows-where. Her strength slips. If it's good for Nathan, I guess it's good for her...
A Slip of the Tongue is solely in the heroine's POV and though it's imperative to the story NOT to be in Nathan's head (in order to feel that inner question mark Sadie felt), I longed to know what he too was going through. I felt her inner pain and because of that, I understood Sadie's struggle with fidelity. If he only could tell her why he's so emotionally disconnected they could've fixed it... Finn and Sadie share a connection that years apart hasn't seemed to break. Is he "the one that got away" and what role does fate play in our lives?
The book ebbed and flowed for me. Sometimes I was completely enraptured in it, other times I was a bit bored. But all in all, I found this to be a very emotional and realistic book. Not all marriages are perfect and lack of communication is oftentimes the biggest shortfall. I deducted a bit due to the whole conflict resolution. I felt it was a bit too "wrapped up in a bow" than realistic in the end for me. But all in all, I really "enjoy" the whole concept of love triangles and infidelity as it adds an angst factor all its own. Jessica Hawkins surpassed my expectations here and I look forward to more from her as this appears to be a trope of choice for her...a trope she's truly perfected.
P.S. Freaking LOVE that book cover...just sayin'.
Advanced review copy received by author in exchange for my honest review.
ABOUT THE AUTHOR
Jessica Hawkins grew up between the purple
mountains and under the endless sun of Palm Springs, California. She studied international business at Arizona State University and has also lived in Costa Rica and New York City. To her, the most intriguing fiction is forbidden, and that's what you'll find in her stories. Currently, she resides wherever her head lands, which is often the unexpected (but warm) keyboard of her trusty MacBook.