Book Title:
Eight Ways to Ecstasy
Author:
Jeanette Grey
Series:
Art of Passion #2
Release Date: April 5th, 2016
Genres:
Erotica Romance, Contemporary
In this stunningly sensual sequel to Seven Nights to Surrender, acclaimed author Jeanette Grey reunites readers with a young artist and the man who'll stop at nothing to have her..

EIGHT WAYS TO ECSTASY

Kate Reid's whirlwind romance with billionaire playboy Rylan Bellamy complicated her life in ways she'd worked to avoid. She'd fallen hard for his flirtatious charm and given him the one thing no other man had: her trust. Just as Kate began to imagine a future with Rylan, everything fell apart.

Now she's starting over in New York...but even the glittering streets of Manhattan can't erase the memory of Rylan knocking her off her feet and sweeping her into the most erotic, unforgettable week of her life.

It's been months, and Rylan still can't forget Kate. Months since he bared his soul at her feet. Months since he drove away the only woman to ever make him feel. Kate changed his world and now Rylan is determined to win her back-no matter what it takes. After crossing an ocean to reach her, he makes a deal with Kate: One more week, for one more chance. Now it's up to Rylan to show Kate all the ways they fit together . . . and prove that this player has met his perfect match.
Well hello to my favorite new sexy contemporary read of the year! Honestly you guys, Rylan from this read has just hit homerun with some of my top swoontastic book boyfriends. Mega bonus points to him for being such a dirty talker. Oh lordy, I swore my ovaries combusted one too many times after reading this one!
Eight Ways to Ecstasy is a sequel to the Kate and Rylan's story which was introduced in Seven Nights to Surrender. I'll admit that the first book didn't really quite hit the mark for me as I wasn't sure where the author was trying to go with their relationship. But this one hit me right in the feels!
Just to quickly recap the first book- Kate and Rylan met as strangers in Paris and they ended up having a summer fling where the oh-so-sexy Rylan had Kate embrace a new side of her. At the end, Kate discovered the truth behind Rylan's life that he kept hidden, which ended up with a strife and later parted ways.
Now Rylan is back in the States to pursue Kate again and opens himself to her about his real life. He wants another seven nights with Kate to prove himself that she could trust him again. Between juggling her newly enrolled art course and learning to let Rylan in again, it'll take more than just riches and kisses for Rylan to win Kate back.
"The next time you invite me to share your bed-" His eyes turned to liquid pools of rushing heat. "I promise. I'll make it count."
After finishing this one, I can clearly understand why their story had to be told in two parts. While the first book was more of an enigmatic sexy funtime read, the second one really delved into the heart of Kate and Rylan's relationship. It was sexy yet it was emotional. I loved that Kate had her heart guarded after letting a stranger in and even more so after discovering the truth behind his flamboyant life. She really made Rylan worked for it and boy did he really. I could understand why she struggled so hard to let Rylan in despite his romantic advances.
"We had something incredible, but you don't just get it back by asking for it."
And oh sweet Rylan. There's so many things I could tell you why I loved him but to put it simply- he's patient, loving, caring and so understanding of Kate. And drop-dead sexy with a dirty mouth that set my panties on fire. I love that he never gave up on Kate and he was also so supportive of her. I love that I could feel his genuine love for her through the pages, there was just no doubt about it.
"I was looking for a home, and I found it. With you. I want to make a home with you. I want to share it with you. Every detail of it."
The infusion of the art theme brought upon by the author was also another aspect of the story that I adored. I had tears welling in my eyes when it all pieced together beautifully at the end and when Kate finally realised the true meaning behind the art she loved painting.


Eight Ways to Ecstasy concludes Kate and Rylan's story and one that I'll be missing for quite a while after finishing it. It had such a great balance of steam, sexy and emotional moments that will have you smiling and clutching your heart altogether. Jeanette Grey continues to be one of my go-to authors for romance reads as she knows how to cleverly weave a romance story that can be so engaging without dishing out the dramatics. I'm so excited to read the next one in this sexy series as we'll get to see Rylan's sister and her buff assistant getting it on *waggle eyebrows*.


Advanced review copy received by Grand Central Publishing in exchange for an honest review.
ABOUT THE AUTHOR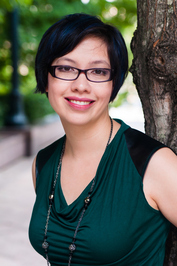 Jeanette Grey started out with degrees in physics and painting, which she dutifully applied to stunted careers in teaching, technical support, and advertising. When she isn't writing, Jeanette enjoys making pottery, playing board games, and spending time with her husband and her pet frog. She lives, loves, and writes in upstate New York.
Connect with the author!