Author:
Emma Chase
Series:
Legal Briefs #3.5
Release Date:
April 24th, 2016
Genres:
Contemporary Romance, Comedy
Join Jake & Chelsea, Stanton & Sofia, Brent & Kennedy as they navigate the hilarious and heartwarming hurdles of love, life and the law in this final addition to the Legal Briefs Series.




There was a time when Jake Becker had it all together. He was controlled, driven, ruthless—in and out of the courtroom.




Then, six irresistible orphans and their heartbreakingly beautiful aunt crashed into his perfectly ordered life. They changed everything. They changed him. Now he's a husband, an upstanding member of society, a father figure—a family man.




And he's pretty damn good at it.




Sure, he has to referee sibling smackdowns, re-learn algebra, ensure his clients stay of jail, and keep his wife happy—but it finally feels like he's got it together again.... So, of course something has to screw it all up.




It's huge. Life-changing. Kind of terrifying.




And it will be the most amazing, perfect thing he'll ever do.
Let me preface my review by saying I messed up a bit when I started reading Sidebarred. Apparently I wasn't under the influence of my first cup 'o Joe to notice that this is basically an extended epilogue for Jake and Chelsea from the second book in the Legal Briefs series, Sustained. Oops. That being said, I still LOVED this book hard!! And yes, I'll go completely backwards and read their love story in reverse order.
Sidebarred, takes place down the road of marriage for Jake and Chelsea. Their massive brood at home of six children is a constant state of chaos but they just make it work...perfectly. This book was written completely in Jake's POV and we all know that Emma Chase is the queen of male POV's. His inner monologue had me completely laughing out loud and then in the next moment, he had me swooning his perfection!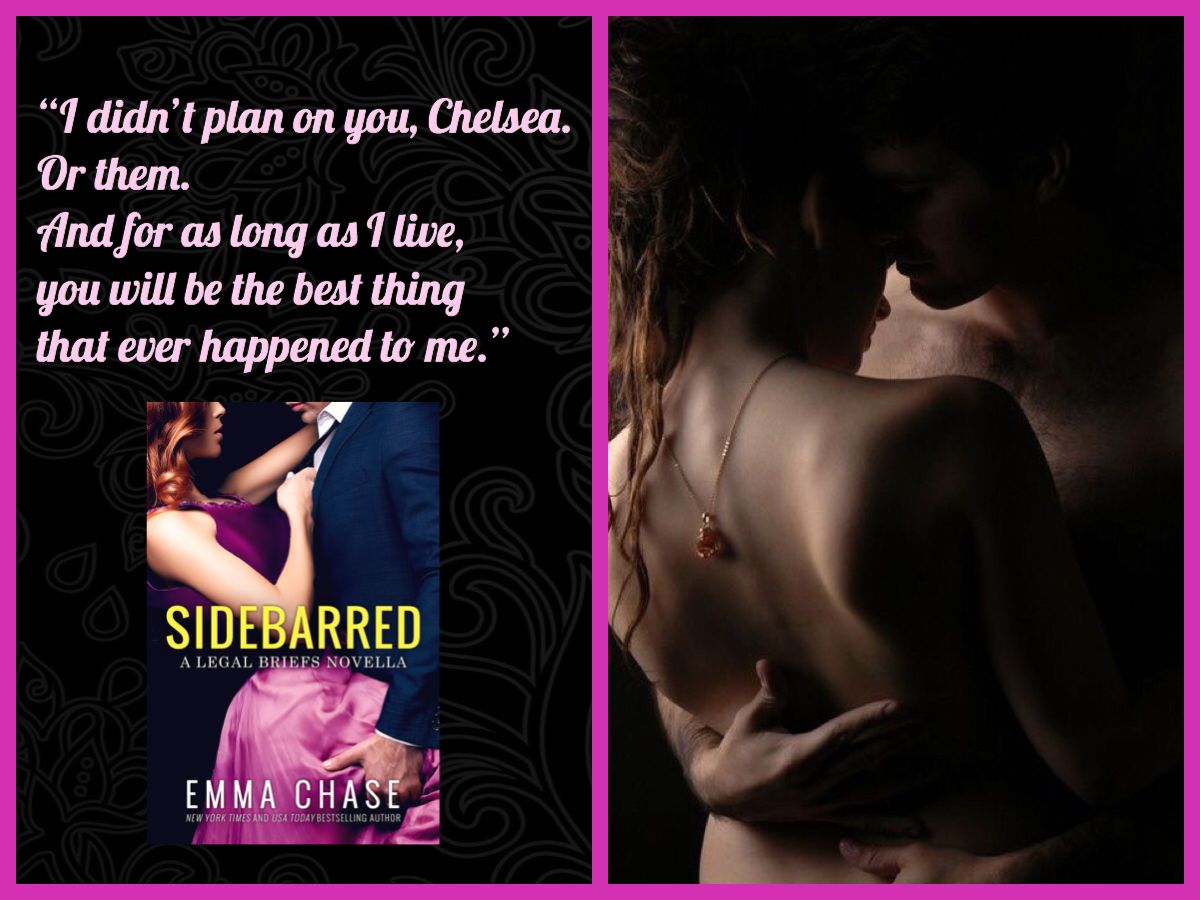 Sidebarred is sexy and sweet, comical and touching. It was entertaining and I pretty much devoured it in one sitting. Coming from a family of six myself, I had to laugh out loud at the sheer organized chaos I remember too from my childhood. Jake continues to work as a defense attorney and Chelsea at a museum. Jake is the epitome of the perfect specimen of husband and father. He's protective and loving...and hilarious. Their method of parenting was non-prudish and I just had this constant grin on my face thinking 'Been there, experienced that.' One word for this book- endearing.
So, obviously I loved Sidebarred and I didn't know these two characters from a hole in the ground. I can't imagine how much I'd eat this up had I known their backstory deeper. We also get to catch up with all the characters from The Legal Briefs- Stanton and Sofia, Brent and Kennedy.
Another successful book by the lovely Emma Chase. I look forward to more hot male POVs creations from her!
Advanced copy received by the author in exchange for my honest review.
Emma Chase lives in New Jersey with her husband, two children and two misbehaving (but really cute) dogs. She has a long standing love/hate relationship with caffeine.
Emma is an avid reader. Before her children were born she was known to consume whole books in a single day. Writing has also always been a passion and with the 2013 release of her debut romantic comedy, Tangled, the ability to now call herself an author is nothing less than a dream come true.