Book Title:
Beautiful Boy
Author:
Leddy Harper
Series:
Standalone
Release Date: April 28th, 2016
Genres:
Contemporary Romance
One introverted girl.
One extroverted guy.
One assignment.
One afternoon.
Then everything changed…

"You destroyed me."

Novah wanted nothing more than to walk away, never see him again. She was determined to pick up the pieces of her tarnished reputation and move on. Her torture became her muse, earning her well-deserved notoriety for capturing beauty with her lens. She had come full circle. She had it all…until he returned.

Nolan found himself surrounded by the grim facets of life, no longer the prominent boy from an affluent family who'd caught Novah's eye. The years had been unkind and left him in the dark, painful trenches of life. He needed her help.

Fifteen years can equate to a lifetime of change, neither one the same person they once were. Despite the humiliation, the latent wounds, the missing years…they're destined to heal one another in unexpected ways.

"You saved me."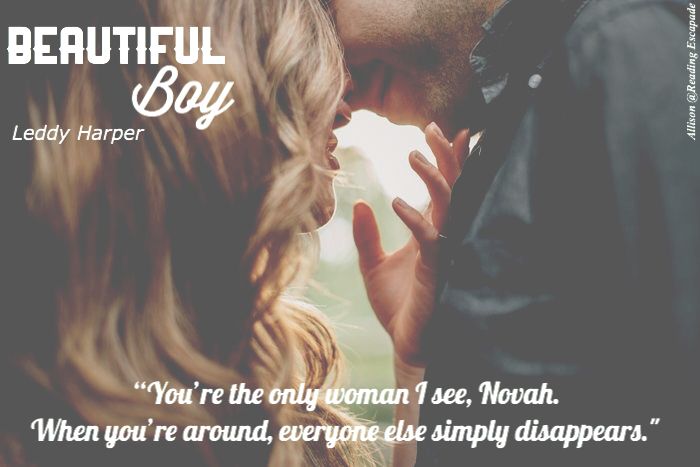 Well, I gotta admit, I have a love/hate thing going on with this book. Beautiful Boy, by it's book blurb attracted my attention right off the bat. Couple that with a hot as heck great book cover and the fact that I five-starred Leddy Harper's last book My Biggest Mistake, I figured this book would be a slam dunk winner. Add to it a certain plot trope (that I'm not gonna give away), and I found myself texting all my blogger buddies at 20% to hurry and pick this one up. That being said, as the book progressed, it fell a bit short in my high expectations.
Beautiful Boy is a second chance romance that starts out when two teens do what teens do...they find a connection and one thing leads to another, and bam, they fool around. Nothing too unusual there. It's only when Nolan, our hero, takes pictures of this encounter and they get spread throughout the school that things between them become a complete cluster f@ck array.
Novah's life has been permanently affected by the events of that high school debacle. Nolan, being 18-years old, drops off the radar while she, as a 15-year old freshman, is left to piece together what's left of her soiled reputation.
"Everything has a positive and a negative side. Everything. You can sit back and only think about what you're missing or what you can't do, and then live life watching everyone and everything pass you by. Or, you can find the good side and live in it."
Fast forward 15 years... They meet again. Is he still the self-assured rich boy that doesn't have to own up to his mistakes? Is she the shy, introvert with the reputation to 'spread them' on command? Have the past 15 years done anything to lesson the hate Novah's got festering for this sickening man?
So here's the thing. This is one of those tropes where nothing is as it seems.. I really felt this book had a lot of the things I love in those love/hate second chance romances. I really thought I'd hate Nolan with every fiber of my being and I ended up with a total bleeding heart for him. Novah surpassed all expectations for a victim such as she was over a decade ago. I'm not entirely sure events as they played out, a victim could morph into such a profound support person. Baggage and all that.
My little issue with this book is not a lot of 'stuff' happens within the pages. It's a ton of dialogue and working out deep-seated issues. It felt like an insta-love and had we gotten more time with them in their younger years forming their bond, that it would maybe justify their connection 15 years later. But the time spent on their past was seriously just a chapter in the book- and seriously just a one-night stand. So I felt this emotional connection was a bit underdeveloped both early-on and in current time. Because of that, I was fairly bored with the almost constant psychoanalytical-type dialogue between the two. Not a lot of time passes in this book. Maybe two or three weeks? No meeting of the parents or building of a relationship to finish the book in the way it did.
That all being said, Leddy Harper can write seriously emotional plots and her writing style is beautiful. Regardless of the insta-love feel to it, Leddy has a way of really bringing out the empathy with her heroes/heroines. She's a go-to if you're in the mood to shed a tear and just tug at the heart strings.
So, if you're in the mood for a love story that'll deliver a very imperfect and painfully scarred hero with a heroine that knows just how to fix him, and you're not deterred by quick love connections, this one delivers. Looking forward to more from Leddy Harper.
Leddy Harper had to use her imagination often as a child. She grew up the only girl in a house full of boys. At the age of fourteen, she decided to use that imagination and wrote her first book, and never stopped.

She often calls writing her therapy, using it as a way to deal with issues through the eyes of her characters.

She is now a mother of three girls, leaving her husband as the only man in a house full of females.

The decision to publish her first book was made as a way of showing her children to go after whatever it is they want to. Love what you do and do it well. Most importantly Leddy wanted to teach them what it means to overcome their fears.
Connect with Leddy Harper