Book Title:
The Hard Count
Author:
Ginger Scott
Series:
Standalone
Release Date:
July 15th, 2016
Genres:
Young Adult
,
Contemporary Romance, Sports Romance
Nico Medina's world is eleven miles away from mine. During the day, it's a place where doors are open—where homes are lived in, and neighbors love. But when the sun sets, it becomes a place where young boys are afraid, where eyes watch from idling cars that hide in the shadows and wicked smoke flows from pipes.




West End is the kind of place that people survive. It buries them—one at a time, one way or another. And when Nico was a little boy, his mom always told him to run.




I'm Reagan Prescott—coach's daughter, sister to the prodigal son, daughter in the perfect family.

Life on top.

Lies.

My world is the ugly one. Private school politics and one of the best high school football programs in the country can break even the toughest souls. Our darkness plays out in whispers and rumors, and money and status trump all. I would know—I've watched it kill my family slowly, strangling us for years.




In our twisted world, a boy from West End is the only shining light.

Quarterback.

Hero.

Heart.

Good.

I hated him before I needed him.

I fell for him fast.

I loved him when it was almost too late.




When two ugly worlds collide, even the strongest fall. But my world…it hasn't met the boy from West End.
Picking up this book and reading the first few chapters, I already had a gut feeling that this book will be another favorite of mine. There's always something about Ginger's reads that keeps me coming back for more and this particular read reminds me exactly why I love her reads since the very beginning. She knows how to take these real struggles and channel them into her stories with an emotional punch. Her swoon-worthy romance gives me the fluttery butterflies that reminds me of falling in love for the first time.
"Since my lips first touched his, perhaps well even before that, I knew in my heart that there was no winning debate against Nico Medina."
Nico and Reagan's story is more than just a story of boy meets girl, where a privileged girl falls in love with a boy from the wrong side of the town. Being a sports romance read, the read focuses quite heavily on football. Though I will admit that I'm not a huge fan of football, it was still interesting for me to read their playoffs scene (and finally knowing what a 'hard count' actually is, hah!).
However what I truly love about this read is all the underlying themes that comes along with the read. The loyalty of a brotherhood and facing the adversity of coming from different backgrounds, are just one of the many few that the author has infused in this poignant story. Both Nico and Reagan were strong individuals on their own, but it truly is Nico that shines brightly throughout the read. I had so much adoration for him, his character was the quiet yet strong type. Everytime he spoke up during a class debate, I think my heart melted for him.
"Nico is a wild stallion full of promises and gifts, and I'm not sure if he can be tamed. I'm not sure if he should."
Definitely my favorite Ginger Scott book to date, The Hard Count is one of those reads that you can just feel the raw passion come to life as you flip through the pages. It's about standing up for your beliefs, it's about overcoming stereotyping and prejudice but most of all, it's a story of love in many forms. There's just so much more I can say about this book but I'll tell you to read it to experience it.

"Today, we'll all stand on this field one final time and move a tassel on our caps to mark an end. We'll blink and we'll begin. We'll be afraid but we'll fight."




Advanced review copy received by the author in exchange for an honest review.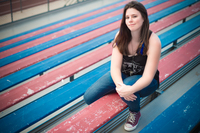 Ginger Scott is an Amazon-bestselling author of eight young and new adult romances, including Waiting on the Sidelines, Going Long, Blindness, How We Deal With Gravity, This Is Falling, You and Everything After, The Girl I Was Before and Wild Reckless.