Book Title:
Anything but Minor
Author:
Kate Stewart
Series:
Standalone
Release Date:
July 12th, 2016
Genres:
Romantic Comedy, Sports Romance
"She's a nerd."
"Heyyyy!"
"Okay, she's a flight instructor."
"Better."
"He's a ballplayer."
"The best that ever was."
"Technically, you aren't according to MLB stats."
"See? Total nerd. She also has no filter."
"He's no southern gentlemen."
"I had one last season to prove my worth."
"I'd never seen a game."
"He told me he was a player."
"She told me she was a lesbian."
"But you fell in love with me anyway."
"Yeah, baby, I totally did."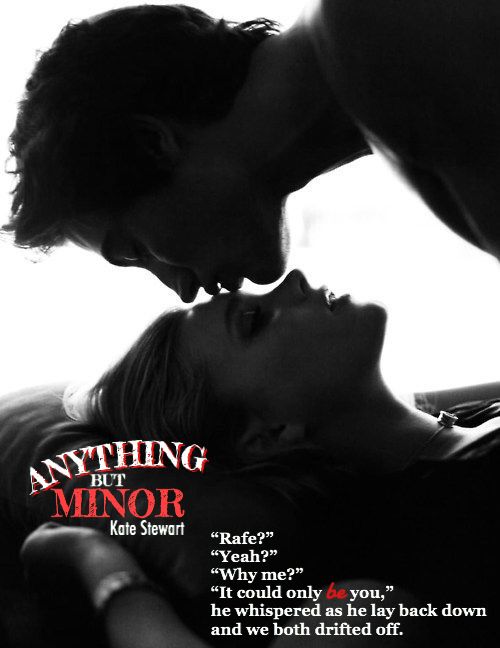 I'm seriously kicking myself for waiting a month to get to this book! Who knew the queen of angst-fests can also do Romantic Comedy! Anything But Minor was a perfect fit for me in between a couple more heavy, emotional reads. It highlights a minor league man-whore baseball player and his sudden attraction for a quirky, nerdish girl named Alice Boyd who just moved to his hometown of Charleston. A newbie to all things this fantastic city has to offer, Rafe Hembrey uses his charm to show her the sights...since blatant propositioning for sex isn't working.
Why I loved this book...let me count the ways. First of all, Alice is so endearingly cute, Rafe didn't stand a chance. A painfully sheltered girl from Ohio, she finally breaks from her mother's judgemental clutches. With a fancy website called Google, any knowledge can be garnered and she's ready to finally experience it all! As hot as Rafe may be, she's not the one-night-stand type and could really use a pal more than a bed partner at this stage in life. So she puts a huge smile on her face and plays the friend card...if she only knew how to play cool.
Rafe: Yeah, Alice?
Alice: Just making sure you were there. Did you know that people in Japan who injure walking pedestrians with their cars have to pay their medical bills? Funerals are cheaper. Do you know what that means?!
Rafe: I can't wait...
Alice: That they continue to run over them until they're dead to avoid bankruptcy.
Rare: What the hell are you doing?
Alice: I'm Googling.
Rafe: That's a thing?
Alice: For me it is.
Rafe: Do you have ADD?
Alice: You would think that but...no. This is my normal.
Rafe: Tell me more.
Rafe! What a sweet guy! He's warned off from Alice from early on due to his man-whorish ways but the guy was seriously perfection for a girl like her. I think even he surprised himself! He can keep it in his pants and suffer a little case of the blue balls after all! Blue balls don't kill...too much. Whatever it is about Alice, she's a game-changer. And suddenly he too is off his typical game.
"I'm not sure what you want me to think of you, Rafe."

"I'm pretty sure I just want you to think of me, Alice."
I never seem to get enough of the "nerdy girl tames the man-whore" style tropes. Alice was as perfect for Rafe as he was for her. I fell in love with their love story from simple day to day interactions, text messages and relaxed conversation. It was all just very...normal.
With a cast chock full of characters you'll attach to from deep within your heart, Kate Stewart has a great set-up here for an awesome series chock full of hot baseball player in their tight little pants! Low on angst but still emotional enough to tug at the heartstrings, Anything But Minor is a great combination of humor, steam, and emotion. A perfect success in her new venture into Sports Romantic Comedy! Looking forward to Andy's happily-ever-after up next!
"It was the best day of my life..."
A native of Dallas, Kate Stewart now resides in beautiful Charleston, S.C. She lives with her husband of 9 years, Nick, and her naughty beagle, Sadie.
Kate moved to Charleston three weeks after her first visit, dropping her career of 8 years, and declaring the city her creative muse. Since the move in 2010, Kate has written and published seven novels including Room 212, Never Me, Loving the White Liar and The Fall, The Mind, The Heart, and her first romantic comedy Anything but Minor.
Kate writes messy, sexy, angst filled romance books with 'hard to get' happy endings because it's what she loves as a reader. She has a scary addiction to chocolate milk and a deep love for rap music specifically the genius known as Marshall Mathers.
In addition to her addiction to romance, Kate also lets her alter ego take over on occasion and writes erotic suspense under the pen Angelica Chase.