Book Title:
Steadfast
Author:
Sarina Bowen
Series:
True North #2 -
Standalone
Release Date:
July 12th, 2016
Genres:
Contemporary Romance
She's the only one who ever loved him—and the only one he can never have.




Jude lost everything one spring day when he crashed his car into an apple tree on the side of the road. A man is dead, and there's no way he can ever right that wrong. He'd steer clear of Colebury, Vermont forever if he could. But an ex-con in recovery for his drug addiction can't find a job just anywhere.




For Sophie Haines, coming face to face with the man who broke her heart is gut-wrenching. Suddenly, he's everywhere she turns. It's hard not to stare at how much he's changed. The bad boy who used to love her didn't have big biceps and sun-kissed hair. And he'd never turn up volunteer in the church kitchen.




She knows it's foolish to yearn for the man who returned all the heartsick letters she wrote him in prison. But the looks he sends her now speak volumes.




No one wants to see Sophie and Jude back together, least of all Sophie's police chief father. But it's a small town. And forbidden love is a law unto itself.
Wow! I abso-fucking-lutely loved this forbidden love, turned second-chance romance! It hit the spot in my plight for an angsty-emotional, heartfelt read! We'd met Jude Nickel in Bittersweet but all we knew of him was that he was recently released from prison and fresh out of drug rehab. A hard worker, Jude tended to keep to himself while working on the Shipley Farm. Once the apple season was complete, he was laid off and finds himself back where it all began (and ended) for him. His hometown of Colebury, Vermont- chock full of memories and heartache. And mistakes he can't take back.
Sophie Haines hasn't seen Jude since the accident. Three years in prison for manslaughter, her letters returned, she can't believe her eyes when she notices he's back. Working in his dad's beat-up auto body shop. Prison sure bulked him up and she can't help but wish what if...
Steadfast was a perfectly paced romance between two high school sweethearts that seemingly lost their chance of a happily ever after. The local police chief's daughter who's in love with the town felon. Not what true romances are made of. But this was such a true love story!
Sarina Bowen did a stellar job with Jude's character. A recovering opiate addict, she didn't gloss over his pain, his cravings. She made it front and center for him, a daily struggle. It was so realistic and made me attach that much more to his...their story. So often our heroes are so perfect, well Jude was realistically imperfect! And Sophie...the sweet social work intern that see's underneath Jude's act in protecting her from himself. They couldn't be more suited! If only he could see it!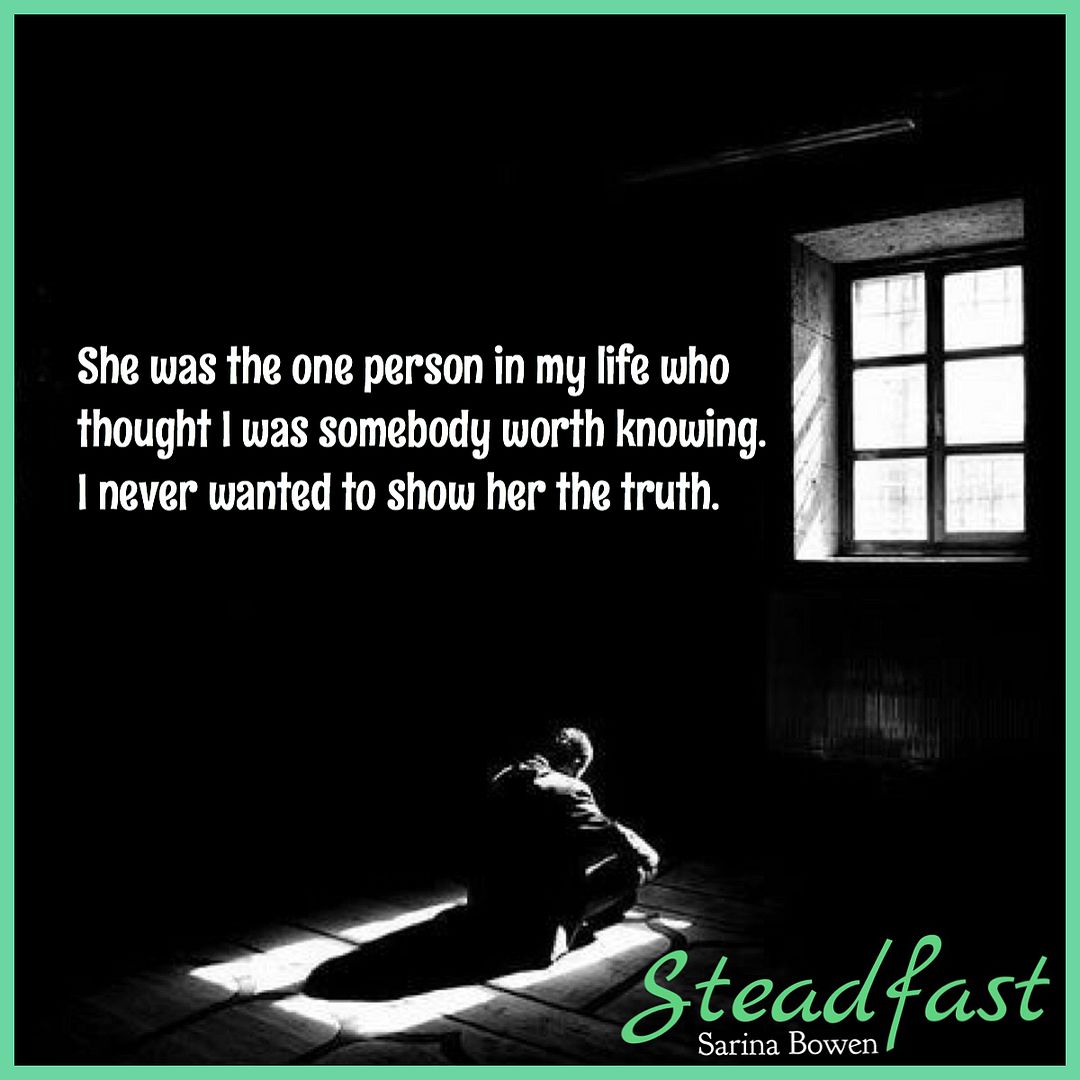 We also get a bit of added suspense and drama but it didn't feel like it was added just for effect. It fit the story and there isn't a thing I'd change about this book. I liked Bittersweet but I loved Steadfast.
Both books in this far in the True North series can be read as standalones but Bittersweet does introduce you to all the characters within the Shipley family- who also happen to get more time with us in this book! So yeah for more Griffin and Audrey! And I can't wait to see what Sarina Bowen does with our dear, quiet, virgin farm-hand, Zach!
Bravo!
Advanced copy received by the author in exchange for my honest review.
Sarina Bowen
is the USA Today bestselling author of steamy, angsty Contemporary Romance and New Adult fiction. She lives in the wilds of Vermont.
She is the author of
The Ivy Years
, an award-winning series set amid the hockey team at an elite Connecticut college. Also, the
The Gravity
series.
With Elle Kennedy, Sarina is the author of HIM and US.