Book Title:
Perfect Rage
Author:
Nashoda Rose
Series:
Unyielding #3
Release Date: July 26th, 2016
Genres:
Dark Romance,
This is Connor's story.

Unstable.
Unpredictable.
Consumed by perfect rage.
I was fighting who I'd become and what I'd done.

There was nothing I cared about except her.
She was mine.
But I'd forgotten her—my shutterbug.
And I lost her.

Until now.

I'd do anything to possess her again.
Anything to keep her safe.
Protect her against my biggest opponent.

The monster.

Me.
Nashoda Rose is one of the very few authors that has not once disappointed me. Her books tend to skate the thin line of dark yet the love story within the plot seems to lighten the load. Perfect Rage is Connor's story and with the tragic backstory of this character, I couldn't wait to see how she'd pull off such a painfully flawed character, that despite being a true hero, was held captive, drugged and turned until a cold-hearted anti-hero. Should I love him or hate him for the things he did to our beloved characters in Perfect Ruin? I knew somehow this author would bring him back in my good graces but his road to recovery would be long and hard fought.
We've followed Connor O'Neill through all the Unyielding series books. Brother to Georgie in Perfect Chaos, army hero until he was captured by a Columbian drug lord and used for an experimental drug to take good men and make them into cold hearted killers. Does he have a chance for mental rehabilitation after doing such horrible things? Can he live with himself and the long-term side effects of the drug he was given in captivity? Is there a chance for second chances with the deal changer for him all those years ago in the army, a woman named Catalina?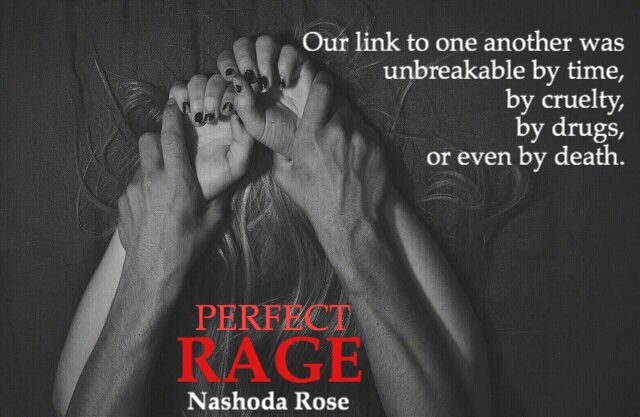 Perfect Rage was not an easy second-chance romance. Nashoda Rose did not go easy on Connor and his road to recovery and my heart broke for the man he'd become. The broken man that had so much taken away, had done so much under the influence of the drug. Regret. Guilt. Rage so deep within, it was palpable- like a brewing storm just waiting to erupt. I wanted to reach into my little kindle and hug the pain, the headaches, away from him.
Previously meeting Catalina Moreno in Perfect Ruin, I didn't form much of an opinion of her until reading this book- her story. She too is a victim of the drug-lord Carlos Moreno yet she chose to fight to get her life back, fought tooth and nail to get her lover back she lost so many years ago. But is Connor the man she met and fell for over a decade ago or is he long gone, a victim of Vault and all their doings?
Nashoda Rose added so much to this book beyond just the Connor/Alina story. We got to see quite a bit of Deck/Georgie and Kai/London- the Unyielding crew. It's a battle well fought and I genuinely worried how she would pull off his rehabilitation and make it realistic but she did! Now I'd like to place an order for a certain man-whore character named Deaglan!
Advanced copy received by author in exchange for my honest review.
Nashoda Rose is a New York Times and USA Today bestselling author who lives in Toronto with her assortment of pets. She writes contemporary romance with a splash of darkness, or maybe it's a tidal wave.
When she isn't writing, she can be found sitting in a field reading with her dogs at her side while her horses graze nearby. She loves interacting with her readers and chatting about her addiction—books.